"Gardens are poems where you stroll with your hands in your pockets." – Pierre Albert Birot
Were you aware flowers have meanings?  They do.  The Victorians were ever so mindful about their meanings, especially in the use of a Tussie-Mussie.  A tussie-mussie, is a romantic bouquet.  Discreet and knowledgeable young ladies and gentlemen would correspond with one another by this means.  And in doing so, they were quite careful to use specific flowers according to their meaning.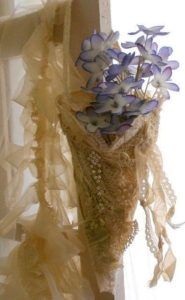 A single flower or a tiny bouquet would be sent to or from an admirer.  A young man may send a sprig of honeysuckle meaning – I have devoted affections.  The young lady may reciprocate, depending on her feelings, by sending a pansy saying,  "I, too, have tender thoughts."   

While we no longer communicate in such ways, I will tell you I do believe our world could use use a little romance.  So, just in case you don't have, at your fingertips, a little book on the language of flowers.  I am sending you a few flowers and their meanings. 
Anemone – Desertion
Bachelor Button – Hope in Love
Bluebell – Delicacy
Columbine – Capriciousness
Coreopsis – Forever Cheerful
Daisy – Innocence
Freesia – Innocence
Forget-me-not – True Love
Honeysuckle – Devoted Affections
Lily-of-the-valley – Return of Happiness
Pansy – Tender Thoughts
Red Rose – Love
Snapdragon – Presumption
Thyme – Thriftiness
Yellow Rose – Friendship
Zinnia – Simplicity
And, of course you want to know about the peony.  In my opinion, the peony is the queen of the garden – she is the star.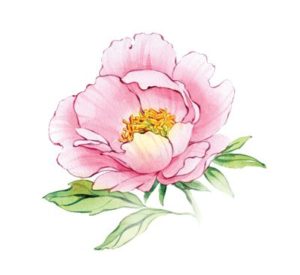 The meaning of a peony – Bashfulness
While I am over the moon about peonies, many flower lovers feel the same about roses.  One such remarkable person was Helen Keller.  The following are her inspirational thoughts – clearly, she understood " A Garden of Meanings." 
"But the roses they were loveliest of all.  Never have I found in the greenhouses of the North such heart-satisfying roses as the climbing roses of my southern home. They used to hang in long festoons from our porch, filling the whole air with their fragrance, untainted by any earthy smell:  and in the early morning, washed in the dew, they felt so soft, so pure, I could not help wondering if they did not resemble the asphodels of God's garden."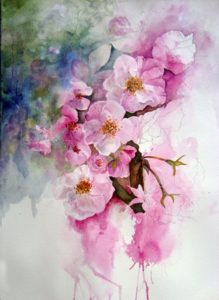 Wishing you and yours simply glorious days during this magnificent month of May.
Thanks for visiting!
Au Revoir,
Sandra 
Photos:  Tusie-Musie:  facebook/pinterest
Peony: behance/pinterest
Roses: watercolorflorals.blogspot.uk/pinterest