"If the names are unknown, knowledge of the things also perishes." ~ Carl Linnaeus, Philosophia Botanica, 1751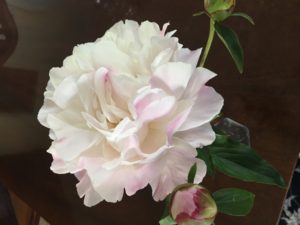 Paeonia ~ Peony, Gardenia ~ Photo was taken spring, 2017.  She is a favorite in our garden.
One spring day, too many years ago, I was with my mom and we were visiting one of her favorite garden centers.  No doubt, she was in pursuit of some fabulous horticulture specimen she had recently seen at a flower show.  I enjoyed admiring all the gorgeousness, making mental notes of things I deemed lovely, visualizing them in my own garden.  On this outing, mom was not only focused on her pursuit, she was also busy being my teacher.  She was teaching me about names, by saying things like: "Oh Sandra, aren't Beverly Sills and Edith Wolford stunning? And, isn't the blue-green color in Jensen pretty?"  I remember after one of her many introductions, saying to her, "Mom, how do you ever remember all those names?" Her reply, "Sandra, you want people to remember your name ~ don't you?"
While I do not remember what fabulous plant mom was in pursuit of that particular day, I will never forget what she said to me.  And just recently, after all these years, the dots finally connected. 

"Tis my faith that every flower enjoys the air it breathes."  William Wordsworth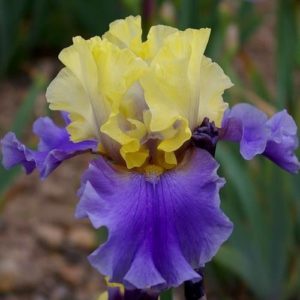 Iris Germanica ~ Iris, Edith Wolford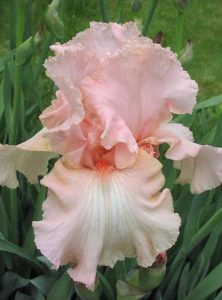 Iris Germanica ~ Iris, Beverly Sills ~ In our garden, spring 2017.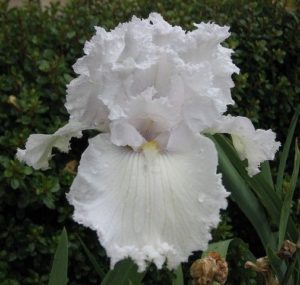 Mom's beloved, Iris Germanica ~ Iris, Laced Cotton.  Happily living in our garden.
Ever since that day with mom, I have always done my best to remember plant names. However, the dots completely connected, when I recently read the words of Carl Linnaeus, written in 1751. Truly, I had an "Aha moment."  You may have even heard the bells ringing as I thought, "That is what mom meant by how important it is to remember the names of  lovely things from the garden world."  We want to prevent lost knowledge.

"Flowers are the hieroglyphics of angels, loved by all human beings for the beauty of their character, although few can decipher even a few fragments of their meaning." ~ Lydia M. Child
To prevent knowledge of plants being lost is one of the many reasons plant societies exist.  Societies such as… the American Peony Society, the American Iris Society, and the Texas Rose Rustlers ~ just to name a few.  These societies do way more than announce award winners and sponsor shows.  I will share what I know and some of the detailed and important work they do in another post. 
So, while I do my best to remember common names of plants, I also try to learn their botanical names. While clearly, I don't begin to know all botanical names, not even a small percentage.  I do try to make a note of such names when writing about a specific plant in my garden journal or giving a plant as a gift.  Both names are important.

"Won't you come into the garden?  I would like the roses to see you." ~ Richard Brimsley Sheridan
Because of their beauty and fragrance ~ roses are queens of many gardens.  Therefore, one certainly would never want to invite others into the garden on their behalf without knowing their names.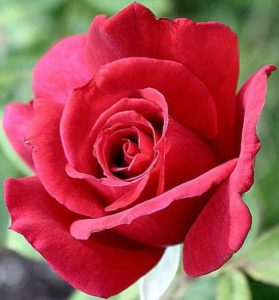 Rosa ~ Rose, Chrysler Imperial ~ My husband's favorite, which explains why there are two in our garden.
Rosa ~ Rose, Billy Graham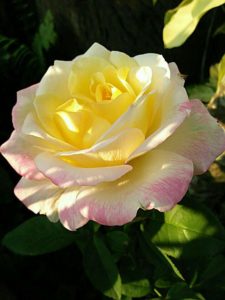 Rosa ~ Rose, Peace ~ I have included special information about this beautiful rose at the end of this post.
Perfumes are the feeling of flowers. – Heinrich Heine

In closing, I will share a couple of recent experiences I have had regarding plant names or I should say, lack of.  When shopping last spring for a Dwarf English Boxwood, the boxwoods which were available for purchase were marked ~ Assorted Boxwood.  Now, this was quite disturbing, as there are many, many different varieties of boxwood.  Ranging in size from dwarf to other numerous varieties which will grow quite large.  I needed dwarf, we have a small space.  Another reason I needed to know what I was purchasing was for my planting zone.  It can get below zero by several degrees in North Central West Virginia.  Therefore, I required a plant which would survive such temperatures.  Needless to say, I ordered my boxwood to be assured of what I was purchasing.
Also last spring, my husband came home with the most glorious pot of daffodils.  In all my gardening years, I had never seen this particular daffodil.  When I looked at the tag to see what these gorgeous things were, guess what the tag said?  You guessed it ~ Assorted Daffodils.  I was sick.  Of course, we planted them and this year they were as beautiful as I remembered, but I don't know who they are.  Unless there is a record of them through a daffodil society, their name and information about them may well be lost forever.

"The earth laughs in flowers." ~ Emerson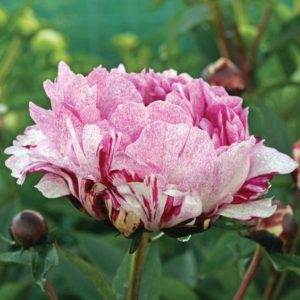 Paeonia ~ Peony, The Fawn ~ Another favorite of our garden.  I love her dark pink speckles.
So, dear friends,  the next time you see a stunning beauty of the garden world and your heart pounds a little harder, I hope you will ask~ "What is your name?" And perhaps, today, you have found a little inspiration to remember.
Thanks for visiting.  Have a most beautiful day! 
Au Revoir,
Sandra
Note:  A little information regarding the Peace Rose.
Just prior to Hitler's invasion of France, the French rose breeder, Francis Meilland feared the beautiful Meilland gardens would be destroyed.  Mr. Meilland hastily sent out of France, three parcels of cuttings.  One of which was smuggled out in a diplomatic bag to America.  For the duration of the war, the Meilland family had no idea what happened to their treasured cuttings or if any survived.  In America, the rose grower who received the cuttings from France planted them in his trial beds.  The rose grew and thrived and thousands of plants were propagated.  It was decided that this magnificent new rose would be launched in Pasadena, California on April 29, 1945.  It was a coincidence that this was the same day Berlin fell and a truce was declared.  Because 'peace' was the world's greatest desire, it was decided this new rose should be named 'PEACE.'  And, so it was.  In case you may be wondering, the advancing German forces totally destroyed the Meilland gardens. What was not burned, was crushed by tanks.  However, they re-built the gardens after the war, and today have branches all over the world.  Further reading about the Peace Rose:  For Love of a Rose written by,  Antonia Ridge. 
Photos:  Michael Lambiotte and Pinterest