"The man who does not read good books has no advantage over the man who can't read." –  Mark Twain
I love to read.  And I long for snowy winters, lasting November through March, the sound of our tea kettle whistling, and my comfy chair. Truly, heaven on earth. However, this isn't reality for most of us.  So, what do we do? We read when we find free moments and we keep a list of what we would like to read.  Ah, the LIST. Perhaps, my list is a blog post for another day.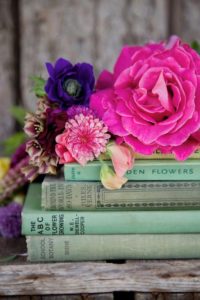 I enjoy books which make me think, make me grateful for the life I have enjoyed and expand my way of thinking.  I love to learn about people who have struggled, and ultimately achieved great success.  Books like this touch my heart and I don't forget them.  They encourage me to strive to accomplish better things and be a better person. One such book is: "The Apprentice, My Life in The Kitchen."  It is about the life of Jacques Pépin.  Pépin came to this country, at age 18, speaking two words of English, with just a few dollars in his pocket and knew not a single soul.  Makes you grateful, doesn't it?

Also, I enjoy a fabulous story, one that can set the stage of many characters and how they are possibly entwined in each others lives. Then there are the books which touch you so deeply you will read again and again. For me, at the top of this list is, "The Nightingale," by Kristin Hannah.  In my opinion, it truly is a great piece of literature. Ms. Hannah passionately explains: "In love we find out who we want to be.  In war we find out who we are."  The book is simply unforgettable.
Last winter while reading the lovely blog, It's A Beautiful Life, written by my talented, Canadian friend, Brenda Leyland. I was introduced to the book, "Experiment in Criticism," by C. S. Lewis. Mr. Lewis proposes, the quality of books should be measured not by how they are written, but by how they are read.  He describes two types of readers:  1)  A Non Literary Person   2) A Literary Person.  I found his thoughts interesting, you may too.  Therefore, I am sharing a few characteristics from each of his descriptions.
Non Literary Person
1) Never thinks or talks about what they have read.
2) Indifferent, not only to literature, but to other art forms and natural beauty.
3) Never reads anything twice.
Literary Person
1) Reads great works over and over
2) The reading can be a great experience.  The reader changes and sees things differently.
3) They are aware of literature and other art forms and the natural beauty around them.

So let's talk about books.  What are you reading?  Is there a particular author that you admire?  When you find an author you enjoy, do you want to read everything they have ever written?  Also, what books are on your "To Read" LIST?  Listed below are a few on mine:
Great Small Things, by Jodi Picoult
31 Verses to Write on Your Heart, by Liz Curtis Higgs
A Force for Good, by Daniel Goleman
Behold the Dreamers, by Imbolo Mbue
Lilac Girls, by Martha Hall Kelly
Do write and tell what you are reading, maybe including a book or two you would recommend. We learn so much from others.
I hope you find a cool, comfy place to curl up and read the afternoon away.  And just in case you are at a loss for something cool and refreshing to drink.  I am sending you a recipe for Peach Tea.  A lovely book and a delightful drink = perfection.  Enjoy !
Peach Tea
3 – 11.5 oz. cans peach nectar
2 quarts brewed tea
1 cup sugar
1/4 cup fresh lemon juice
Mix all ingredients together and stir well.  Chill until ready to serve.  Serve over ice with a sprig of mint
Thanks for visiting.  Have a Great Weekend !
Au Revoir,
Sandra
Photo: Pinterest