"Color is my day-long obsession, joy and torment." ~ Claude Monet
Good morning my friends, and welcome to 'Violet's World.'  Considering all the recent chatter about Violet, I was wondering:  What are your thoughts?  When you see her, what is your immediate reaction?  Do you like her, does she make you bristle, or does she inspire your creativity?  Whatever your opinion of Violet may be, she is the type of girl who certainly commands attention and will evoke an immediate reaction.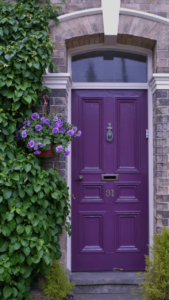 The Pantone Color Institue, widely respected as a forecaster of color trends and color development, very much likes Violet.  So much so, they named her their 2018 Color of the Year.  The Institute's color choice has become a trendsetter, influencing design and fashion.  Their choice is based on research, global movements and current events.  Pantone describes their choice as, "A symbolic color selection; a color snapshot of what we see taking place in our global culture that serves as an expression of a mood and an attitude." Interesting, isn't it?   

A little further reading about Violet led me to Lee Eiserman.  Eiserman is the executive director of the The Pantone Color Institute, and she has this to say: "Ultra Violet is a very provocative shade, but it's also a thoughtful color ~ it sounds like a bit of an oxymoron.  This is the kind of color attached, historically, to originality, ingenuity, and visionary thinking.  These are elements we need to create a meaningful future.  Inventiveness and imagination is something we seek in our personal lives and business worlds.  People are looking for the 'magic bullet,' and this shade is the perfect shade to lead right into it…It's intriguing, fascinating, and magical.  We are living in a time that requires inventiveness and imagination.  It is this kind of creative inspiration that is indigenous to PANTONE 18~3838 Ultra Violet, a blue~based purple that takes our awareness and potential to a higher level.  From exploring new technologies and the greater galaxy, to artistic expression and spiritual reflection, intuitive Ultra Violet lights the way to what is yet to come." Perhaps, the thoughts of Tennessee Williams will come true, "The violets in the mountains have broken the rocks." My interpretation of his words:  "Softness, kindness and beauty have defeated indifference and cruelty."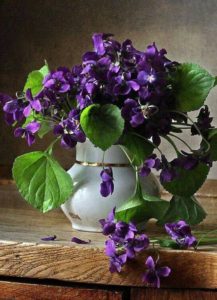 So, it appears that Violet is quite the girl.  While Violet and Purple are different, they are friends.  They also enjoy the company of their softer and romantic friends ~ lavender and lilac.  I have gathered some lovely photos of the group, which I hope you will enjoy.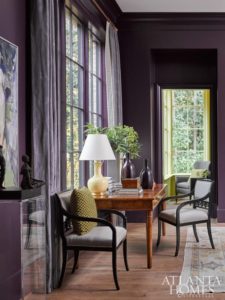 "Purple enhances creativity, clears the mind, calms stress." ~ Unknown
"Every color choice will contribute to the vitality and vibrancy in our daily lives."  ~ Moll Anderson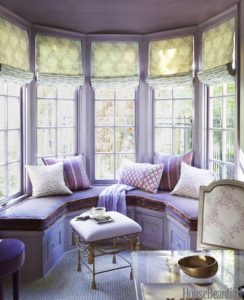 "Purple is the color for royalties.  It stands for luxury, wealth and sophistication.  It is also the color of passion, romance and sensitivity. ~ Unknown

"Mere COLOR can speak to the soul in a thousand different ways." ~ Oscar Wilde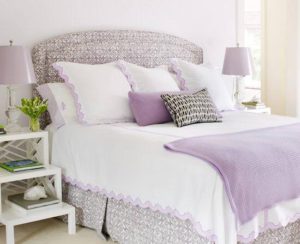 "It always seems to me as if the lavender was a little woman in a green dress, with a lavender bonnet and a white kerchief.  She is one of thoes strong, sweet wholesome people, who always rest you, and her sweetness lingers long after she goes away." ~ Myrtle Reed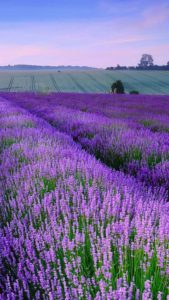 In closing, there is much to the business of color.  It has been written about at great length and color selections truly make a difference in our daily rounds.  While I am not an advocate of following trends, I find the information regarding the thoughts behind Pantone's choice most interesting.  So, if you love these colors, and are interested in or need to redecorate a room, or add your love of this color to a room in a small way, perhaps you have received a little inspiration.  It is said that people who love purple have high expectations for themselves, are artistic and unique, and encourage others to show love and empathy.  In my opinion, our world needs ~ 'Violet and Friends.'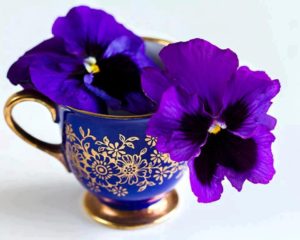 The Pantone Color of the Year has come to mean so much more than 'what's trending' in the world of design; it's truly a reflection of what's needed in our world today." – Laurie Pressman, Vice President of the Pantone Color Institute.
Wishing you and yours a most beautiful week !
Au Revoir,
Sandra
Note:  Because Purple is believed to inspire hope and vision, Ultra Violet is the color choice for the International Women's Day ~ March 8, 2018.
Photos:  Atlanta Homes, Architectural Digest, House Beautiful, Traditional Home, Facebook and Pinterest.