"I believe in the hands that work, in the brains that think, and in the hearts that love…I believe in sunshine,  fresh air,  friendship, calm sleep, beautiful thoughts." – Elizabeth Hubbard
Have you met Ben and Erin Napier?  Oh my gosh, I do hope so.  They are a lovely and delightful young couple, who host the HGTV show, "Home Town."  Along with being lovely and delightful, they are both extremely talented.  And they share their gifts with us every Monday evening, so by chance if you haven't met them, be sure to tune in.  I believe you will be happy you did.
Perhaps you are wondering, "Why is she writing a post about this show?" There are many reasons.  But the first is:  These young people are working desperately hard to restore and revitalize their charming home town of Laurel, Mississippi.  Laurel, Mississippi is the key here.  You see, Laurel, as the crow flies, is roughly 24 miles from Collins, Mississippi. Collins is where my mom was from and where I spent my childhood summers with my grandmother.  My grandmother had a sister (Aunt Tommy) who lived in Laurel and at that point in time, it was also home to a little restaurant known for their shrimp po' boy sandwiches (an explanation of a po' boy and a recipe are at the end of this post).  So needless to say, I have been to Laurel, Mississippi many times.

Laurel, Mississippi, much like many small Mississippi towns, is a beautiful little spot on this earth.  The one thing I remember most are the trees, and of course the hydrangeas.  But the trees in Collins and in Laurel are huge and old.  They form canapes over the wide streets.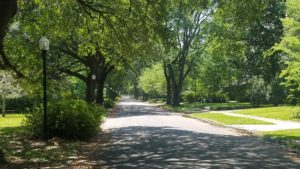 I have such wonderful memories of being on my bicycle on a summer morning, riding along under the shade of those magnificent trees, enjoying the damp coolness, the smell of the gardenias and admiring the beauty of the heavenly blue hydrangeas.  That was too many moons ago, but to this day, I still remember the beauty and the smell of those gardenias.
Laurel, Mississippi is no different from many small towns all across our country.  Laurel was a mill town, lumber and cotton.  When the mills closed, Laurel fell on hard times. However, Ben and Erin are working hard to revitalize their dear town.  And for those of us who may be living in a small towns with similar issues, we should sit up and take notice.  Many small towns have been "loved back to life."  It takes people and community leaders with a vision.  People just like Ben and Erin. 

On their show, "Home Town," you will watch them restore old homes in Laurel.  Here is where they receive my highest possible award.  They restore, they don't destroy.  They do all they can to save the integrity and character of a home.  Including the basic floor plan, flooring, mill work, cabinets, walls and windows.  Truly, they have a complete understanding of the word restore,  an educated knowledge of architectural periods, and style of homes.  And they well know the history of their immediate area and state.  All their knowledge and work is further enhanced by their love of their "Home Town."  Every bit of this, along with the fact they both ooze southern charm and hospitality, makes them remarkably special.
Additionally, Erin writes a blog, "The Daily Journal ~ Erin's Journal,"  you will want to visit here.  Although, since she and Ben have just recently welcomed their precious Helen to the world, she is taking a little time away from her blog.  But she has promised to return, so do visit her.  The blog is as lovely as she is.  

In closing, for me, often it is something simple, a phrase or a pretty photo that will switch on my lights.  Therefore, inspiring me toward thoughts of improving our own home and community.  Such is the case with Erin's words:  "Use the gift you have to make your place better wherever that place may be ~ get up and do it!"  I do love the simple truth of  ~ "get up and do it."  Perhaps if  we all follow her words, we will improve our own home towns.  We all have gifts, we simply need to use them.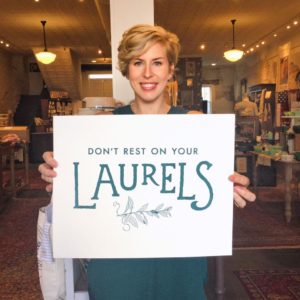 So, I hope you may have found a little inspiration to "get up and do" whatever it is you may be wanting to do or need to do.  If not, tune in on an episode or two of Home Town ~ Monday evenings, 9:00 EST/8:00 CST, you will be sure to find inspiration there.
Wishing you a most beautiful week!
Au Revoir,
Sandra
Don't Miss:  Recipe for Shrimp Po'Boy, visit here.
Photos:  Pinterest and The Laurel Mercantile Co. Facebook page.
"loved back to life" ~ words of Erin Napier