"Time Unfolds Beauty, Wonder, And Mystery To Reveal The Auspicious Tapestry of Life." ~ A. D. Posey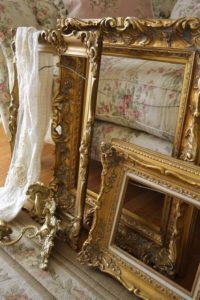 Good morning, dear friends.  I am so happy to see you.  Do find your coffee and join me, while I share a little about a subject dear to my heart ~ 'things to cherish.'
Do you love old and beautiful things?  I really, really do ~  they make my heart pound a little harder.  Mike even tells everyone, "I like him better now that he is older."  Actually, there may be a bit of truth to his words.  As with all of us, time and love wear away our rough edges.  But when I see lovely antiques,   I wonder about them, who loved them, what part of our country, or perhaps another, did they originally live.  Where were they made and by whom?  And the questions go on and on.  Finding a treasure with these questions answered is a special gift, but if I don't know the history of a piece, my imagination will easily answer any and all questions. But, I suppose I am truly drawn to things of old because their age reveals not only their beauty but their soul. They can become our treasures and 'something to cherish.'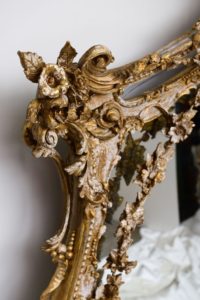 I marvel at the time and skill that went into making pieces with such stunning details.  Such as, the beautiful detail on this frame.

"I tend to like antique things. Something can be old, but it can be timeless." CeeLo Green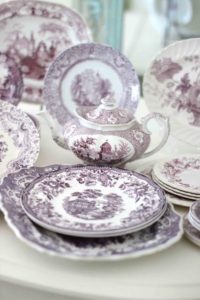 If these lovely dishes could talk, oh my, the stories they could tell.  Happy times with friends and loved ones, marvelous holiday dinners, and wonderful daily meals.  And, still today they would set a most beautiful table.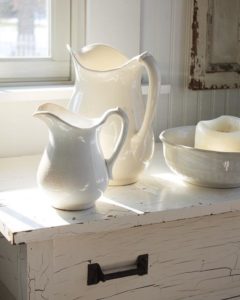 I have two pitchers just like these beauties.  While they are way too heavy for me to use for water or tea, I do enjoy them full of blooms.  They are especially lovely holding Red Charm Peonies.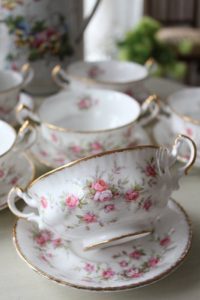 Such delicate beauty.  No doubt someone's wedding china, hopefully, waiting to be passed to the next generation.


"This was something sure to be crammed full of warm secrets." ~ Haruki Murakami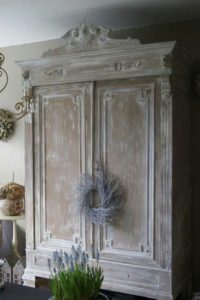 This wonderful old armoire has probably in its life, hidden children in play and held everything from food to delicate linens.  Here again, just look at the amazing craftsmanship.  We must remember that it was made with hand tools.  There were no electric tools available when this piece was made.  I am guessing it to be middle to late 1800's.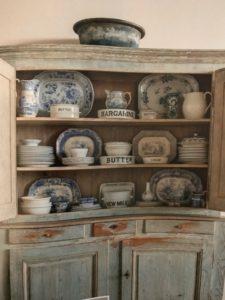 Would you look at the curve on the front of this cupboard ~ again all hand tools and skill.  Our old home has a curved wall in the upstairs hallway.  We had a wonderful craftsman at the house one day doing some work and he went into a lengthy explanation of how this process was done, then said he would never attempt it. I am especially drawn to the worn paint on the drawers and doors.  Don't you just wonder how many times a day they were opened and shut?  There were no built-in cupboards in kitchens when this beauty was in service.

"Living in my 1863 farmhouse is like a therapeutic walk in the woods. Just like the magic whispers of an old tree, my home also whispers to me. I love surrounding myself with antiques, there is something so comforting about things that have been around for a long time. They have many wise things to whisper. You just have to listen closely." ~ Unknown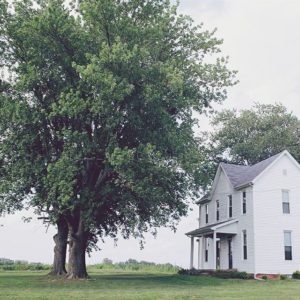 "The reality is that old houses that were built a hundred years ago were built by actual craftsmen, people who were the best in the world at what they did. The little nuances in the woodwork, the framing of the doors, the built-in nooks, the windows—all had been done by smart, talented people." ~ Joanna Gaines
It is my belief that old homes absorb the love, laughter and even sadness of their previous owners.  One can only imagine the secrets they keep.  Most old homes also offer unique nooks and crannies, usually not found in found in newer homes.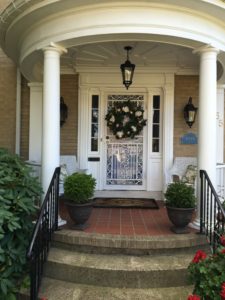 Built in 1939, our sweet home is about to see her eightieth birthday.  She has raised boys, girls and even hosted a wedding.  But she has also seen sadness, standing alone for one long winter.  However, today she stands strong, with all her charm, lovely untouched details, and original tile roof.  

"I love older things that people have used and cherished.  They have personality, character, and soul." ~ Anna Hillegass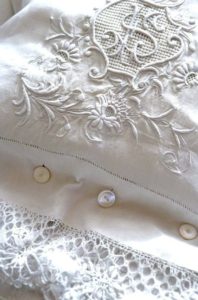 Beautiful old linens always command my attention.  Again, I always think of the person who did the embroidery, crocheted the lace, and sewed the pearl buttons.  And I especially wonder," who they were made for?"  The love and time are so evident.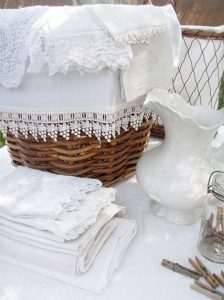 "To love beautiful linen, is to love fair weather, fair weather that one can acquire and carry home." – Louise DeVilmorin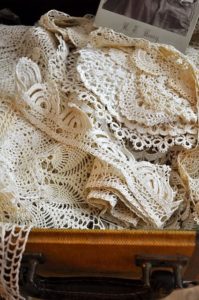 "The items people own reveal something about the owners. Every quaint item that a person selects to surround themselves with has a basic quiddity, the essence, or inherent nature of things. As a people, we assign a value meaning not only to the things that we presently possess, but also to the items destined for one generation to hand down to the next generation." ~ Kilroy J. Oldster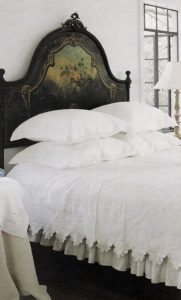 I can only imagine how special one would feel to be the recipient of this gorgeous bed, which had been handed down through generations.  My grandmother had a bed which had roses painted on the headboard and on the curved footboard.  We don't forget beautiful things, even seeing them as children ~ we remember.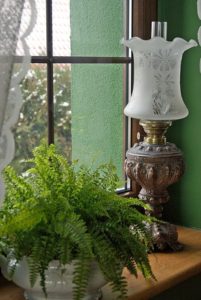 Oh, the rooms this lovely oil lamp has brightened and the words which were read and written by her light.  Or, perhaps the hope the light may have offered by a glow in the window on a stormy night, to those who passed by.

"A precious, mouldering pleasure 't is, to meet an antique book, In just the dress his century wore; A privilege I think." ~ Emily Dickinson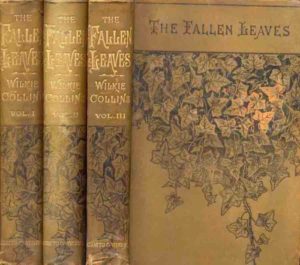 Miss Dickinson is correct, "It is a privilege" to meet antique books.  Not only for their marvelous words, but for their lovely jackets.  Truly, something of the past.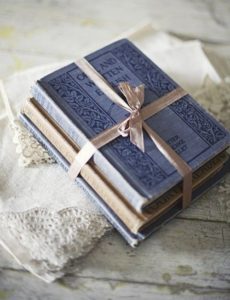 "Patina is understanding the beauty of age." ~ Unknown
I hope you have enjoyed your visit.  And, by chance, if you are not a lover of old things as I am, perhaps you have received an inspirational nudge to look at them and wonder. Who made this, and where was it made, and who was it made for?  "What did they unlock?"  The answer ~ maybe, your heart.
Do know I appreciate and enjoy reading all your comments.  I always try to respond.
Au Revoir,
Sandra
Note:  Images ~ (Via Tumblr) Unless otherwise stated, I do not claim ownership of these photos. These photos are the work of tremendously talented people and I simply compiled them for your enjoyment.