"To collect anything, no matter what, is the healthy human impulse of man and boy, and the longer and harder the search, the greater the joy of acquisition." ~ Agnes Repplier
So, what do you collect?  Perhaps there are so many treasures which appeal to you, it is difficult to focus on one particular thing which sends you over the moon.  That is certainly the case with me.  Especially when I see something I know has a story. Such as an old quilt.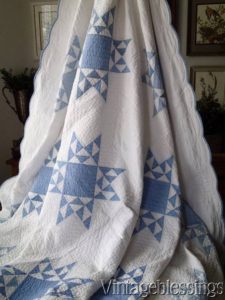 I always wonder about the person who created it, what their life was like, and the hours of work and love it took to create such a thing of beauty. Quilts are great love stories and I have collected many of these beauties through the years.  To me, it is a privilege to be their caretaker.    
Isn't it strange how one thing can lead us to another? The love of quilts, led me to appreciate and collect handwoven coverlets, which led me to become a weaver. Weaving deepened my appreciation of all handwork and household textiles.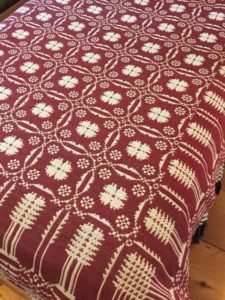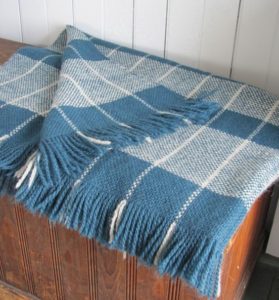 However, my greatest joy in learning to weave was finding my treasured barn loom. My husband and I came upon this great treasure while traveling over the mountains of West Virginia into Virginia. My treasure was found disassembled in a chicken coop. Truly, it was a lovely roost for the chickens.  However, after hours of scrubbing and cleaning, its beauty came shining through and my goodness, it weaves wonderfully. It has a 54 inch weaving width (unusual, most are 36 inches), a dove tailed breast beam and the maker's name carved at the top ~ John Roher.  Unfortunately, he did not carve the date. My treasured loom came from an old log homestead in Pendleton County West Virginia. So often, I have wished the loom could talk. I do know, it would be fascinating to hear her stories. 

Ah, but there is more.  I have come to think, "Surely, I must have a collecting gene."  My mother had it.  I can remember going with her, at a young age, to estate sales and antique shops.  This is where I received my education about condition, quality and price. An education which has served me well, as I have enjoyed the 'thrill of the hunt' for many years.

So, you ask, what else do I hunt and collect?  Let's see.  There are butter molds, crockery mixing bowls (especially blue), and beautiful china. Gorgeous vintage china is a wonderful world and it can surely lead you down the hunting path. There are fabulous patterns, shapes, colors and pieces.  And, not to mention stunning teacups, saucers, and teapots.
My interest in teacups and teapots led me to a most interesting course ~ "How to Prepare and Serve a Formal Tea."  It was a great course and the amount of material covered in the class was amazing. Not only did I learn a great deal, I met many other ladies who also collected teacups, teapots, and various other things. Furthermore, my association with these women gave me the great pleasure of being part of forming a tea society. The society met at a local historic home and we served tea to guests when the home was open to the public. I would never have had this unique experience or met this lovely group of women, if it were not for teacups and teapots.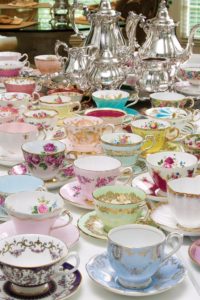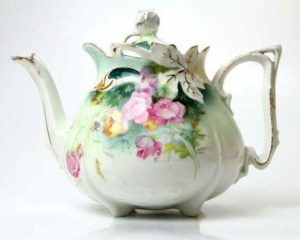 These things we hunt and acquire are what can make our homes uniquely ours.  They also serve to remind us of wonderful times shared with family and friends  during our hunting adventures. I enjoy seeing a certain piece in our home and reflecting on who was with me when it was purchased. Such memories …they warm my heart.  
So, if you are not a collector, perhaps you have received a bit of inspiration today.  Grab a dear friend, and take off one Saturday morning. Coffee and newspaper in hand. Visit local estate sales, antique malls and shops. You just might be amazed at what you will find. And I promise, you will make the best memories. Also, you may discover what I know to be true ~ "Antiques offer us an enduring reminder of stability and permanence." ~ Barbara Taylor Bradford
Thanks for visiting. Enjoy this glorious season and Happy Hunting!
Au Revoir,
Sandra
Photos: All photos Pinterest, Vintage Blessings and Victoria Magazine.