"Tea is a daily companion that never fails us.  It warms when we ~ or the world~ feel cold, gives strength when we're weary, and lends delicious grace notes to our gatherings." ~ Kim Waller


Good morning, dear friends.  I am so happy to see you and hope you will enjoy our time together this morning.
Do you ever wish certain things could talk?  Oh, I do ~ many things.  I believe it would be fascinating to hear from old houses, barns, quilts, and furniture ~ just to name a few.  But, I especially wish teacups could talk.  I look at my teacups and wonder, "Who loved them, what were their lives about, and what calamities of life  did they endure?"  But, mainly  I wonder about the friends who shared pieces of their lives over cups of tea.  I believe I would have enjoyed knowing them.  And, perhaps they are pleased I am the current caretaker of their treasured teacups.
"I like to… think about the houses and the drawing rooms, the kitchens and the cupboards where the teacups were kept.  And the people who cared for them and what they thought and felt and loved and lost.  For as a wise French writer once said, 'The reconstitution of the past is a delicate pleasure of which one should not be deprived." ~ Geraldene Holt 


My enjoyment of taking tea most likely goes back to times spent with my grandmother as a little girl.  If I close my eyes for a moment, I can clearly see her kitchen and the table where we shared many cups of tea.  She would fix my tea with milk and sugar and always in a pretty cup and saucer.  We would chat and there would be a 'goodie' of some sort to enjoy.  I felt so special.  As I grew older, my mom and I loved to visit antique shops and estate sales.  Mom schooled me on pretty tea wares and quality china.  This 'schooling' led to my collecting teacups and saucers, teapots, and far too many other delicate beauties.  
"We always had our tea out of those blue cups when I was a little girl…" ~ Willa Cather


"The teapot is on, the cups are waiting, favorite chairs anticipating.  No matter what I have to do, my friend, there's always time for you." ~ unknown
While it is dreadfully hard for me to pass up a lovely china teacup and saucer at a sale or antique shop, taking tea is about far more than the tea or lovely tea wares.  It is about slowing down ~ enjoying a bit of serenity in our chaotic world, and perhaps, offering the same to a friend.  Taking tea…a lovely and thoughtful tradition, available to us all, and it only cost a little of our time.   Yoli Brogger reminds us ~ "Tea is a ceremony of loveliness."  I truly believe, as humans, we crave such loveliness in our lives.  It is important to our well being.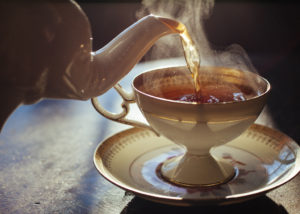 "Beauty is all around us, of course.  Our world, with all its sordid problems, still brims with breathtaking loveliness.  And one of the benefits of the teatime ritual is that of slowing us down enough to notice what is beautiful around us." ~ Emilie Barnes
I will tell you, I don't believe anyone loves gorgeous china and its beauty more than I do.  But, if you love it also and have ideas of starting a collection of tea wares, consider shopping thrift stores, garage sales, estate sales, and antique shops.  One can quickly accumulate a lovely assortment of beautiful china teacups without spending a fortune and they do not have to match.   In fact, one of the most beautiful afternoon teas I ever attended, the hostess had an exquisite assortment of delicate china teacups and plates all unmatched.  This had a charm all of its own and the guests were invited to select their teacup and dessert plate.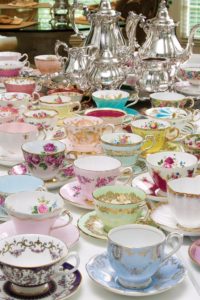 The loving hostess of this beautiful afternoon tea well understood her invitation was about far more than her tea wares.  She invited her guests because she wanted time with us and she wanted us to savor our moments together. She had created beauty for everyone to enjoy.  People grow and flourish when they are surrounded by beauty.  It wakes up our sensitivity so that we become more aware of beauty. Even though this afternoon happened many years ago, I will always cherish the memories and feel blessed by the gift of beauty and grace from such an intimate and lovely tea.

"My dear, if you could give me a cup of tea to clear my muddle of a head I should better understand your affairs." ~ Charles Dickens
As I begin to close this post, I'm thinking there remains so much to talk about.  The many types of teas, ideas for tea gatherings,  and stories.  The story of a most special tea service gifted to me by my husband, a lovely teapot that belonged to a dear friend, and the blue rimmed teacups from oatmeal boxes, which my grandmother collected and now belong to me.  All to be shared in later posts.   Meanwhile, I hope you will take time to slow down, brew a pot of tea for yourself or a friend, listen to birdsong and notice the beauty around you.   The land is beginning to wake up ~ we don't want to miss a single bloom. 
"Tea quenches tears and thirst." ~   Jeanine Larmoth and Charlotte Turgeon

Wishing you sunshine, blue skies, and sweet surprises!
Au Revoir,
Sandra
Images: via Tumblr, Pinterest