"The flowers of late winter and early spring occupy places in our hearts well out of proportion to their size." ~ Gertrude S. Wister
Good morning, dear friends.  While I enjoy winter, once this time of February arrives I am ready to see blooms.  I rather imagine many of you are as well.  So, this morning finds me anxiously awaiting the arrival of what I feel is one of the sweetest harbingers of spring ~ snowdrops.  And, these little lovelies are just about to bloom in our garden.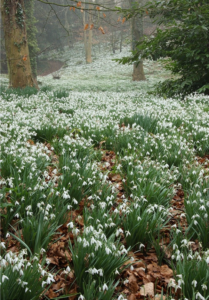 "Earth is crammed with Heaven." ~ Emily Dickinson


 "The Snowdrop," by ~ Alfred, Lord Tennyson
"Snowdrop Many, many welcomes,
February fair-maid,
Ever as of old time,
Solitary firstling,
Coming in the cold time,
Prophet of the gay time;
Prophet of the May time,
Prophet of the roses,
Many, many welcomes,
February fair-maid!"


Snowdrops:  Theirs is a fragile but hardy celebration…in the very teeth of winter." ~ Louise Wilder
These delicate beauties(botanical name~Galanthus) represent purity, hope, rebirth, and consolation or sympathy.  Their precious nodding blooms, make my heart sing.  We have the white ones which you see here, but my mom also had a rare blush pink.  They were a little taller and did not spread as readily.   
Snowdrops are hardy in zones two through eight.  They enjoy a somewhat woodsy soil and a bit of shade.
And what a treat they are to see sitting in a petite vase on a kitchen windowsill.  Such a promise of spring.


I hope you have enjoyed your visit and my 'Sunday Thoughts.'
Wishing you and yours a beautiful day.
And in the week ahead, may you begin to see snippets of spring all along your path.  

Au Revoir,
Sandra
Images:viatumblr