"I smell the white roses sweet-scented and growing." ~ Walt Whitman
Good Sunday morning, beautiful souls.  I hope this finds you well and happy this winter morning.  We have just a light dusting of snow, enough to be pretty.  So, you may be wondering, "Why is she writing about roses?" 

"Love is the only thing in this whole universe, that can make the roses grow out of the swords." ~ Akshay Vas
My thoughts, of course, are on our Presidential Inauguration.  As you know, this has always been a joyful and celebrated time in our country.  A dignified event and a gleaming star of our democracy.  In dreaming of a perfect day for this grand event, I began to think about a flower that could symbolize such an occasion.  My mind went immediately to the white rose.  Why the white rose?  Because the white rose is an ancient symbol of love and peace.  White roses also symbolize feelings of friendship, peace, respect, and hope.  All are attitudes of love and decency, which we pray to once again enjoy in America. 

"Peace cannot be achieved through violence, it can only be attained through understanding." ~ Ralph Waldo Emerson
Dear friends, as we approach this most special day, my heart is heavy with concern.  I can not begin to tell you how many times throughout the years I have read the following words, nor how many times I have read them in the past few days.  They are always a comfort to me.  The words remind me to think good thoughts and pray for a wonderful day and safety for everyone.
"Whatsoever things are true,
Whatsoever things are honest,
Whatsoever things are just,
Whatsoever things are pure,
Whatsoever things are lovely,
Whatsoever things are of good report,
If there be any virtue, and if there be any praise,
Think on these things."
Philippians 4:8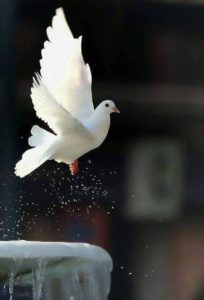 Please know I wish you and yours a beautiful day.  
And. . .
In the days ahead, may we see peace and goodness across our land.   As well as, many white roses.
Stay well! 
".. .I will dwell on all the angels singing, putting love and truth in my heart and in the words I speak." ~ Alexandra Stoddard
Amour,
Sandra
Images:  Pinterest