"Set wide the window. Let me drink the day." ~

Edith Wharton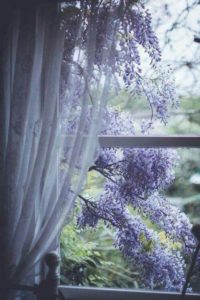 Good Sunday morning, dear friends.  I hope this finds you well and enjoying the beauty and fragrance of spring.  As for me, I am now enjoying the beauty and fragrance of lilacs,  and I am about to welcome the Carolina Jessamine. Does it get any better? I don't think so.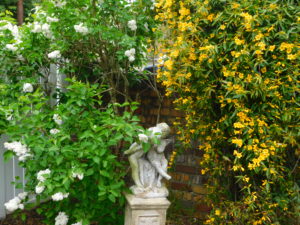 Carolina Jessamine (about to open), white lilac, and Loving Cherubs  
I do love and enjoy lilacs and never take them for granted.  They are quite common here in North Central West Virginia and many may wonder why I am so captivated by them.  When we lived in the south, it was too hot for them and I missed them terribly ~ for thirty-two years.  There were a very few scattered about, that seemed to be in the exact right spot, with the exact right soil and light.  But they are not, in any way, hardy in the south.  Recently, a couple of varieties have been cultivated just for the southern states, although, I've been told they lack the intense fragrance.
"I opened the large central window of my office room to its full on the fine early May morning. Then I stood for a few moments, breathing in the soft, warm air that was charged with the scent of white lilacs below." ~ Angus Wilson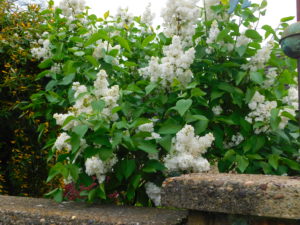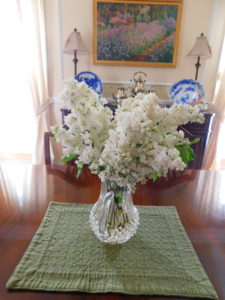 Madame Lemoine, lilac
Our white lilac, Madame Lemoine, was the first to bloom this year.  Madame Lemoine was named in honor of the wife of  Victor Lemoine.  Who cultivated many French hybrids.  Usually, this lilac blooms in conjunction with our very dark wine-colored lilac, Ludwig Spaeth.  However, this year 'Madame' decided she would be first on the scene.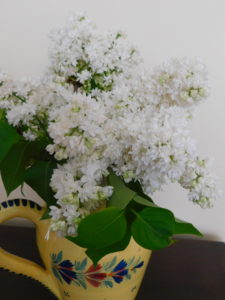 In the dooryard fronting an old farm-house near the white-wash'd palings, Stands the lilac-bush tall-growing with heart~shaped leaves of rich green, with many a pointed blossom rising delicate, with the perfume strong I love, With every leaf a miracle ~ and from this bush in the dooryard, With delicate-color'd blossoms and heart-shaped leaves of rich green, A sprig with its flower I break. ~ Walt Whitman
In the language of flowers, the colors of lilacs represent different meanings.
White ~ represents purity and innocence.
Violet ~ all shades represent spirituality, darker purple represents that the wearer is concerned or knows of spiritual mysteries.
Blue ~ represents happiness and tranquility.
Lilac ~ represents one's first love or the first time one feels love for someone.
Pink ~ represents love and strong friendships.
Magenta~ represents passion, love and the thrill of being alive.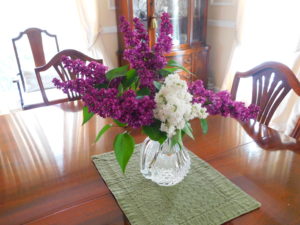 "The smell of lilacs crept poignantly into the room like a remembered spring." ~ Margaret Millar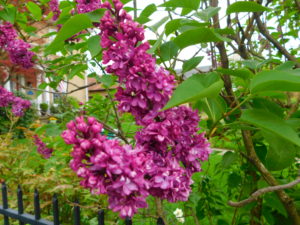 "A faint smell of lilac filled the air.  There was always lilac in this part of town.  Where there were grandmothers, there was always lilac."  ~ Laura Miller
" Flowers have a way of creating strong and lasting memories. Flowers may fade, but the memories and the emotions felt never will." ~ unknown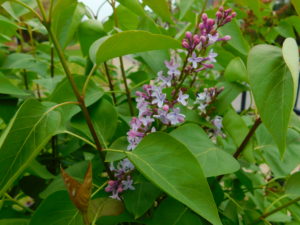 This lilac, just beginning to open, holds special meaning to Mike and me.  I do not begin to know its name, although it is similar to a variety named Blue Skies.  This lilac came from Mike's family farm in Western Pennsylvania, a special place where we both spent many happy times with his family.  I raised it from a tiny sprig. The farm was sold many years ago.  Upon returning to the area some time ago, the lilac (once enormous) is now gone and there is no sign a human ever worked the land or lived on the farm. The lilac serves as a beautiful memory for both of us.  It is now about four feet tall and this is the first year it has shown her lovely blooms, we are so excited.  While there are not many blooms, we treasure each and every one.
"But remembering those moments, I stand still in ecstasy, inhaling through the noise of falling rain, the smell of invisible, enduring lilacs." ~ Marcel Proust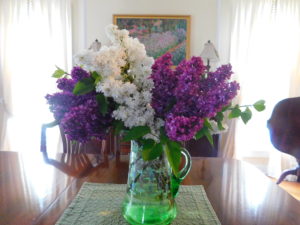 Dear friends, I hope you have enjoyed smelling the lilacs.  When the lilacs are in bloom, Edith Wharton was certainly correct when she said, "Set wide the window.  Let me drink the day."  When I was growing up and my mom had a vase  of something lovely and fragrant, she would hold it to my nose and say, "Take a drink."  Wharton's quote brought back a sweet memory.
Know, I thank you for your visit and wish you and yours a day of beauty,  filled with the marvelous fragrances of spring. 
Have a wonderful week ahead.
And. . .
Be well!
"Flowers have spoken to me more than I can tell in written words. They are the hieroglyphics of angels, loved by all men for the beauty of their character, though few can decipher even fragments of their meaning" ~Lydia M. Child
Amour,
Sandra
Note:  There are many lilac festivals held throughout our country each year.  However, I have been told two of the best are, The Rochester, New York Festival, May 21 through 23, 2021, and The Mackinac Island, Michigan Lilac Festival, June 4 through 13, 2021.  If your travels take you to either of these parts of the country, it would most likely be worth your time to stop and smell the lilacs.
Images:  Michael Lambiotte and Tumblr