"Just one smile immensely increases the beauty of the universe." ~ Sri Chinmoy
Good Sunday morning, dear friends.  I hope this finds you well and under blue skies.  Today, I thought I would share a few smiles.  Smiling is good for all of us, especially during difficult days.  So, make yourself comfy and enjoy some of the things that made me smile.  I hope they will make you smile too.
On a side note, if you had all these Lab puppies, you would never stop smiling.  They arrive in the world happy.

"It's hard not to feel happy when you make someone smile." ~Roy T. Bennett
I love to read signs, they always seem to give me a big smile or a laugh.  And, they usually contain a certain amount of truth or a solid message.
I don't know about you, but when I receive a 'real' note or a letter from someone I adore, it truly is 'love delivered.'

"We shall never know all the good that a simple smile can do." ~ Mother Teresa
The animal world never ceases to provide smiles.  Our treasured pets as well as the dear creatures who reside in nature have much to offer.
This guy is about to sneeze or he is having a bad day.  Either way, I smiled.
Now, I have been owned by many dear kitties and none of them would have been happy with this hat.
I have felt this way many times in my life.  Wonder what has upset him or her?
Our home in Virginia had a four hundred foot driveway.  I can promise you we smiled when our Labrador retriever brought us the paper.  It was one of her favorite things to do.
Such decisions!
Caught!
Who wants to go for a boat ride?
Ah, it is Buggs.  I will write about him later.  This photo is exactly what he looks like, but he has a taste for delphiniums, not roses.

"A smile is the light in your window that tells others that there is a caring, sharing person inside." ~ Denis Waitley
Is there anyone who doesn't smile when the opportunity presents itself to enjoy a country drive on an autumn day?  And finding a roadside stand is a bonus.
Or, a shop with an interesting name.  Should one venture inside or remain outside?
And to find the perfect spot to soak in nature's glory. What a day.

"Smile more. Smiling can make you and others happy." ~ Roy Bennett
Dear friends, thanks so much for your visit.  I hope you have found a smile or two.
I wish you and yours a magnificent autumn day.
And…
May your week ahead be full of smiles!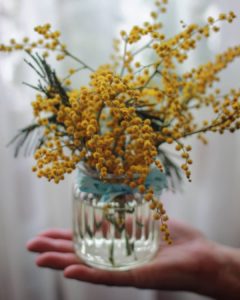 "Let us meet each other with a smile, a smile is the beauty of the soul." ~ Lailah Gifty Akita
Amour, 
Sandra

Images:  via tumblr