"It's all about finding the calm in the chaos." ~ Donna Karan
Good Sunday morning, beautiful souls.  I hope this finds you well and at peace.  The deadly virus appears to be on the rise in almost every state and the rise of heated political rhetoric is flourishing as well, unfortunately.  So how do we find "calm amidst such chaos?"  I certainly do not know. However, I do know, once upon a time, life was sweeter.

Jim Kirwan writes, "We live in a world where violence has become the currency of the day, where the insanity of hatred overwhelms the spirituality of our existence. We search for meaning, yet all we find is chaos."  For me, home is my shelter from the ugliness of the world.  As I imagine it is for you.  Home, now more than ever, is a true blessing and such a refuge for all of us.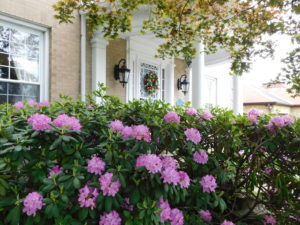 Our home in the spring.
Although, the violence of this world came too close to our doorstep these past few weeks.  One horrible incident: our neighbor (three houses down the street) was shot while trying to protect his wife from someone who carjacked her and her mother as she pulled out of their driveway. Thankfully, he was not killed but remains in the hospital, and his wife and her mother are safe but emotionally scarred.  
These times are so difficult on many levels and it is not only the violence that seems to be out of control,  it is also the failure to respect other opinions.  Resulting in friendships being lost, some expanding decades upon decades.  And when this happens, friends lose the shelter of one another.  Both are tragic.


Heart, I implore you, it's time to come back from the dark." ~ Mary Oliver
I feel certain you will agree, "it is time for many hearts to come back from the dark."  Perhaps it will be the end result of the virus, once it is over.  I pray we never return to this constant state of 'rush and confusion.'  And that we will once again respect each other, know our neighbors, pay attention to the magnificence of the earth that surrounds us, and foster kindness.  Because the words of Robert A. Heinlein speak the truth, " A dying culture invariably exhibits personal rudeness. Bad manners. A lack of consideration for others in minor matters and a loss of politeness…"

"There are many things to be grateful "for" but, as I ripen with the seasons of life, the many reasons blend into a sacred mystery. And, most deeply, I realize that living gratefully is its own blessing." ~ Michael Mahoney
There are many things I am extremely grateful for and have helped me sort through these difficult times.  To name a few, my husband who is at his core a cheerful person, the beauty of nature, and my blog.  I am so grateful for my dear blogging friends, their encouraging words, and humor.  And my dear friend of sixty-plus years, Janet.  I am grateful life has not eroded our friendship.

"Faith is the strength by which a shattered world shall emerge into the light." ~ Helen Keller
Dear friends,  thank you so much for your visit.  I wish you and yours a perfectly gorgeous day.  May the week ahead be filled with everything that is good and wonderful. And, may you always find "calm in the chaos."  Stay well!
On that note, I will leave you with the thoughts of Steven Charleston. I hope you will find them as hopeful as I did.
"Wait and see. Mercy will return once more, like a mist coming down into the valley, long trails of fog as white as a wedding gown against the gray-green mountains, draped by an unseen hand, drifting down to cover the valley below, putting a stillness in the air, a veil of mystery no human heart can yet decipher. Wait and see. Peace will come once more, dancing over the tops of white-tipped waves, rushing like salt spray to tell the good news to every creature waiting, bending the stubborn wetland grass to touch the Earth, as sharp a breeze as can ever fill any sail. Wait and see. Love will be here to stay, coming over the freshly harvested fields like the shadow of a cloud in an October light, moving forward to embrace every longing heart, wrapping us in swirls of colored leaves, the season of rest already upon us, as the promise of our dearest hope is finally fulfilled. Wait and see."
Amour,
Sandra

Images:  via tumblr, Michael S. Lambiotte