"Few will have the greatness to bend history itself, but each of us can work to change a small portion of events. It is from numberless diverse acts of courage and belief that human history is shaped. Each time a man stands up for an ideal, or acts to improve the lot of others, or strikes out against injustice, he sends forth a tiny ripple of hope, and crossing each other from a million different centres of energy and daring those ripples to build a current which can sweep down the mightiest walls of oppression and resistance." ~  Robert F. Kennedy
Good morning, everyone.  I realize that it is Monday and not Sunday.  However, I believe my broken heart also affected my brain.  I simply could not gather my thoughts enough to write a post, even a brief one as this will be.  What occurred this week in Ukraine truly broke my heart.  As I know it did all my dear blogging friends.    You see, from what I gather during these few years of blogging, "We all seem to be cut from the same cloth."
All of us have our own thoughts about this horrifying situation, therefore, I won't go into detail about mine.    However, I will tell you what I hope we learn ~ really learn.  First, we could be next and may well be before it is over.  Second, are we willing to stand up and pay the price the Ukrainians are for democracy?  Oh, I hope so.  Third, I do hope the American people have gained a new respect for our country and our democracy.  Fourth, so far we have the blessing of being able to select our leaders, the availability of free press, and to make our own decisions.  Fifth, to respect one another and treat each other with kindness.
On August 24, 1991,  Ukraine officially declared itself an independent country.  Just 31  years ago this August.  They are such a new country, and no country in such infancy should be expected to fight and defeat an established, well-equipped, well-trained army, ~ one of the largest in the world.  We were once a new country too, 246 years ago.    Ukraine needs our help and the help of other countries as well.  Honestly, I believe even more help is on the way.  However,  actually getting what the Ukrainians need to them, will not be an easy task.
I have not failed to think of the Russian people.  Do they want or believe in this war?  Probably not.  Many of their soldiers may not want to be in Ukraine, truly know or understand why they are they are there, and they have also left their homes, wives, and children. 
In closing, I have been reading much about the Ukrainian people.  Did you know they are passionate about gardens and flowers?  One article I read said, "Flowers are everywhere.  Window boxes are everywhere.  Ukrainians have such a love of beauty and flowers.

"I want to be like a sunflower; so that even on the darkest days I will stand tall and find the sunlight." ~ unknown
Isn't it ironic that Ukraine chose the sunflower as their national flower?  Because they certainly are standing tall and looking for the light.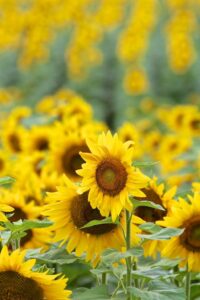 I know all of you will join me in prayers for our world, the people of Ukraine, our treasured democracy, and democracies everywhere.  May our beloved Red, White, and Blue wave proudly over our land and send her message loud and clear to all others.
Amour,
Sandra
"Ukraine is the tip of the spear for the democratic embrace of dreams. If we allow it to fight alone, our soul as America is lost." ~ Sean Penn

Images: Pinterest