"The wings of hope carry us, soaring high above the driving winds of life." ~ Ana Jacob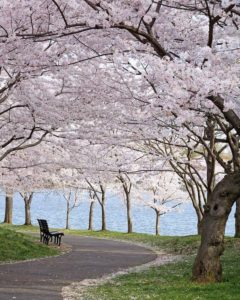 The cherry tree is a symbol of hope.
Good Sunday morning, beautiful souls.  I do hope this finds each of you enjoying early glimpses of spring.
On this blog, I usually try and stay away from political issues or happenings around the world.  I do so because I feel we receive a daily overload of both from the media and I want my blog to be a source of inspiration and beauty for everyone who visits.  However, the awful Coronavirus warrants our attention.  So, today I would like to share my thoughts about this freighting and terrible virus issue.

"Hope is some extraordinary spiritual grace that God gives us to control our fears, not to oust them." ~ Vincent McNabb
Wouldn't it be wonderful if I had answers to share regarding the situation?  I don't.  And at this point, I am not sure who does.  But I do feel the medical professionals and scientists who have spent years in training and devoted their lives to their professions are the folks who should have our attention. I believe it will be in our best interest to do what they suggest: such as avoiding large crowds, staying at home as much as possible, sanitize the areas in our homes which have a great amount of use and wash our hands often and thoroughly. 
Now, this too shall pass, but until it does, today the threat is real.  It will take all of us working together, listening and following directions from reliable sources to get this situation under control.  And, should you believe in the power of prayer, which I do, please pray for those who have been infected, for the outbreak to pass quickly, and for the well being of all our medical personnel and every worker on the front line.  Also, offer a prayer for our leaders to heed the recommendations from knowledgeable professionals in the fields of medicine and science and the wisdom for them to make sound decisions.    

"A world in which there are monsters, and ghosts, and things that want to steal your heart is a world in which there are angels, and dreams and a world in which there is hope." ~ Neil Gaiman
The blue iris is also a symbol of hope.
So dear friends, keep hope alive and believe there will be good things which will come from this disaster ~ new medicines and greater knowledge, which will benefit not only the current population but future generations to come.   And know…
"Hope is the word which God has written on the brow of every man." ~ Victor Hugo

Wishing you and yours a lovely day.
And…
Stay well and keep the faith.
Amour,
Sandra
Images:  via tumblr