"But you knew there would always be the spring, as you knew the river would flow again after it was frozen." ~ Ernest Hemingway, A Moveable Feast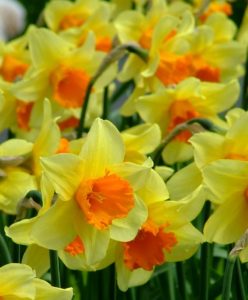 Daffodil, Fortissimo
Good morning, sweet friends.  Are you longing for spring?  I so love to see spring dressed in her finest.    She has such a stunning array of colors in her wardrobe. And, everything she wears is simply beautiful.
"I love spring anywhere, but if I could choose I would always greet it in a garden." ~ Ruth Stout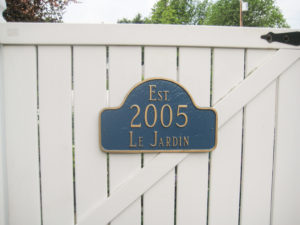 I am so happy to see you this morning.  Please join me in Le Jardin, the blooms are eager to meet you.  Once you meet them you will understand my 'longing for spring.'   Although, one certainly does not have to be passionate about the garden to long for the beauty of spring.  But, perhaps, the blooms will inspire you to create a garden, plant something you have not grown, or visit a public garden.  
Even though many of you have possibly seen several of these photos in the past, maybe there are some you haven't.   Either way, I hope you will enjoy them as much as I do each spring.  So, pour yourself a large coffee/tea and I will begin the introductions.  Oh, if you are hearing a little chuckle, it is the blooms.  They are so happy you are visiting. 
"A flower that blooms speaks to us of many things: beauty, hope, mystery, and miracles, but most of all, of LOVE." ~ unknown
Just in case you didn't already know, I have a deep love for peonies.  I have adored them since I was a little girl.  There are around sixty-two different varieties of these beauties tucked in our garden.  Each and every one makes my heart pound.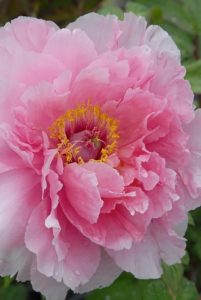 Unknown Tree Peony gifted to me by my friend, Cathy.  I named her ~ Princess Cathy.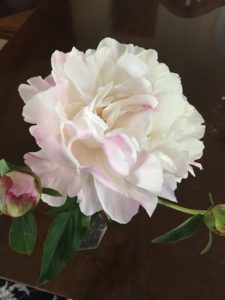 Peony, Gardenia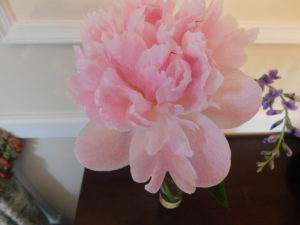 Peony, Courage and a stem of Baptisia. Notice the speckles on her petals.  My mom said, "God gave her special attention."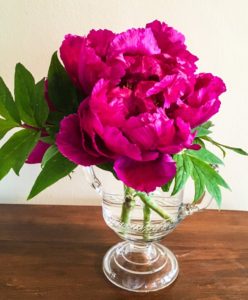 Japanese Tree Peony, Suffruticosa~ Double Violet
Peony, Red Charm
Peony, Coral Sunset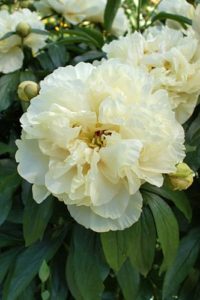 Peony, Sunny Girl (butter yellow)
Sunny Girl in the vase.
Peonies, Sunny Girl (yellow), Paramount (pink), Coral Charm(darker pink) and Col. Owen Cousin (white), all waiting for a vase.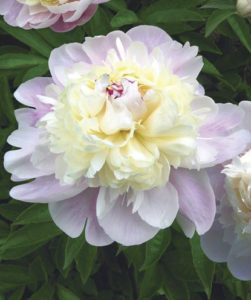 A treasure to me, my grandmother's peony.  I believe her to be Chestine Gowdy.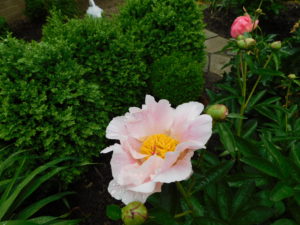 Peony, Chiffon Clouds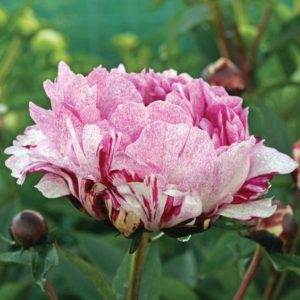 Peony, The Fawn
"I yearn for flowers that bend with the wind and rain." ~ Tso Ssu
"Can we conceive what humanity would be if it did not know the flowers?" ~ Maurice Maeterlinck
Perhaps you are now on peony overload.  So, we will move on to other blooms longing to meet you, the 'Iris girls.'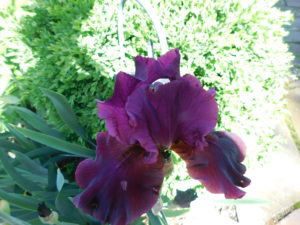 Iris, Ruby Morning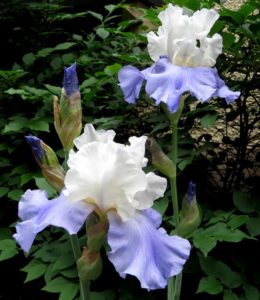 Iris, Stairway to Heaven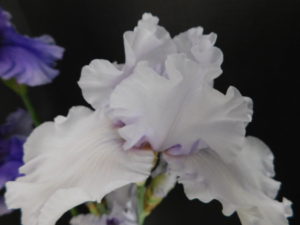 Iris, Silverado, with a shaded unknown purple in the background.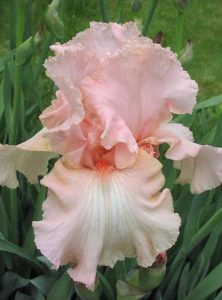 Iris, Beverly Sills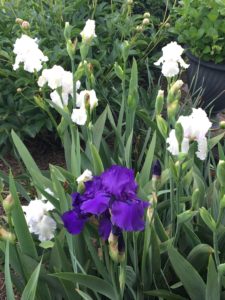 Iris, Laced Cotton (white) and Violet.  I love them together.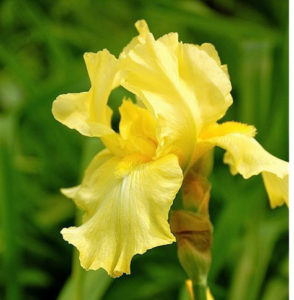 Iris, Pandora.  Pandora and I share Mississippi roots.  She is a true Crayola yellow.
"Flowers really do intoxicate me." ~ Vita Sackville-West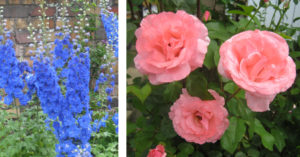 Cobalt Dreams Delphinium and Queen Elizabeth Rose.  
Unlike Sackville-West, I couldn't say "flowers intoxicate me."  However, some have made me giddy as a young school-girl.  They bring me so much joy.  And, as you will see, there are many beauties other than peonies which speak loudly to me.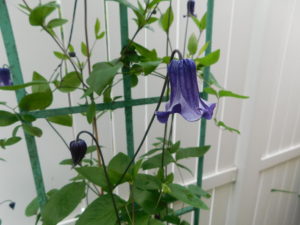 Clematis, Rooguchi – her bell-shaped blooms are delightful.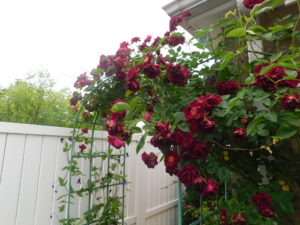 Antique, red rose.  She only has one showing a year, but it is magnificent and fragrant.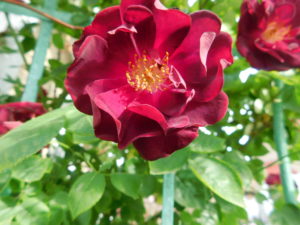 A close-up of the Antique rose.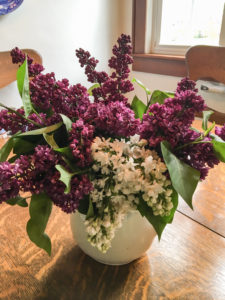 Lilacs could come close to intoxicating someone with their lovely fragrance.  I am so longing to see their blooms and smell their fragrance.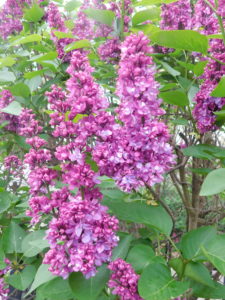 Lilac, Ludwig Spathe, raised by me from a tiny slip.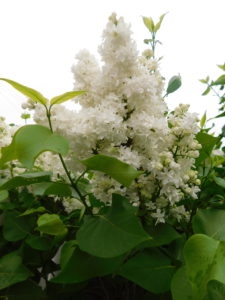 Lilac, Mme. Lemoine, also raised from a tiny slip.  This is a beauty and a double, it was identified by a friend in Va.
"Flowers have spoken to me more than I can tell in written words. They are the hieroglyphics of angels…" ~ Lydia M. Child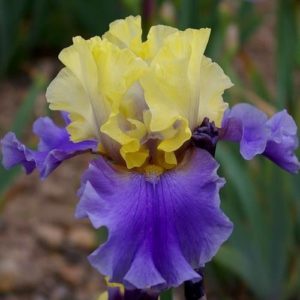 Iris, Edith Wolford
Sweet friends, I feel you must now understand why I named our home "Maison de Jardin" (The Garden House) and you can see why I am longing for spring. 
I hope you have enjoyed meeting the blooms.  In addition to the blooming plants I have shared, the garden is supported by five different varieties of boxwood and summer bloomers, such as hydrangeas, lilies, and many annuals.  It is amazing what can be tucked into a small garden. Should you have any questions regarding any of the plants, don't hesitate to contact me.  Many of these plants have been with me since the mid-1970's and moved with us when we returned to West Virginia from coastal Virginia.  Therefore, I know them well and would be happy to answer any and all questions.
"A picture is a poem without words." ~ Horace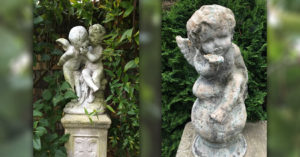 Statuary in our garden. Photo merged by Andy Walker (see note at the end of this post). 
The angels are blowing you kisses goodbye and  Wishing you a beautiful day.
And…
As you go about your days,
Do listen carefully so you may hear,
The Laughter of The Flowering Spring.
Amour,
Sandra
"The earth has music for those who listen." ~ William Shakespeare
Notes:  All photos, Michael S. Lambiotte
A few years ago (before my blog) I wrote a home and garden column for an online newspaper, The Clarksburg Post.  
Andy Walker was the owner and editor, he would do lovely and unusual things with our photos.