"The only gift is a portion of thyself." ~ Ralph Waldo Emerson
Good Sunday morning, my friends.  Well, October just flew by, didn't she?  And once again, all too soon, the holidays will be with us.  Yesterday, I read the Christmas decorations are going up in New York.  So, I guess that is a definite sign. Please know, I am not a fan of Christmas before Thanksgiving.  However, I do want to share thoughts from an article I read from many years ago, which may give you something to consider as the holiday season approaches. 
The article was about how we seem to have lost much of the real meaning of Christmas, amid all the hustle and bustle.   It was written by a woman who decided to bring a new holiday tradition to her children and family ~ The Three Gift Christmas.  I don't remember every detail of the article, but it certainly made me reconsider my ways.    

Perhaps, I am simply a slow learner.  Often I  need to read something in order to step back a moment and take into account my way of doing things.  During the many years I worked outside our home, I had to be organized.  And I think I often drove myself, and probably those around me, crazy trying to accomplish my tasks.  When it came to gifts for those I loved and held dear, I would wake in the morning with my head whirling, regarding the perfect gift or gifts.  But, then I read, "The Three Gift Christmas" ~ my ways changed.
The woman who wrote this article had endured years of rushing around like a crazed person during the holiday season.  Sound familiar?  She felt as though the gifts, she had driven herself mad to acquire, were not meaningful.  Perhaps, when Christmas morning arrived she was simply exhausted, who knows?  But, she decided to make changes.    
Her children were still small and she sat them down to explain that this year each of them would only receive three gifts. They could still make their lists, but she wanted them to know she had asked Santa to bring them only three gifts each.  Why three gifts?  The Baby Jesus only received three gifts.  Certainly, that would suffice for her children.

"

Christmas, my child, is love in action." ~
Dale Evans
You see, this special mom wanted her children to stand in awe of a beautiful tree aglow, to sing wonderful Christmas carols, enjoy Christmas goodies and learn to see all the details of the exquisite beauty of the season.  And, she wanted them to have treasured memories of Christmas mornings and know the love behind the gifts they received.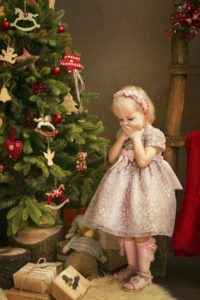 In reading her article, I was inspired.  I stepped out of the chaos and enjoyed, once again, the multitude of little things.  Now, this doesn't mean I don't love the fuss and the full days leading up to Christmas.  Because I do.  But, I have well learned, many times the simplest things are the most precious.

"For the gifts that are priceless are the ones that are heartfelt; their roots are within our soul. They are the greatest gifts, of all." ~ Ellen J. Barrier
Dear friends, I hope you have enjoyed your visit today.  The holiday season will be upon us in a blink and none of us want this most special time to be stressful.  I do believe 'simple' is the key.  Because we all want to savor the moments and make memories for ourselves and those we love.  
Know I am wishing you and yours a beautiful and peaceful day. 
And…
May the month of November bring you great joy. 

Amour,
Sandra
Images:  via tumblr