"And all at once, summer collapsed into fall." ~ Oscar Wilde
Good Sunday morning, sweet friends.  I hope this finds you well and enjoying these last days of summer.  In our area, we are already seeing a few signs of autumn.  While it certainly isn't because of the temperatures, it is the leaves.  Many are taking on a slight change of color and some are falling.  However, the goldfinches continue to entertain us as well as the hummingbirds. However, sadly, both will be leaving soon.  Until then, I am enjoying going "Down The Lanes of August."   I invite you to walk with me this morning.
Down The Lanes of August, by Edgar Albert Guest
"Down the lanes of August ~ and the bees upon the wing.
All the world's in color now, and all the song birds sing:
The bird is an Indigo Bunting, common in the countryside of WV.
Never reds will redder be, more golden be the gold.
Down the lanes of August, and the summer getting old.
Mother Nature's brushes now with paints are dripping wet,
Gorgeous is her canvas with the tints we can't forget;
Here's a yellow wheat field~purple asters there,
Riotous the colors that she's splashing everywhere.
Red the cheeks of apples 
And pink the peaches' bloom,
Redolent the breezes with the sweetness of perfume;
Everything is beauty crowned by skies of clearest blue,
Mother Earth is at her best once more for me and you.
Down the lanes of August with her blossoms at our feet,
Rich with gold and scarlet, dripping wet with honey sweet.
Rich or poor, no matter, here are splendors spread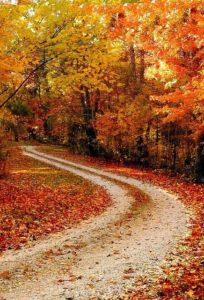 Down the lanes of August, for all who wish to tread."

Dear friends, I hope you have enjoyed your wee walk this morning.   
And…
May you have a beautiful day and a week filled with beauty and joy.
Stay well!
Amour,
Sandra

Images:  via tumblr