"I do not understand how anyone can live without some small place of enchantment to turn to." ~ Marjorie Kinnan Rawlings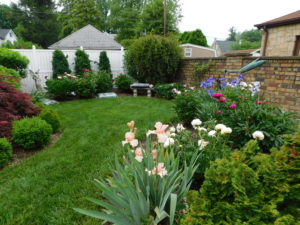 Good Sunday morning, everyone.  I hope this finds you well and under blue skies.  It is a gray and rainy day here in these 'West Virginia Hills.'   A good day for reading or a bit of garden dreaming. 
Rawlings's words certainly spoke to me, as I hope they will speak to you as well.  Personally, I believe it is vitally important for everyone to have their own "place of enchantment."  Mine, of course, is the garden and our sunroom.  When I look at this photo of our garden, none of the plantings, other than the Japanese maple, were here when we purchased the home (2005).  It was mainly grass and a few 'undesirables.'  Slowly, I chipped away and began to bring my vision to life.  The little bench, under the Carolina Jessamine (please excuse the mulch), is such a lovely spot to enjoy being alone with your thoughts and to contemplate life, especially when the Jessamine is in bloom. When I planted the Jessamine it was a tiny sprig in two three-inch pots.  It is amazing how it has grown.  And, the fragrance is breathtaking. 
With each passing day, my heart has fallen more in love with this little patch of heaven, especially during these COVID months.  Indeed, it has been a haven for both of us, as it offers such peace and tranquillity.  

"The ideal of beauty is simplicity and tranquillity." ~ Johann Wolfgang von Goeth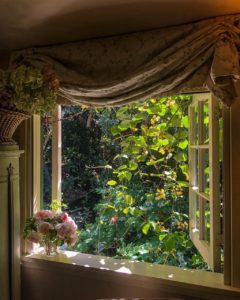 The photo above is not of our sunroom/library.  However, it looks out upon our garden in much the same fashion from a lovely bay window. The room is small but has such life.  Perhaps, it is because my many friends live there ~ my books.  The room has two comfy chairs, two tables, and an entire wall of books. With several books 'lovingly' placed beside and in front of my chair.  And, I can not bear to part with one. 

"So many books, so little time." ~ Frank Zappa
The snow and cold weather have provided perfect days for reading.  During the past few weeks, I have read some wonderful books.  Madame Fourcade's Secret War was a Christmas gift from Mike.  It is a true story and a fascinating one.  This young woman had such courage and strength.  Honestly, I wish I could say I would do the same if necessary, but I can't.  Certainly, I would want to, but I do not know if I have such exemplary qualities.  I highly recommend the book. 
This next book is also a gem.  A wonderful novel by Kate Quinn. There were times when it was difficult to put the book down, but one does have to cook dinner, do some housekeeping, and sleep.
Currently, I am reading The Last Garden in England.  I haven't read enough of it to share much, other than it is hard to pass by when I am going through the sunroom.  So that probably tells you, "The book is grand."  

"Spring adds new life and new beauty to all that is."  ~ Jessica Harrelson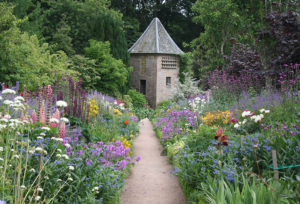 Dear friends, in closing you now know what I've been doing.  Dreaming of being able to enjoy another spring unfolding in our "enchanted place" and reading.  Two of my favorite pastimes.  Spring and early summer are spectacular in our garden and I have a spot to read there too.  I do hope you have a place special where you can relax and simply enjoy being alive. I would love to hear about them.  If not, perhaps the photo above will inspire you.  Therefore. . .
Until we meet again, I wish you and yours a beautiful day.
And. . . 
May your week ahead be filled with lovely things and kind souls.
Amour,
Sandra