"And so the seasons went rolling on into summer." ~ Henry David Thoreau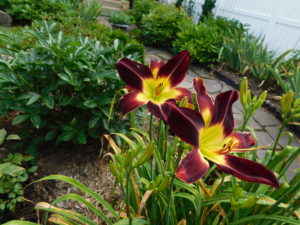 Summer is in full swing in West Virginia and when it is hot in the mountains ~ it is hot!   Although, I know I shouldn't complain as many of my southern friends would likely trade spots for a while.  Anyway, yesterday morning while it was still somewhat cool, camera in hand, I went out to try and capture a few photos of 'summer blooms.'  Other photos in this post have been taken during the last few weeks.  Please be patient with my photography skills, I am still learning.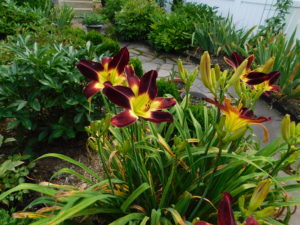 This is a special daylily, to us.  Its name is 'Tribute to Mike.'  My husband's name is Mike and he loves red, so of course, this beauty had to have a home in our garden.  It is a prolific bloomer, and I am especially fond of the size of its bloom and its yellow/green throat.
"The light is amber, the air still; the daylilies have folded in on themselves." – Elizabeth Berg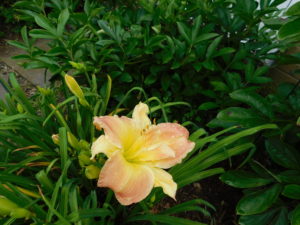 I do not know the name of this pretty girl.  She was shared with me by my former neighbor and dear friend, Cathy. Don't you love her colors?   
Large and ruffly white daylilies can be difficult to find.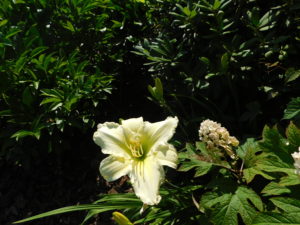 This one is a favorite of mine and her name is 'Snow Queen.' I purchased her several years ago from a daylily nursery in South Carolina. Roycroft Daylily Nursery ~ visit here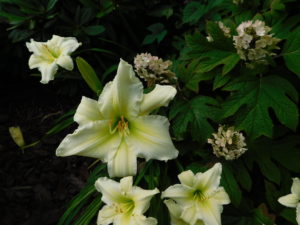 "Dragoons, I tell you the white hydrangeas turn rust and go soon." ~ Carl Sandburg
Clearly, Mr. Sandburg was not familiar with Annabelle hydrangeas.  They do not "turn rust" and they do not "go soon."  Annabelles are hardy in zones 4 through 9, and their blooms are fabulous.  They open in a chartreuse green, turn white and then back to chartreuse.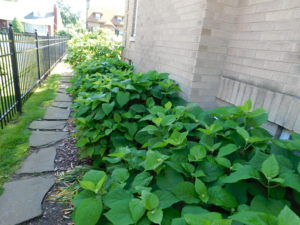 Annabelle's beginning to set on blooms.
Annabelle's in the morning fog, opening in their chartreuse color.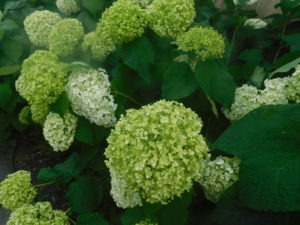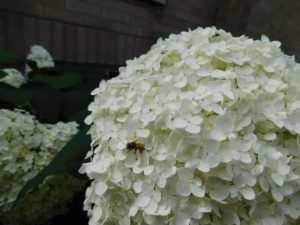 Look who I found enjoying breakfast ~ a sweet Honey Bee.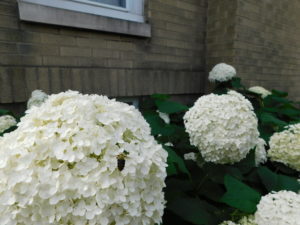 Honey Bee invited Bumble Bee! 
In the language of flowers ~ Presenting someone with a bouquet of hydrangeas means you are expressing your gratefulness for the recipient's understanding.  I love that.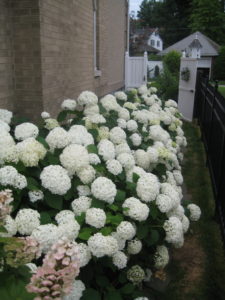 Full Bloom ~ Annabelle Hydrangeas

You probably noticed this guy in the photo with the Snow Queen daylily.  It is an oak leaf, leather leaf hydrangea.  The texture of the leaf is wonderful and is magnificent as a foundation on an appetizer tray.  The blooms open as a creamy white changing to a lovely rose pink.  In the fall, the leaves are a gorgeous scarlet red.  This hydrangea gives you quite a lot during its growing season.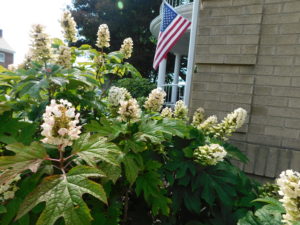 Gardeners are known to experiment a little and here is one of mine ~ hydrangeas in urns.  This is a wonderful way to enjoy the beauty of hydrangeas if perhaps your gardening space is limited.  Now three years old, they live in the garage after the first frost until mid-March.  On mild winter days (above freezing) they enjoy a little drink of water and in the spring they love their drinks of fish emulsion.  But note: Mike refers to them as "Divas."  Because, if they do not have their water in the morning they scream ~ really you can hear them.   And if you don't hear them screaming you will certainly see their unhappiness by their extremely drooping leaves.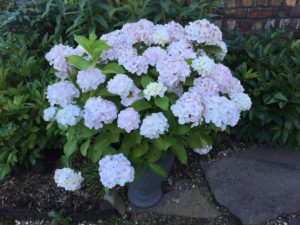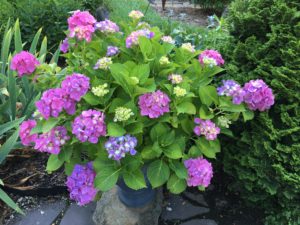 "The poppies hung Dew-dabbled on their stalks." ~ John Keats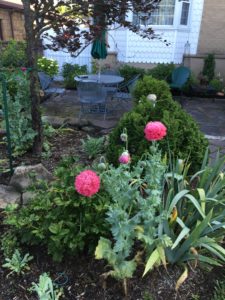 My treasured poppies from France.  The seeds were sent to me by a friend in Normandy.  They were on her property when she purchased her home, which is over 200 years old.  They like to seed themselves and always surprise me in the spring with their chosen, and often unique locations.  Such as, between the walkway stones.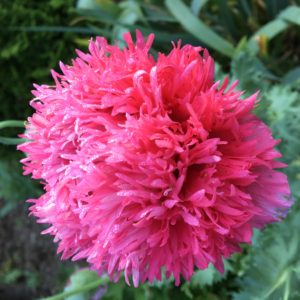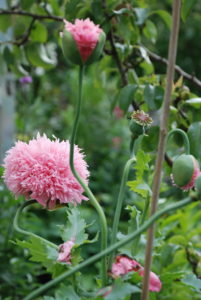 In doing a little research about these poppies, I believe them to be an antique rose poppy, an heirloom variety.  They are rare.

Delphiniums symbolize cheerfulness and goodwill. They are used to communicate encouragement and joy, as well as remembering loved ones who have passed. Delphiniums are also the official birth flower for July.  There are four main colors of delphiniums and their colors symbolize different meanings:  Deep blue ~ symbolizes dignity.  White, pink and light blue symbolize youth and renewal.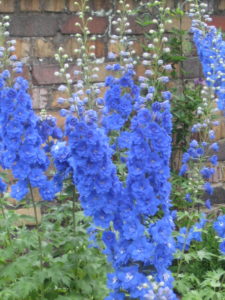 We almost didn't have these beauties to enjoy this year.  A bunny, who I was so happy to see in our garden, decided to make his home with us.  One morning, Mike came in from the garden only to tell me, "Your bunny has eaten to the ground two of your delphiniums."  After tasting a sprinkle of cayenne pepper, the bunny decided to move on.    

In closing, I hope you have enjoyed our 'Summer Blooms.'  Please know how much I appreciate your visit and comments.  Always feel free to contact me with any questions you may have regarding any post.
Wishing you beautiful summer days! 
Au Revoir,
Sandra
"To the attentive eye, each moment of the year has its own beauty, and in the same fields, it beholds, every hour, a picture which was never seen before, and which shall never be seen again." ~ Ralph Waldo Emerson