"Spring turns to summer and the leaves on the trees switch from shades of shamrock-green to a richer, more luxurious forest-green.  I spy, from the comfort of my sitting room, the much-loved landmarks that cosset my little home and make note of the delicate changes that each week bestows upon them.  The air is infused with the scent of young grass and the birds are in full throat with songs as pure and clear as icy water.  It is a joy to stand still for a spell and breathe in the pleasures of the present." ~ Freya Turrill
Good morning, dear friends.  In the hills of West Virginia, spring is slowly moving toward summer.  So before we become too deep in summer, do find a comfy chair, your coffee or tea, and come along with me as I share "spring unfolding in le jardin."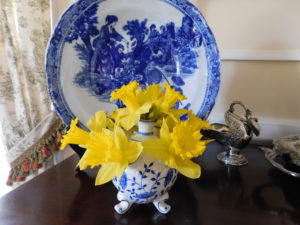 Daffodils ~ the harbinger of spring.  I was so waiting for these beauties.  Isn't everyone after winter?  The lovely blue and white tulipiere was screaming for daffodil blooms.  The tulipiere was a gift from a dear friend, her mom was my beloved high school Botany and Zoology teacher.  This lovely treasure sat on our dining room buffet all winter patiently waiting for blooms.
"Then I lifted the hook and flung the window open.  Spring came in." ~ Felipe Alfau 
It is a sure sign spring has arrived when the tree peonies bloom, always late April to the very first week of May.  This pink one is my favorite, I named her Princess Cathy.  She was a gift from my former neighbor and dear friend, Cathy. She is a stunning beauty.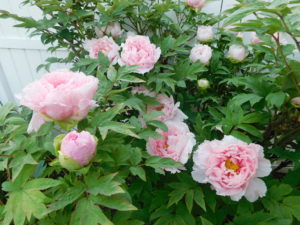 Another beauty is our purplish/red tree peony, Shimadaijin.  In this photo of her in the garden, she appears redder in color.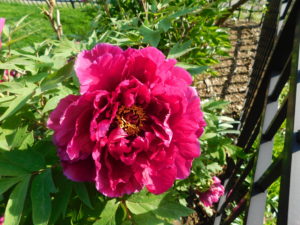 While in the vase she appears more purple.  Actually, she is really violet in color.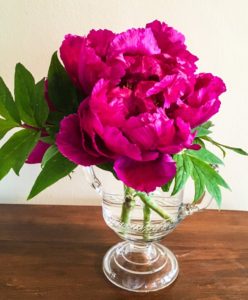 Tree peonies are so special.  Their petals are like tissue paper.  Their bloom time is not long, but they bless us with their beauty every moment they are in bloom.
"If heaven has a scent, it must smell like lilacs in bloom." ~ Victoria Doyle Heagy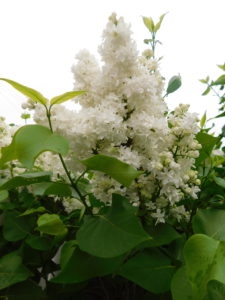 The lilacs were especially pretty this year.  I do not know the name of the white lilac but was told it is a Madame Lemoine.  It was started from a tiny sprig of a neighbors shrub.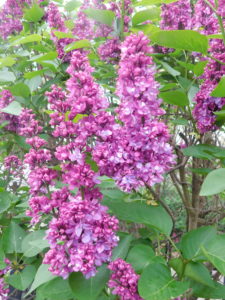 Lilac ~ Ludwig Spaeth.
The fattest and most scrumptious of all flowers, a rare fusion of fluff and majesty, the peony is now coming into bloom. ~ Henry Mitchell, American writer (1923-93)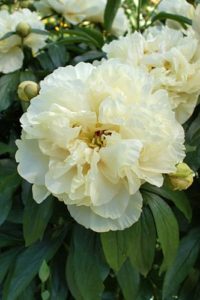 The first of the Herbaceous Peonies to bloom is always 'Sunny Girl.'  She is butter yellow in color.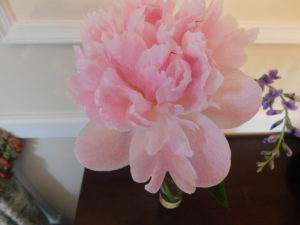 This is 'Courage.'  Notice the speckles on her petals. God gave her special attention.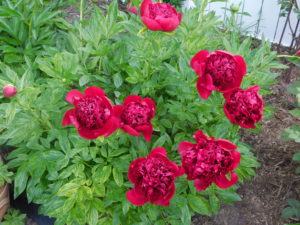 'Red Charm' is another early beauty.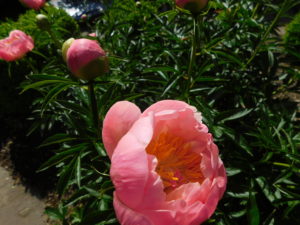 'Coral Sunset' is a stand out in the garden.  Coral peonies take a few years to mature but are well worth the wait.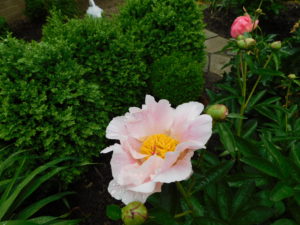 Another favorite ~ 'Chiffon Clouds.'  Isn't she lovely with the raindrops on her petals?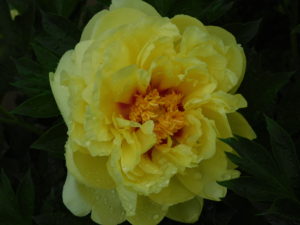 'Bartzella,' also wearing raindrops.  Bartzella is an Itoh peony, a cross between a Herbaceous  Peony and a tree peony.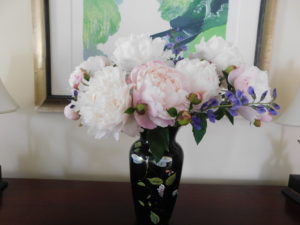 The hand-painted Fenton vase was a birthday gift from my mom many years ago.  It happily holds peonies Mrs. FDR, Bowl of Cream, and Gardenia.  Along with a little Baptisia.
"Had I but four square feet of ground at my disposal, I would plant a peony in the corner and proceed to worship." ~ Alice Harding
"Among the changing months, May stands confest the sweetest, and in fairest colours dressed." ~ James Thomson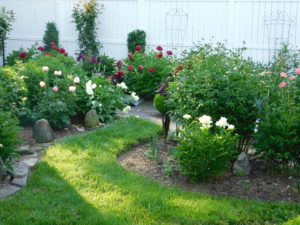 A corner of the garden in the early morning.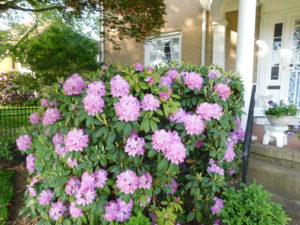 Like the lilacs, the rhododendrons were full of loveliness this year.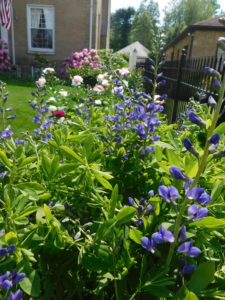 One of my oldest garden friends, Baptisia.  Often referred to as 'False Indigo.'  It is beautiful in a vase with peonies.
"Then we had the irises, rising beautiful and cool on their tall stalks, like blown glass, like pastel water momentarily frozen in a splash, light blue, light mauve, and the darker ones, velvet and purple…" ~ Margaret Atwood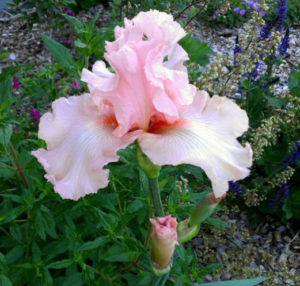 Iris, Beverly Sills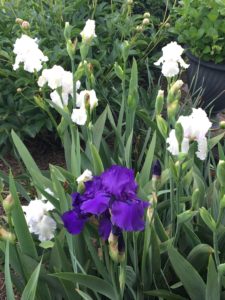 White Iris is Laced Cotton.  The name of the violet iris is unknown.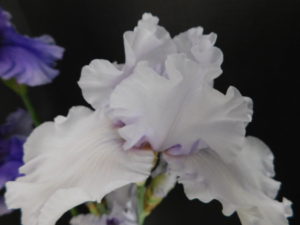 Iris, Silverado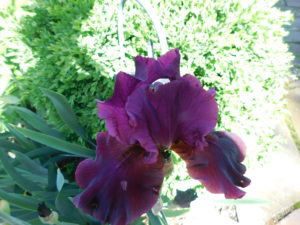 Iris, Ruby Morning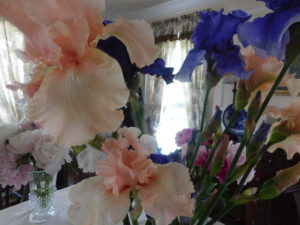 Oh, I had so many blooms ~ 'I didn't know what to do."
"If you take any flower you please and look it over and turn it about and smell it and feel it and try to find out all its little secrets, not of flower only but of leaf, bud and stem as well, you will discover many wonderful things. This is how you make friends with plants, and very good friends you will find them to the end of our lives." ~ Gertrude Jekyll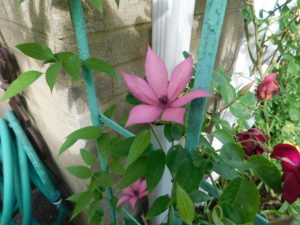 Clematis, Giselle (first year to bloom)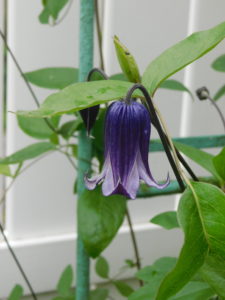 A favorite.  Clematis, Rooguchi
"And then, one fairy night, May became June." ~F. Scott Fitzgerald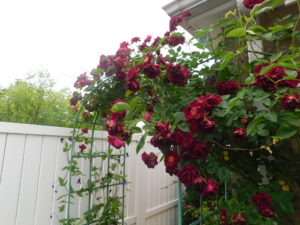 Antique Rose, and only blooms once a year.  She was laying in the yard with nothing on which to climb when we purchased our home.  We purchased an arbor for her ~ she has greatly rewarded us.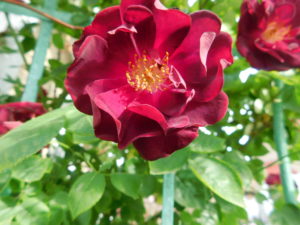 Close up of this lovely rose, which is also very fragrant.
Rosa, Graham Thomas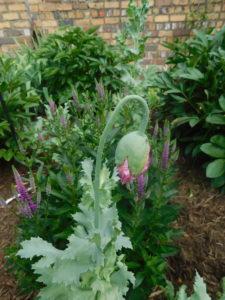 Poppies from France, about to bloom.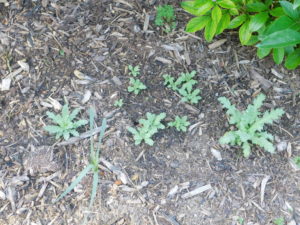 It is always a surprise to see where the poppies have decided to plant themselves each year.  They have a mind of their own.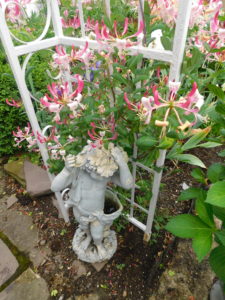 Honeysuckle, Peaches and Cream.  This is the first year for this lovely plant.  It was planted last August.
"There is always something else to do. A gardener should have nine times as many lives as a cat." ~ Vita Sackville-West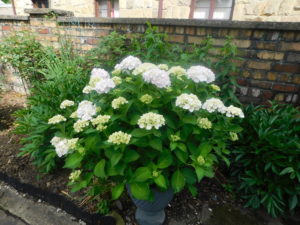 Hydrangea, Regula ~ about to bloom at the garden entrance.
So, as I needed 'something else to do' and of course more blooms, a few years ago I potted three hydrangeas in urns.  Understand they have to be taken to the garage in the winter.  Mike always finds a place for them and he even sees to it that they have a wee drink from time-to-time.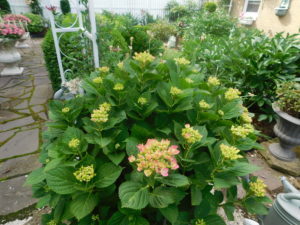 Hydrangea, Blue Danube
Hydrangea, Blue Danube is the bluest of the blue hydrangeas.  However, in order to have her bloom in her heavenly blue, I would need to add a soil acidifier to the soil.  There is a fine line when doing this with potted hydrangeas.  Too much will kill the plant.  Therefore, I decided to leave them alone and allow them to turn a natural pink.  I have two of these (one on either side of the arbor) and you can see this one is just beginning to show color.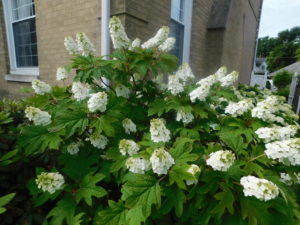 The Oak Leaf, Leather Leaf hydrangea has an abundance of bloom this year.  I especially enjoy it as summer moves along and the blooms turn a rosy pink.  The leaves become scarlet in the fall.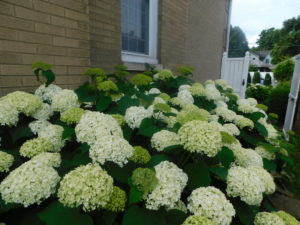 Hydrangea, Annabelle
"Everyone must leave something behind when he dies, my grandfather said. A child or a book or a painting or a house or a wall built or a pair of shoes made. Or a garden planted. Something your hand touched some way so your soul has somewhere to go when you die, and when people look at that tree or that flower you planted, you're there. It doesn't matter what you do, he said, so long as you change something from the way it was before you touched it into something that's like you after you take your hands away. The difference between the man who just cuts lawns and a real gardener is in the touching, he said. The lawn-cutter might just as well not have been there at all; the gardener will be there a lifetime." ~Ray Bradbury
So, my dear friends, I do hope I have not given you bloom overload and you have enjoyed your visit.  Know I am so pleased you took time from your day to spend a little of it with me. 
Wishing you a beautiful day.
And…
wherever you roam may you find loads of blooms and great joy!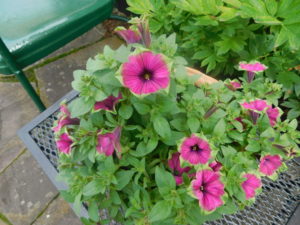 Petunia, Picasso ~ I adore the chartreuse edges of the pink bloom.
"There can be no other occupation like gardening in which, if you were to creep up behind someone at their work, you would find them smiling." ~ Mirabel Osler
Amour,
Sandra
Images:  M.S. Lambiotte