"I love spring anywhere, but if I could choose, I would always greet it in a garden." ~ Ruth Stout
Welcome to 'Spring at Maison De Jardin ~ The Garden House.'  This morning,  find your coffee and come along for a bit of a garden tour and catch a glimpse of the beauty of spring, as she unfolds in the hills of West Virginia.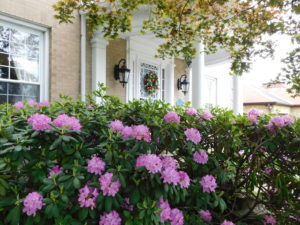 "Spring drew on and a greenness grew over those brown (garden) beds, which, freshening daily, suggested the thought that Hope traversed them at night, and left each morning brighter traces of her steps." Charlotte Brontë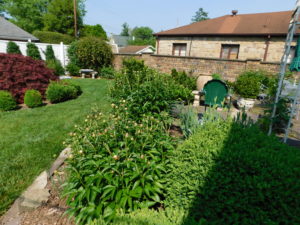 Always the first to greet us in the spring are the beautiful blooms from our pink tree peony, better known as Princess Cathy.  This fabulous peony was given to me by my dear friend, Cathy.  She had raised her from a tiny seedling and when she moved she said, "I don't want to leave her with strangers."  Cathy purchased her at a random plant exchange and did not have any information on her other than she was a tree peony.  I thought the name Princess Cathy to be quite suitable. 
"If you've never been thrilled to the very edges of your soul by a flower in spring bloom, maybe your soul has never been in bloom." ~ Audra Foveo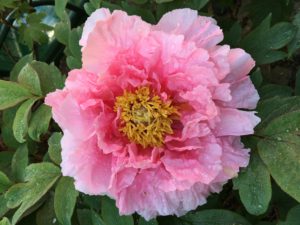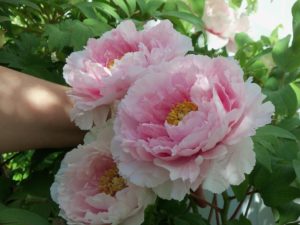 The next peony to bloom is Red Charm.  As well as being lovely in the garden and in the vase, Red Charm is also an APS (American Peony Society) gold medal winner.  Her form is a bomb.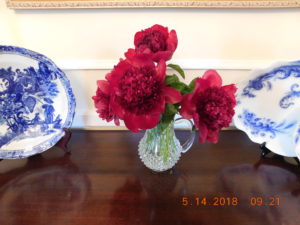 "Irises… rising beautiful and cool on their tall stalks, bursting upwards, wordlessly, into the light." ~Margaret Atwood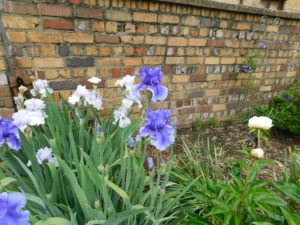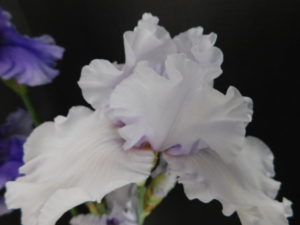 Iris,  Silverado ~ a favorite of mine.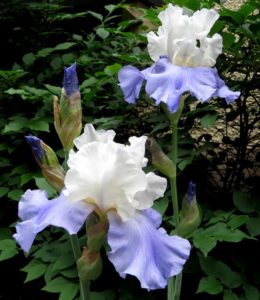 Elegant and tall iris ~ Stairway To Heaven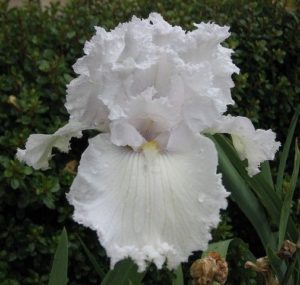 My mom's beloved iris ~ Laced Cotton.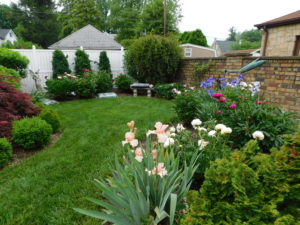 Iris, Beverly Sills (pink) blooming beside Col. Owen Cousins a white peony just opening.   Also, just opening is a vivid pink peony, Douglas Brand.  In this photo, you will also see Green Velvet Boxwoods, Dee Runk Boxwoods (vertical along the white fence) and  Hinoki Cypress by the pink irises.  Please excuse the boxwoods, they have not had their spring clip and do not look as tidy as usual. 

Did you know according to flower folklore, in olden times the peony was revered?  It was thought to be of divine origin having emanated from the moon and it was believed to have the ability to glow at night, chase away evil spirits and protect homes when planted nearby.  If this is true, our home should be well protected.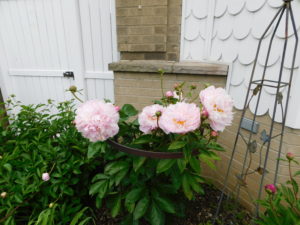 And, along comes Faith.  Faith Fenton is a big girl (about 4 ft. in height)  and requires support.  If you look closely at the photo you will see an iron support in front of her.  It is called an Embracer and is a wonderful item.  They work well for our large Casa Blanca Lilies
 and other plants which require support.  I purchased them (large size)  from
Campo De' Fiori
.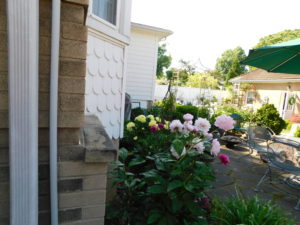 Here you will see another photo of Faith Fenton, the deep pink is Karl Rosenfield and the yellow blooming beauty is an Itoh peony, Bartzella.  An Itoh peony is a cross between a tree peony and a herbaceous peony.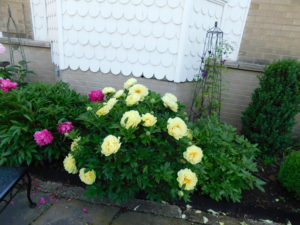 "Making a garden is not a gentle hobby for the elderly, to be picked up and laid down like a game of solitaire.  It is a grand passion.  It seizes a person whole, and once it has done so he will have to accept that his life is going to be radically changed." ~
Mary Sarton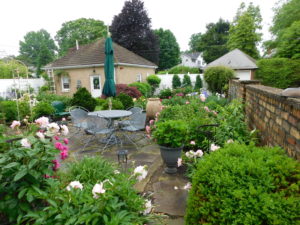 Spring at Maison De Jardin has not been all about peonies and blooms.  There was much h
ard work done by my husband, Mike.  Such as spreading mulch, the planting of a new bed with lavender, placing the olive jar, carrying stones, and several flats of plants.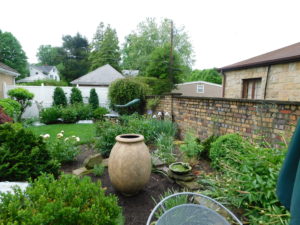 "As rosemary is to the spirit, so lavender is to the soul." ~
Unknown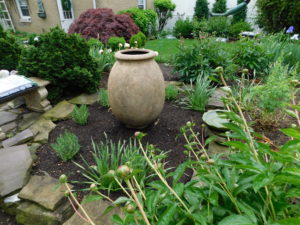 Soon the daffodil foliage will die back and, hopefully, when the summer sun shines on the lavender plants they will spread and bloom.
If you may be wondering about the blue/green object which looks like a Praying Mantis, that is exactly what it is.  A copper Praying Mantis I named Thelma.  Thelma was made by an artisan on the Eastern Shore of Maryland many years ago.  She stands on a steel rod, which enables her to bob around as the wind blows, proudly protecting the garden.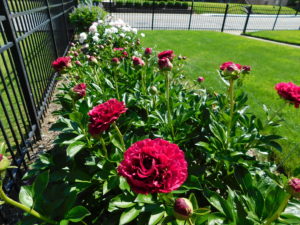 As you leave this morning,  you will see part of the front garden ~ home to more peonies (Old Faithful, Paul Wild, Raspberry Sundae, and Renato).  Also, you will see a mature stand of Baptisia, often referred to as False Indigo. Baptisia is treasured by floral designers and is gorgeous in an arrangement with peonies. The front garden is enjoyed by many who pass by.  When people stop and comment, it reminds me to remember we plant a garden not only for ourselves but for others as well.  

"Gardening adds years to your life and life to your years." ~ Unknown
I do hope you have enjoyed your visit today and by chance, if you have fallen in love with a particular plant or peony, I have tried to provide names of many for your shopping ease (see note at the end of this post).  However, if you have questions regarding any part of this post, please don't hesitate to contact me.  Do come back soon ~ when the hydrangeas bloom!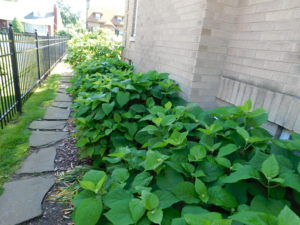 Wishing you a most beautiful day!
Au Revoir,
Sandra
Note:  Most of our peonies have been purchased at Adelman Peony Gardens ~ visit here.