"The garden is a love song, a duet between a human being and Mother Nature." ~
Jeff Cox
Good morning, dear friends.   This time of year, when I am dreaming of all the beauty about to unfold, I find myself so anxious to see my old friends.  Beauties I dearly love and many have been with me since we had our first home.  So, won't you step into the garden, they are anxious to meet you.


"Then my heart with pleasure fills And dances with the daffodils." ~ Willaim Wordsworth
Would it be spring without daffodils?  Certainly not.  I love all daffodils, but I will admit being partial to a few.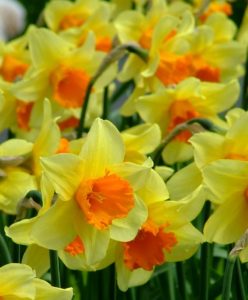 Fortissimo, shouts spring.  In musical terms, a fortissimo marking indicates 'very loud.'  And, the daffodil, Fortissimo (appropriately named) is loud.
Lovely Barrett Browning ~ her bloom nods like a bashful girl.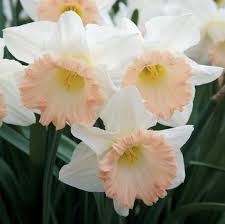 I do love the softness and frills of British Gamble.  However, something so lovely should, in my opinion, have a more suitable name.  Perhaps, Priscilla,  Apricot Dreams, or Elegant Lady?
And here is my husband's favorite… Tahiti.  Tahiti is a full double daffodil and a vase of them is a lovely sight.  Tahiti is also a strong and sturdy daffodil, not prone to flop.


"Nature never did betray the heart that loved her." ~ William Wordsworth
Ah, there are so many friends who return each year to our garden.  They sing and flutter about, each with their own unique beauty.  My heart truly loves them.
"A birdsong can even, for a moment, make the whole world into a sky within us, because we feel that the bird does not distinguish between its heart and the worlds." ~Rainer Maria Rilke
"Butterflies…flowers that fly and all but sing." ~ Robert Frost
"My favorite weather is bird-chirping weather." ~ Terri Guillemets


"To be overcome by the fragrance of flowers is a delectable form of defeat." ~ Beverley Nichols
Sweet peas are a favorite among my 'old friends.'  I've never been without a stand of them.  Stop a moment, surely you can smell them. Their fragrance is soft as is their appearance.  To me, they are a 'girly flower', ever so romantic.  Sweet peas symbolize blissful pleasure and are lovers of the cool early spring days.  Our seeds went into the ground on February 24.  They should be in bloom in May.  In the part of Virginia where we used to live, we were zone 8a.  There, I planted them in the fall so as to bloom in mid to late March.  Summer comes early to coastal Virginia.
"You will know it is here or getting near when the lilacs bloom." ~ unknown
The fragrance of lilac drifting through the air is a gift from above.  I suppose lilacs are especially dear to me because I lived for many years without them.  While some varieties will grow in the south, they are really northern girls.  Quite happy in harsh winters.  


"Flowers are God's thoughts of beauty taking form to gladden mortal gaze; bright gems of earth, in which, perchance, we see what Eden was ~ what Paradise may be. ~
William Wilberforce.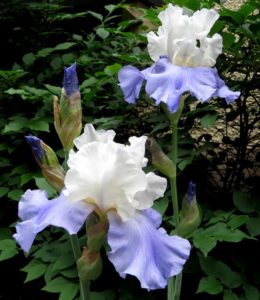 "The iris ~ the exclamation point of the garden. During their blossoming, they seem to call out and exclaim, "Look! Over here!" ~unknown
Stairway to Heaven is a beautiful friend.  She is absolutely an 'exclamation point,' standing about 40 inches in height.  Irises represent faith, hope, courage, wisdom, and admiration.  Specific flower colors attach further meanings to the lovely blooms. 


"The fattest and most scrumptious of all flowers, a rare fusion of fluff and majesty ~ the peony." ~ Henry Mitchell
Peony, Red Charm
Peonies are my dearest of old friends.  We have been friends since I was a little girl.  Many in my garden have been with me for over forty years.  Friends, I am eager to see and greet every spring.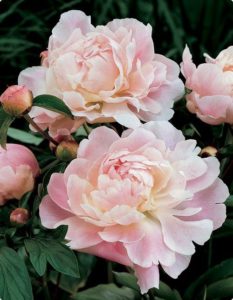 Peony, Courage (notice the speckles on the petals)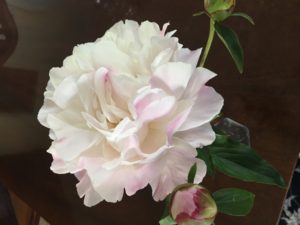 Peony, Gardenia
"A rose is a rose, but a peony is a friend forever." ~ unknown


"Springtime flowers bloom like colourful arrows piercing their way to the sun." ~ Terri Guillemets 


In closing, I want you to know my 'old friends' thoroughly enjoyed meeting you and I hope you enjoyed meeting them as well.   As the spring days unfold with blue skies and sunshine, may you enjoy many lovely hours with your 'old friends.'
Wishing you a beautiful day!
Au Revoir,
Sandra
Special Note:  The event section of this blog has been updated.  There are many wonderful events happening.  Check this section, one may be near you.
Note: Images ~ Michael S. Lambiotte,  Atlanta Homes,
Tumblr ~ Unless otherwise stated, I do not claim ownership of these photos. These photos are the work of tremendously talented people and I simply compiled them for your enjoyment