"You will know it is here, or getting near ~ when the lilacs bloom." ~ unknown
Good Sunday morning, beautiful souls.  I do hope this finds everyone well and in good spirits.  Being restricted to our homes is harder for some of us than others.  Fortunately, I have always been one who is truly happy at home.   The many years I worked outside of our home, I would dream of days filled with puttering in the garden, cooking wonderful meals and having time to read.   So, today I thought I might share a few things happening at 'Maison de Jardin.' No, the lilacs are not yet in bloom, but I can already smell them.  And, it fills my heart with joy just to know these fragrant beauties are on their way.
"Life is the greatest gift that could ever be conceived … A daffodil pushing up through the dark earth to the spring, knowing somehow deep in its roots that spring and light and sunshine will come, has more courage and more knowledge of the value of life than any human being I've met." ~ Madeleine L'Engle
One of the many things I treasure about North Central West Virginia is that spring arrives slowly.  Our daffodils are just beginning their show and I know in many parts of the country, they are finished.  I have always thought, "Spring should be like a really good cup of coffee ~ enjoyed a sip at a time."
This is Narcissus, 'Wisley.'   Isn't he charming?  He has been in bloom for about a week.  Notice his swept-back petals.
Narcissus, 'Tahiti'  He opened yesterday and is Mike's favorite.  His petals are like crepe paper.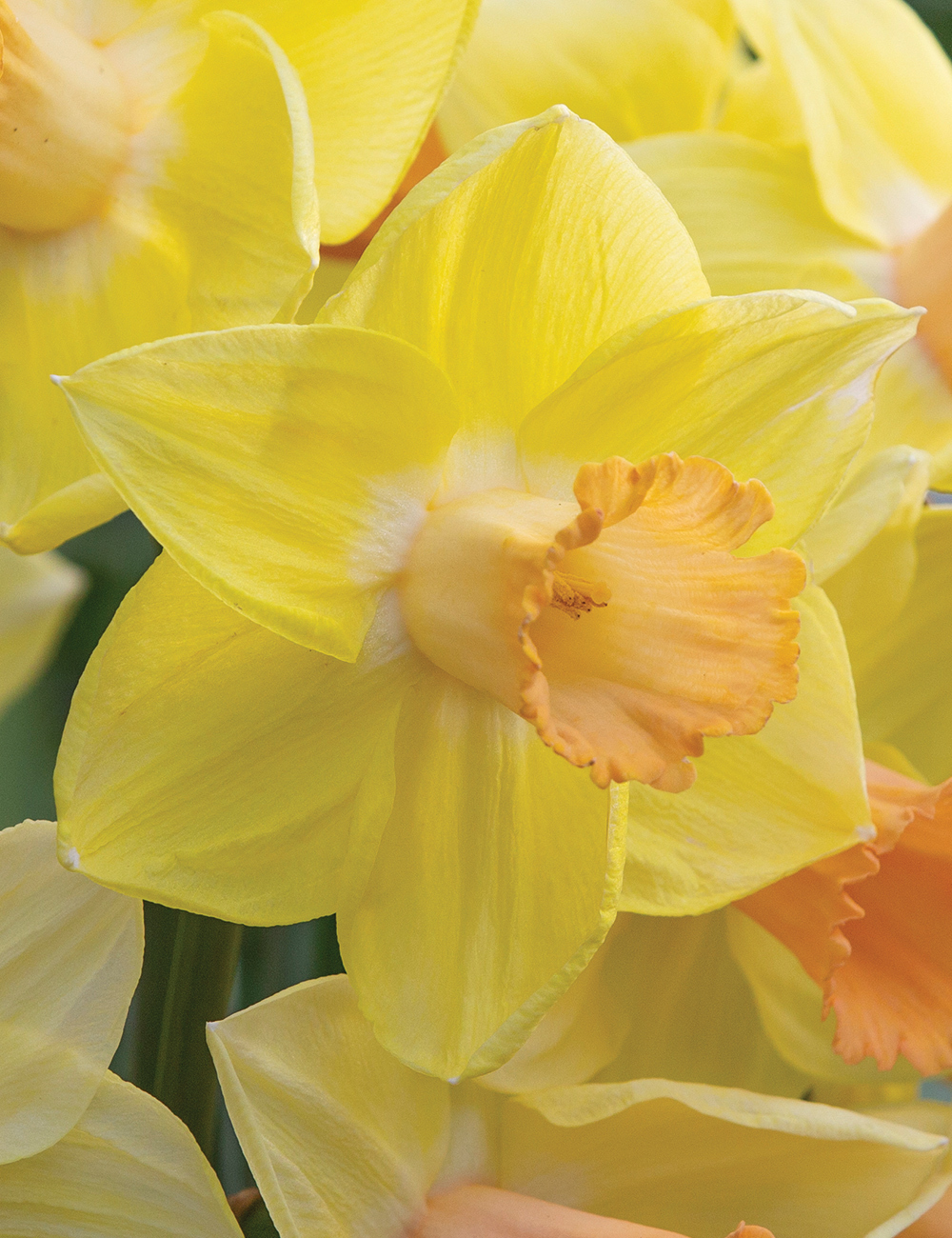 Narcissus 'Billy Graham,'  My favorite.  I love the white halo at the base of his trumpet.
I know many of you are insatiable readers and are enjoying this time to devour stacks of patiently waiting books.  But, have you read any fairy tales lately?  I am a great fan of Cicely Mary Barker.  She wrote a great deal about flower fairies and did beautiful illustrations as well.  So should your spirits need a lift, her writing may just be what you need. And, her books are available online.  By the way, have you ever gone into your garden in the spring and wondered how a particular plant or bulb ended up in a specific location?  My answer, the flower fairies.
"If I'm honest I have to tell you I still read fairy-tales and I like them best of all." ~ Audrey Hepburn
There are many good things I pray will result from these difficult days. One, in particular, is that we will slow down and in future days always take time to see.  Perhaps having time to do so during this crisis will have taught us the lesson.  The following poem is one of my favorite pieces by Cicely Mary Barker.  In her whimsical way, she speaks to the importance of seeing beauty in common things.
"Open Your Eyes!"
To shop, and to school, to work and play,
The busy people pass all day;
They hurry, hurry, to and fro,
And hardly notice as they go
the wayside flowers, known so well,
whose names so few of them can tell.
They never think of fairy-folk
Who may be hiding for a joke!
O, if these people understood
What's to be found by field and wood;
What fairy secrets are made plain
By any footpath, road, or lane-
They'd go with open eyes, and look,
(As you will, when you've read this book)
And then at least they'd learn to see
How pretty common things can be!
"Stepping out of the busyness, stopping our endless pursuit of getting somewhere else, is perhaps the most beautiful offering we can make to our spirit." ~ Tara Brachse
Dear friends, I truly hope this finds each of you and your loved ones well. 
Hold each other tight and know we will see better days.  Sending you wishes for a lovely day and to stay well.
And let us all remember to…
"Light tomorrow with today" ~ Elizabeth Barrett Browning
Amour,
Sandra
Images:  via tumblr and Pinterest