"Who can find a virtuous woman?  For her price is far above rubies." – Proverbs 31:10
Mother's Day is such a special day, one full of love and wonderful memories. Certainly not a day to be in the kitchen. However, if you are blessed beyond measure to have your mother living and well, there is no place you can spoil her quite like you can in your home.  So, perhaps you may want to host a lovely, but easy, luncheon. After all, home is where everyone is comfortable, the food is always great, and most important – home is where the best of memories are made.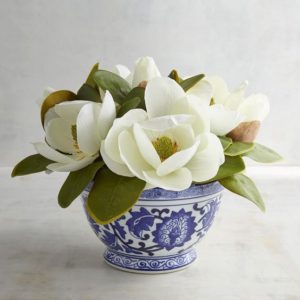 All this being said, today I am sending along a menu and make ahead recipes.  So you, too, can enjoy the day.  The menu has been planned for you.  You just need to check the ingredients and shop.  And, you have plenty of time.  

Le Menu
Rhubarb-Strawberry Fizz
Strawberry Spinach Salad
Curried Deviled Eggs
Virginia Crab Imperial
Basil-Parmesan Rolls
Strawberry Cake

Rhubarb-Strawberry Fizz (makes about 3 quarts)
5 1/2 cups water
1 3/4 cups sugar
6 cups chopped fresh rhubarb
4 cups fresh strawberries, halved
1 (1-liter) bottle sparkling water, chilled
1/4 cup fresh lemon juice (must be fresh squeezed)
Garnish:  fresh strawberries and lemon slices
In a Dutch oven, bring water and sugar to a simmer over medium heat, stirring until sugar is dissolved.  Add rhubarb and strawberries; simmer until tender, about 25 minutes.  Do not stir – the rhubarb will become mushy and thick, if stirred and it will be difficult to strain.  Remove from heat; let cool completely.  Strain, discarding solids. Just prior to serving, in a pitcher combine cooled rhubarb mixture, sparkling water and lemon juice. Serve over ice, garnish with strawberries and lemon slices.  Note:  This is better if the rhubarb mixture is refrigerated overnight as it will be more flavorful.
Strawberry Spinach Salad – Serves 6 (I always double the salad and dressing recipe)
10 ounces fresh baby spinach, rinsed dried and torn into bite-size pieces
1/4  small red onion, thinly sliced
1 quart fresh strawberries, hulled and quartered
1/2 cup fresh blueberries
pecans (coarsley chopped) and blue cheese crumbles
In a large bowl combine spinach, onions, strawberries and blueberries.  Pour just enough dressing (recipe follows)  over the salad to moisten as you toss.  Place the salad in your serving dish, top with pecans and blue cheese crumbles.   Place extra dressing in a serving container to serve along side. 
Dressing 
2 Tbls. sugar
1/4 cup extra light olive oil
1/4 cup white wine vinegar
1 Tbls. Dijon
1 garlic clove, minced
1/4 tsp. salt, 1/4 tsp. pepper and 1/4 tsp. paprika
Whisk all ingredients together and set aside.
Curried Deviled Eggs
12 large hard cooked eggs, halved lengthwise
1/2 cup mayonnaise
1/2 tsp. curry powder
1/4 tsp. salt
1/8 tsp. onion powder
1/8 tsp. ground red pepper
1/2 tsp. ground black pepper
Remove egg yolks, and place in a medium bowl; reserve egg whites.  Add mayonnaise, curry powder, salt, onion powder, red pepper and black pepper to egg yolks;  mash with a fork, then whisk until smooth.  Spoon mixture into egg whites.  Sprinkle with paprika.  Cover and refrigerate until chilled – preferably overnight.
Virginia Crab Imperial ( Careful, Guests may prefer this to dessert.)
2 eggs, beaten
1/4 tsp. dry mustard
dash of white pepper
2 pounds backfin crabmeat
4 Tbls. pimento, chopped
2 1/4 cups mayonnaise
1/2 cup Parmesan cheese
Preheat oven to 350.  Beat the eggs with mustard and pepper.  Add crabmeat, pimento and 2 cups mayonnaise.  Spoon the mixture into a 2 quart casserole (lightly sprayed with non-stick cooking spray) and spread 1/4 cup mayonnaise over the top.  Sprinkle with cheese.  Bake for about 20 minutes until brown and bubbly.  Serves 8.
Notes:  I usually bake this for 30 minutes.  This can be prepared the morning of your event and refrigerated.  Then, just prior to serving time, pop it in the oven and the result is something lovely and easy.
Basil-Parmesan Rolls
1 (16-ounce) box hot roll mix – I use Pillsbury Hot Roll Mix
1 cup chopped fresh basil
1 cup hot water – 120-130 degree temperature 
2 Tbls. unsalted butter, softened at room temperature
1 large egg
2 Tbls. Parmesan cheese
1/2 tsp. salt
Preheat oven to 350.  Spray 12 muffin cups with baking spray with flour.  In a large bowl, combine hot roll mix and yeast included with the mix; stir well.  Add basil, hot water, butter, and egg; stir until a soft dough forms.  Turn out dough onto a lightly floured surface, and knead until smooth and elastic, about 5 minutes.  Cover dough with a bowl; let stand for 5 minutes.  Divide dough into 12 equal portions. Shape each portion into a ball.  Place in prepared muffin cups.  Cover and let rise in a warm, draft-free place (around 75 degrees) until doubled in size, about 30 minutes.  Uncover; sprinkle with cheese and salt.  Bake until golden brown, 16 to 18 minutes.  Let cool in pans for 5 minutes.  Remove from pans, and cool completely on a wire rack.  Store in an airtight container (I use a zip lock bag). These can be re-heated in the microwave just before serving or served at room temperature. They are delicious either way.
Strawberry Cake
1 cup unsalted butter, softened
2 cups sugar
4 large eggs, separated
4 cups cake flour
1 Tbls. baking powder
1/4 tsp. salt
1 cup whole milk
Strawberry Cream Cheese Frosting (recipe follows)
Preheat oven to 325.  Spray 3 (9-inch) round cake pans with baking spray with flour.  In a large bowl, beat butter and sugar with a mixer a medium speed until fluffy, 3 to 4 minutes, stopping to scrape sides of bowl.  Add egg yolks, one at a time, beating well after each addition.  In a medium bowl, whisk together flour, baking powder, and salt.  Gradually add flour mixture to butter mixture alternately with milk, beginning and ending with flour mixture, beating just until combined after each addition. In a large bowl, beat egg whites with a mixer at high speed until stiff peaks form.  Gently stir one-third of egg whites into batter; fold in remaining egg whites.  Spoon batter into prepared pans.  Bake until a wooden pick inserted in center comes out clean, 20-25 minutes.  Let cool in pans for 10 minutes.  Remove from pans, and cool completely on wire racks.  Spread Strawberry Cream Cheese Frosting between layers, on top and sides of cake.
Strawberry Cream Cheese Frosting
1 (8-ounce) package cream cheese, softened
1 /3 cup unsalted butter, softened
1 cup fresh strawberries, hulled
1/4 tsp. almond extract
1 (2 pound) package confectioners' sugar
In a large bowl, beat cream cheese and butter with a mixer at medium speed until creamy.  In the container of blender, puree strawberries until smooth.  Measure out 1/3 cup puree (reserve remainder for another use), and add puree and almond extract to cream cheese mixture, beating until combined.  Gradually add confectioners' sugar, beating until smooth.
Enjoy the recipes and Bon Appetit! 
Do know, I am sending you Beautiful wishes for a Beautiful Mother's Day !
Special Note:  The flowers today are in memory of my mother. Mom was born and raised in the state of Mississippi and the magnolia is the Mississippi state flower. She was always given to tears at the sight of a magnolia, and I am too.
Au Revoir,
Sandra
All recipes from Southern Lady Magazine, except for:  Spinach salad and Va. Crab Imperial
photo:  pinterest