"Talent is good, practice is better, passion is best."  – Frank Lloyd Wright
Are you thinking about a room makeover?  Perhaps you are exhausted with the entire idea, but a change is something you desperately want to see. Often, due to a wide variety of reasons, we become stuck in our tracks.  And because we are stuck, creating beauty and making improvements may not be totally appealing. This often happens when we are way deep in our busy and demanding lives. We want, possibly need, to undertake a project but we just can't seem to pull all the pieces together.  
At this point, be honest with yourself with regard to your schedule.  Absolutely no one knows it but you.  Do you honestly have time to shop, paint, sew, and transform the space into your beautiful vision?  Also, is tackling this type of venture something you enjoy?  If your answer is yes, then proceed.  Do a little each week until your vision becomes a reality.  If your answer is no, it may be time to call for help.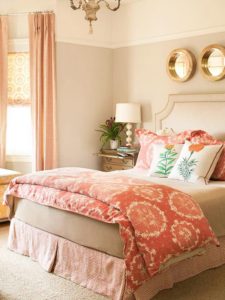 (Notice the repeating theme in the fabrics.  Small circles in bed skirt, circles in duvet cover and shams, drapes and shades.  Also, the porthole mirrors.   The bed linens, head board, and wall color are of the same color tone.  Great attention to detail.)
Help can come in the form of a marvelously talented friend who will sit down with you, and help make necessary choices required to carry on with your project.  This person, who knows you well, may also assist you in deciding if your project is too much for you to assume.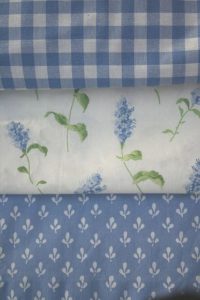 (Notice the header of the drapes,the bottom of the shade, and the tiny lip cording.  The fabric is cut on the diagonal and the lip cording provides separation.  Both of these elements offer an unexpected touch of interest.  Details make the design.)
However, if you don't have such a friend, it may be time to enlist the help of a decorator or a designer.  But, which one? Perhaps, you are thinking, "They are the same." Not true.
An Interior Designer should hold a degree in Interior Design from an accredited four year college or university.  He or she has been trained to well understand issues such as:  Structural integrity of buildings, local building codes and building laws.  Additionally, a designer is comfortable working with, and knows local architects,   personnel from government agencies and businesses.  A designer also knows and has access to: The best of skilled trades, general contractors and interior decorators. The designer has the responsibility for the entire project.  You can expect to pay $150-$500 per hour for the services of an Interior Designer, based on locality.
An Interior Decorator, often, but not required, holds a certificate in interior decoration from a community college or adult education program. Decorators are concerned with the appearance and functionality of indoor spaces. There are many fabulously talented decorators such as Charles Faudree, considered a master of French design, who had no formal training in design.  Most decorators possess an innate sense for creating beauty. Decorators are so often responsible for the magic of a stunning space.  They mix fabrics, trims, paint colors, textures and are obsessed with details. To say they can create beauty is an understatement.  A room placed in their hands, is a gem upon completion.  You can expect to pay $50-$200 per hour for the services of an Interior Decorator. Again, based on locality.

While the expense for a Designer or a Decorator may seem costly, it might not be in the end. Consider your project and decide the type of assistance you require. Once you have made your decision, remember it is your home.  Be sure you convey your taste, love of certain colors, and your total vision for the area. And, by all means, the utmost important  issue is:  Know deep down, without a doubt, the person you have chosen is full of passion for the work they do.  Their desire should be: Not only to fulfill, but to exceed your expectations by creating magnificent beauty in your home. When you know this, you will see magic.  
Thanks for visiting.  Have a beautiful week !
Au Revoir,  
Sandra  
Photo:  BHG/Leatherwooddesigncompanyblogspot/All photos pinterest