"Things of quality have no fear of time."  – Unknown
We all have them, certain words that almost make us come out of our skin when we hear them.  The word that arouses such a reaction with me is – "dated." Honestly, I totally bristle when I hear that word. Understand, I am not shouting for us to do away with indoor plumbing or other wonderful, modern conveniences which are so marvelously helpful.  Nor, do I mean one should keep something which is in disrepair and would be dreadfully costly to repair.  I am though, shouting for the return of common sense, respect of quality craftsmanship, and a sense of appropriateness.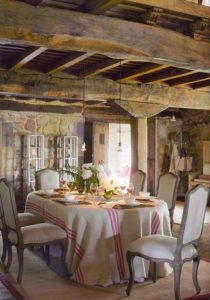 Perhaps, this is why I am so drawn to the French way of life and their design.  A building or home, built in France in the 1800's, is considered new. When renovations are made to accommodate modern living, great care is taken not to disturb or destroy the character of the home or building – evidence of incredible appreciation of quality and respect for original workmanship. A high regard for the past.  Such appreciation is not only in France. It is prevalent in many other European countries as well.
In the photo above, you will see gorgeous original stone walls.  Hand hewed and honed beams.  A lovely tablecloth, made from mattress ticking or grain sacks. Too many beautiful old homes in our country, with just such stunning workmanship, have fallen to neglect and disrepair.  Ultimately, to the blade of a bull dozier. And, beautiful linens?  Many, thoughtlessly tossed in the bin, along with whatever else was currently not – 'in.'

I have never been one to follow what is 'currently in.' One reason, it is costly. Another reason, when you chase after trends you will always be chasing.  Because you can be sure, whatever is 'in' today will be out in a year or two.  Nate Berkus hit the mark when he said: "Trends exist to make people feel badly about what they don't have."  Truth, isn't it?
So, what is one to do?  I believe you strive to buy the best you can afford with regard to any purchase.  Purchase classic pieces,"not afraid of time." Consider the style of your home and purchase with regard to appropriateness. Our living room sofa, for example, is a camel back.  It has rolled arms and Chippendale legs.  This style sofa was made in the 18th century.  A classic, which can still be purchased today. Appropriate for our French Georgian home, built in 1939. Timeless.
Trends exist not only in furnishings, but in just about all aspects of home decor. The kitchen is an especially trendy area.  Remember, those avocado green and harvest gold appliances?  Gone.  Kitchen appliances, counter tops, lighting, faucets and flooring are all expensive. Choose carefully and choose appropriately. Choose timeless.

One last and important piece of the puzzle today is – inspiration.  When you are considering any purchase or renovation, educate yourself.  While glossy magazines and design television shows can stir your interest and offer ideas, remember what they are.  Both are in the business of selling.  Read material from decorators/designers that you admire.  Search their work online and proceed slowly with your budget in mind.  Always go with your gut regarding any and all selections. And remember: Your home is your story – beauty is timeless – timeless is never "dated.'"
Thanks for visiting.  Have a Beautiful Week!
Au Revoir, 
Sandra
Note:  The follow-up to this post will be:  Consult a Designer or a Decorator?  
Photos:  Pinterest