"Anything which grows is always more beautiful to look at than anything which is built."  – Lin Yu Tang
So, which type of gardener are you?  Yes, there are different types, three exactly. In case you are not familiar with the different types of gardeners, I will explain.  They are:  Cutters, Leavers, and Hiders.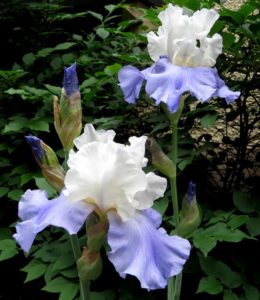 I will confess, I am a Cutter.  One of the main reasons cutters garden is to bring magnificent beauty inside their homes.  You see, we fill everything imaginable with gorgeousness and place such gorgeousness throughout the house. Filling every spot large enough to hold a vessel. And by the way, cutters also haunt garage sales and thrift stores in search of containers for their fabulous garden cuttings – but that is really another post.
Next, are the Leavers.  Leavers never cut a bloom from anything in their beloved garden.  Truly, it pains them to do so.  My dear friend, and former neighbor Cathy, was a leaver.  I would cut blooms and take them to her.  She would invite me to see anything and everything blooming in her garden, but she couldn't bear the thoughts of cutting.  However, I knew I was her special friend. From time-to-time, she would cut a single bloom of something she knew I admired, and present it to me.  True friendship and love.
Last, are the Hiders.  The hiders may possibly have some issues.  They secretly want to be cutters but can't quite manage to constantly carry snips in their pockets – the trait of a cutter. They adore blooms inside their homes, but don't want their lovely garden to look as though a cutter has been there.  So what do they do? They cut from deep inside, or to the back of a stand of blooms.  Thus, the foliage from the other blooms cover the trail of their work.  No one will ever know what they have done. Shameful, isn't it?

Now that you have the 'dirt' on the different types of gardeners.  Let's do something fun.  
The lovely iris above is named, "Stairway to Heaven."  She is the child of Edith Wolford x Breakers, is 39″ in height, and a vigorous grower. Below are her credentials.
1995 – Honorable Mention Winner
1997 Award of Merit Winner
1999 – John C. Wister Award Winner
2000 – Recipient of the Dykes Medal Award Winner
Her awards were bestowed upon her by the American Iris Society. The Dykes Medal is the highest award of the American Iris Society and is awarded to no more than one iris per year. An iris is eligible for this award for three years,  following winning of a classification medal.  
I have enjoyed this beauty in our garden for many years.  Yesterday, was time for her thinning and due to her height, she needed a spot where she would be more visible.  All this brings me to: it is time for a GIVEAWAY .  There will be three winners.  To enter and win a healthy start of this beautiful award winner, you must respond via the contact button on the blog. Tell me what type of gardener you are and  explain why you feel you are a cutter, leaver or hider.  Entries must be received by Monday night, July 10, 2017.  The winner will be announced on Tuesday morning, July 11, 2017.  Note:  An objective 3rd party will select the winners.
Get busy, find a nice sunny spot in your garden for this pretty girl and enter the GIVEWAY– you just may be a winner !
Thanks for visiting.  Hugs and Love to you !
Au Revoir,
Sandra
photo:  Pinterest