"Watch with glittering eyes the whole world around you because the greatest secrets are always hidden in the most unlikely places." ~ Roald Dahl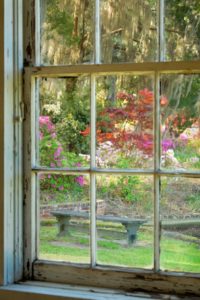 A few years ago, I remember reading we should be able to see something we deem beautiful from every window of our home.  I thought about this the other day, as I was looking across the street at my neighbor's cherry trees,  imagining what a sight they will soon be weeping to the ground, full of bloom.  From another window, I see my dear friend Cathy scurrying about her garden, and the daffodils she planted just about to bloom.  And from still another window I see a magnificent purple beech, which will shelter many birds, and provide huge swaths of shade during hot summer days. 
All my window sight-seeing started me to think about what may be in my neighbors view.  So I thought I would share a few photos from last spring ~ my neighbors view.  You can see we replaced a shrub on the right side of the house.  The new rhododendron is blush pink, and doubled its size last year.  Soon, it will catch up in size to its deep pink neighbors on either side.  I am quite anxious to see it bloom this spring.
"A rhododendron bud lavender-tipped.  Soon a glory of blooms to clash with the cardinals and gladden the hummingbirds!" ~ Dave Beard
The rhododendron is the state flower of  West Virginia, my home.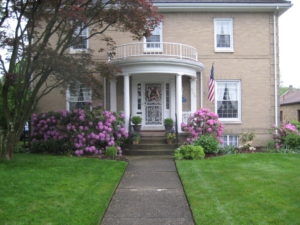 The urn at the foot of the front steps, is loaded with cheerful geraniums.  Geraniums are happy in this spot, as they enjoy morning sun and afternoon shade.  Just what they love.
"Long experience has taught me that people who do not like geraniums have something morally unsound about them. Sooner or later you will find them out; you will discover that they drink, or steal books, or speak sharply to cats. Never trust a man or a woman who is not passionately devoted to geraniums."  ~ John Beverley Nichols, Merry Hall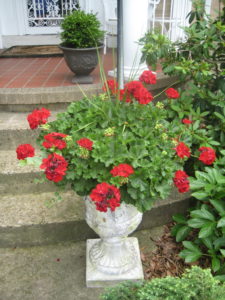 Lining the walkway to the 'jardin' are the Annabelle girls.  These girls literally stop traffic every year.  They are glorious with their enormous blooms of white, changing to chartreuse before turning a soft brown.  I disagree with Carl Sandburg who said, "I tell you the white hydrangeas turn rust and go soon."  Really, they do not.  They begin to bloom around the 15th of June, and it is August before they are brown.  Did you know, a bouquet of hydrangeas expresses the giver's gratefulness for the recipients understanding?  Also, hydrangeas symbolize appreciation and heartfelt emotion.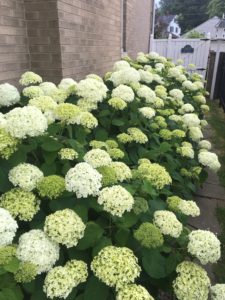 I hope you have enjoyed seeing a little of my neighbor's view.  And I hope, from the windows of your home, you also see something  you deem lovely. I believe we miss a great deal when we don't stop to look 'out and around.'  For it truly is in the "most unlikely places that we see hidden secrets", glimpses of extraordinary beauty, and more.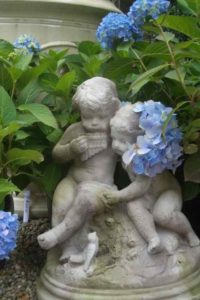 Wishing you and those you love, a most beautiful and peaceful Sunday !
Au Revoir,
Sandra
Photos:  Michael Lambiotte, Pinterest