" Christmas waves a magic wand over this world, and behold, everything is softer and more beautiful." – Norman Vincent Peale
Welcome to Christmas at Maison De Jardin, The Garden House ! 
Today, I would like to welcome you to our home, Maison De Jardin, tell you a little about our tree and a "Few of Our Favorite Things."
Let's begin in the living room.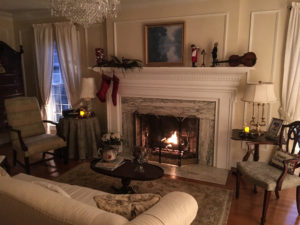 One of my most favorite things is our clock.  It was a special gift from my husband – Christmas, 1985.  The case is flame mahogany and the clock is an English Bell Chime.  It was made by Thomas Lees in Bury, England.  Mr. Lees made the clock sometime during the period of 1795-1836.  Today, with her original works, she still keeps perfect time and her lovely chime is truly music to my ears. 
And, should you be wondering about the sweet child's rocker, it belonged to a little boy named Mike. Mike is now the king of this castle.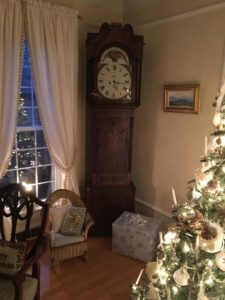 The tree is from Balsam Hill.  It holds a gazillion lights, and is easy to assemble and disassemble.  She is dressed in gold, silver and pearl, and wears garlands of pearls.
As I believe is the case with most people, many of our ornaments hold special meaning for us. But, today I will tell you about just a few, or this post would be never-ending .  So, first is the reading cherub, a gift from my husband. Because I so love to read.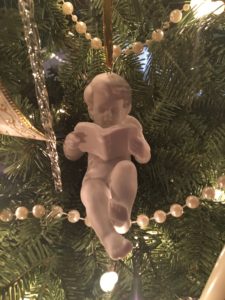 Next, I would like you to meet Priscilla.  Priscilla was a treasured ornament which belonged to my mom and she now belongs to me.  My sweet mom loved frogs and felt this frog looked as though she should have the name, Priscilla. I love the pearls on her toes.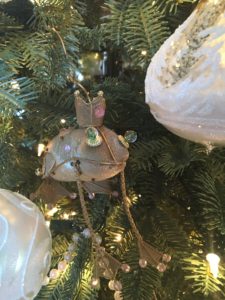 I can't fail to introduce you to Rocky.  Rocky was on our first Christmas tree, 1972.   He is beginning to show some wear – but, I am too.  He is loved, and it wouldn't be Christmas without him.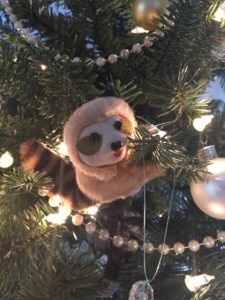 The precious Sand Dollars (there are several on the tree) were found and gather by us many, many years ago.  We sailed our Hobie Cat 16 Catamaran across Chesapeake Bay to what is referred to as 'Little Island.'  As we pulled our Catamaran up and onto the beach, we discovered the beach was covered with beautiful Sand Dollars.  There were literally hundreds of them.  This was most unusual, as Sand Dollars are not usually found as far north as Virginia.  I always felt we were meant to find them.  So, I gathered as many as possible, and tied them in a shirt for the sail back to Virginia Beach.  For those of you who have been on a catamaran, you know it can be quite a ride.  Knowing they were going to adorn our tree, I held onto them as if they were gold.  The legend of the Sand Dollar is beautiful. If you are unfamiliar with it, you may Visit here.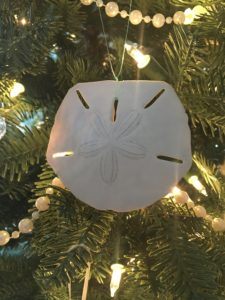 And, you must see our garden fairy.  She is complete with a wand and hydrangea petals on her dress.  She was purchased at a magical Christmas shop in Portsmouth, VA – Coleman's Nursery. Sadly, Coleman's is no longer in business. Visiting Coleman's was a yearly tradition for so many residents of the Hampton Roads area of Virginia.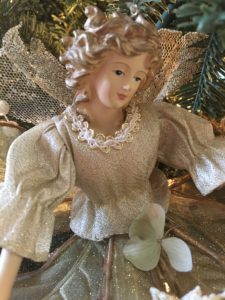 Last on the ornament tour today is one of our many Fenton Glass Ornaments. Fenton Glass began their long career in 1905 in the little West Virginia town of Williamstown. Today, they continue to operate on a small scale, but closed their factory in 2011.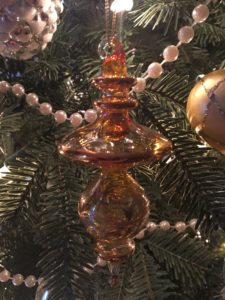 As we make our way to the kitchen, you will see Sophie.  Sophie enjoys the quiet of the dining room. She is wearing a lovely satin ribbon which once was tied around a gorgeous piece of needlepoint, made and given to me by my dear friend, Janet. Sophie (the name I gave her), is signed by the sculptor – Grinam Niam/Paris.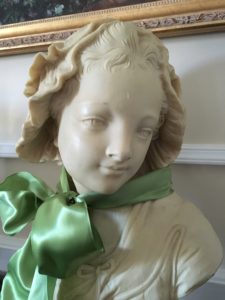 So here we are in the kitchen. I baked these  fruit cakes this morning and I am sorry I didn't make them earlier. We could have enjoyed a slice together.  But, they must soak for at least another week.  I drizzled them with Calvados, a French apple brandy.  They will enjoy a wee drink once a week until Christmas, and are one of my husbands most "favorite things."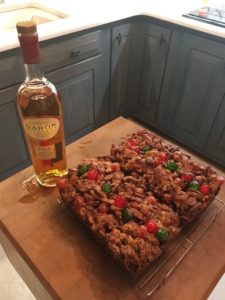 The kitchen window wears a fresh boxwood wreath, purchased from a garden center in North Carolina.  And, it is double-sided.  Therefore, it shows beautifully from outside, as well as the inside.  I purchase these wreaths every year.  To be honest, I am in a serious  love affair with boxwood.  So much so, that there are around 50-plus of these beauties in our garden, which include several different varieties.  This most likely stems from my years in Virginia.  To this day, boxwood's adorn the grounds of many Virginia colonial plantations and homes.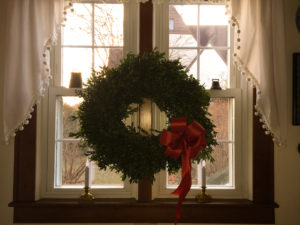 Remember me talking about a gorgeous piece of needlepoint tied with a beautiful satin ribbon?  Well, here it is.  'Merry Christmas' is the first thing I see every morning when I come into the kitchen.  It is my 'good morning' from a treasured friend.  I have many of these lovely pieces, stitched by my friend – you will see them from time-to-time.  Also, should you be interested in a piece of her work, contact me and let me know.  I will be happy to put you in touch with her.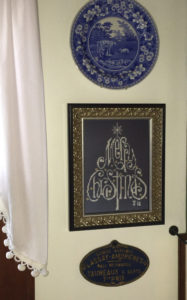 Before you leave, I thought you might enjoy a few outside photos.  First, is a fresh boxwood wreath on the front door.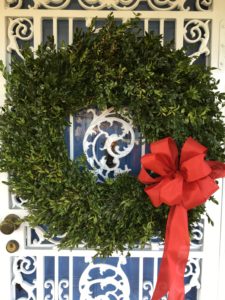 Next, a sled which belonged to my husband's mother, and sits happily under the plaque bearing the name of our home.  This sled has been down many western Pennsylvania hills during its life.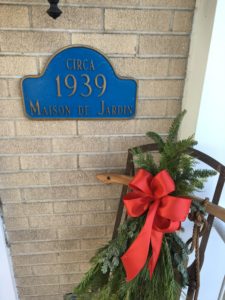 My Boxwood Boys, wearing their red bow ties. Also, in this photo you can see the French blue on the front door.  Many French homes wear the color blue on the front door or shutters.  The French believe it keeps away evil spirits.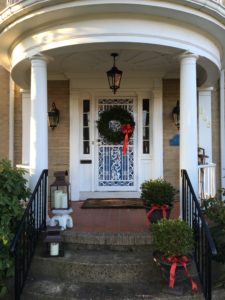 And, finally – "Silent Night."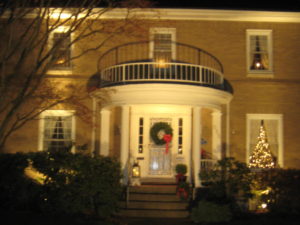 I hope you have enjoyed your time with us today.  I want to thank all of you for following me this past year.  My goal on the blog is to create beauty and scatter joy.  And, to inspire others to do the same.  Because, in the words of Henry Louis Mencken, "Life has many moments when the heart is overwhelmed with beauty." If we share such moments, we can create a never-ending ripple.  Our world needs that.
Joyeux Noel,
Sandra
all photos: Michael S. Lambiotte