"A guest never forgets the host who had treated him kindly." –  Homer
Knowing many of you may still be enjoying summer weather and your flip flops, I am rather reluctant to mention –  the holidays are approaching. However, the Thanksgiving holiday will arrive in nine weeks, with Christmas following shortly thereafter. So, today I hope to inspire you to think ahead, be organized and avoid what I refer to as, 'last minute drama.'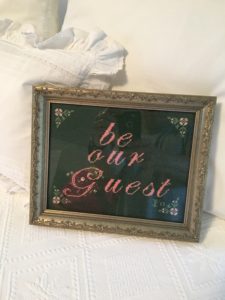 For information regarding the above needlepoint, see the details at the end of this post.
Holidays can often mean, overnight guests in your home.  Therefore, now is the time to begin to prepare for their arrival. You have invited these people to your home, you love and care about your guests. You want them to be happy, comfortable, enjoy their visit and take away lasting, wonderful memories. But for this to occur, we well know it does take a bit of thought and planning. Especially, if you work outside the home.

So first, think about where your guest or guests will sleep? The bed. Is it comfy? Have you actually slept in the bed? If not, now is the time to try it out. By actually sleeping in the bed and knowing that it is cozy and comfortable, you will rest easy knowing your guests are also. Should you decide a new mattress set is needed, you will have plenty of time to shop. 
Next, take a look at the bedding. Is the bedding soft to the touch and does it feel lovely next to your skin?  If your bedding is in good condition and you want to simply freshen it up a bit, often a set of lovely pillowslips will do magic. A pair of vintage pillowslips, such as in the photo below, can add enormous charm to a bed. These lovelies were stitched by my husband's grandmother and I do treasure them. However, should you not have a pair, they can be purchased quite reasonably at garage sales, estate sales or on https://www.etsy.com/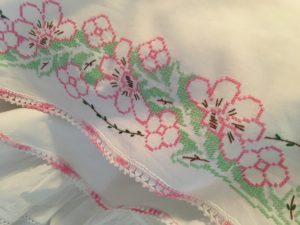 While I am on the subject of bedding, I am a huge fan of linen bedding. Specifically French linen. There really isn't anything quite as soft.  Truly, it is a treat to slip into a bed dressed in linen, and, of course, sprayed with lavender water. Should you be interested in purchasing linen bedding, Saphyr Pure Linen offers an excellent choice of beautiful French linen bedding https://saphyrpurelinen.com/  Your guests will love you. Also, be sure to provide marvelously, comfortable pillows and a season appropriate comforter. 

Now that your bed is dressed, think about what you might enjoy if you were a guest staying in this room, perhaps miles away from your sweet home. One special tip I will share is that of a photo. If you have a photo of your guest's home, garden or family, place the photo in a frame on the night stand. I have done this several times and it always seems to mean a great deal to my guests. Another tip, prepare a little gift. When shopping, begin to pick up items for a gift bag. Everyone enjoys a surprise and a wee present.  Small gift bags are such fun to create.  Fill them with things such as: note cards, nice tea, a tiny box of chocolates, an ornament or a lovely hand towel. Your thoughtfulness will touch the heart of your guest, and make them feel welcome. Place your gift in a spot in the room where they will find it, and include a note which says how happy you are to have them staying with you.

My final thoughts on creating a cozy and welcoming room are as follows: Be sure there is a comfy chair, a nice throw, a working clock and a good lamp in the room. Provide a selection of reading material (books and magazines).Prepare a basket  filled with toiletries, a few note cards or postcards, a couple of pens, and stamps. And just before your guest arrive, add a small vase of fresh flowers or greenery and a few freshly baked cookies in a clear cellophane treat bag, tied with a satin ribbon.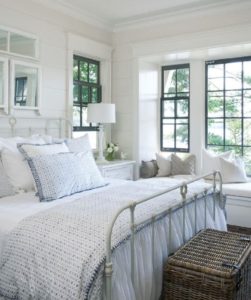 I hope you have enjoyed your visit today, and are now  inspired to begin making your plans for a memorable holiday season. A beautiful season, full of unforgettable memories for yourself and others. One final thought: "To invite a person into your house is to take charge of his happiness for as long as he is under your roof."   – A. Brillat-Savarin
Wishing you a beautiful week!
Au Revoir,
Sandra
Note:  The "Be Our Guest" needlepoint at the top of this post was made for me by my lifelong friend.  Her name is Janet, but I refer to her as the 'Stitching Wizard.' Through the years, she has created many  gorgeous pieces for me, which you will see from time-to-time.  Should you be interested in a piece of her fabulous work, contact me under the contact section of this blog and I will put you in touch with her.
Photos:  Michael S. Lambiotte and Pinterest