"The bluebird carries the sky on his back." ~ Henry David Thoreau
Good Sunday morning, sweet friends.  Do you love bluebirds?  I certainly do, and I miss them terribly.  However, I am so grateful to have enjoyed them for many years at our home in Virginia.  The sky was filled with the beauty of their magnificent blue little selves bouncing through the air.  Our home was surrounded by acres and acres of open fields.  The perfect environment, for a place they love to call home.  Mike built many nesting boxes for them and they thanked us over and over by raising their young on our property.

"The bluebird had come from the distant South to his box in the poplar tree, And he opened wide his slender mouth, On purpose to sing to me." ~ Henry David Thoreau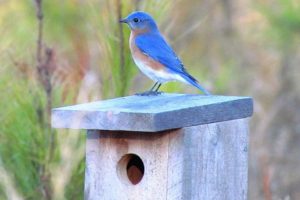 Mike was committed to cleaning the boxes each year and having the job completed by early January.  By middle to late February, the bluebirds would be checking out the boxes and begin their nest building.  Spring arrives early in coastal Virginia, and it is a lovely sight to enjoy bright yellow daffodils and gorgeous Eastern Bluebirds fluttering about.  Perhaps, it is as Van Gogh said ~ "There is no blue without yellow."

"What Gorgeous Thing" ~ Mary Oliver
I do not know what gorgeous thing
the bluebird keeps saying,
his voice easing out of his throat,
beak, body into the pink air
of the early morning. I like it
whatever it is. Sometimes
it seems the only thing in the world
that is without dark thoughts.
Sometimes it seems the only thing
in the world that is without
questions that can't and probably
never will be answered, the
only thing that is entirely content
with the pink, then clear white
morning and, gratefully, says so.

Dear friends, I hope you have enjoyed my 'Bluebird Memories.'  Maybe, you are fortunate enough to have these dear birds where you live.  While they are abundant in West Virginia, they do not enjoy town living.  Therefore, I will be content and grateful to enjoy the cardinals, goldfinches, purple finches, precious hummingbirds, and joyful sparrows.   God provides beauty for all of us, wherever our homes may be.  All we have to do is, look and listen.
Have a beautiful day and week ahead.  Stay well!
"A light broke in upon my soul it was the carol of a bird; It ceased and then it came again.  The sweetest song ear ever heard." ~ Lord Byron
Amour,
Sandra

Images:  via tumblr and Pinterest