"There is no gardening without humility.  Nature is constantly sending even its oldest scholars to the bottom of the class for some egregious blunder." ~ Alfred Austin
Good morning, sweet friends. I am happy to see you this morning.  Please find your coffee or tea and join me as I share a gardening story.  
I have always been a firm believer in listening to the little voice I believe we all have inside of us.  You know the voice, the one that says, "No, I don't think so" or "Maybe I should think about this a little more."  I don't know about you, but usually, my little voice doesn't fail me.  And, such was the case with the olive jar and lavender.
A few years ago, we lost a magnificent purple beech tree (another story).  So, of course, something had to go in its place.  One day I came upon a wonderful olive jar (hard to find) and my mind immediately went to lavender.  Now, I well know many varieties of lavender are not fond of severe cold.  In our region, we can experience temperatures of twelve below zero during January and February.  Our planting zone is 6-A.  Knowing our planting zone and temperatures, I went on the hunt for a variety of lavender which would suit our area.  And I found a beautiful variety, 'Lavandula Grosso,' hardy Zone 5 through 9.  Now understand, when a plant is marked hardy to zone 5 that means it is hardy under conditions of minus 10 to minus 20 degrees.  I was ecstatic and proceeded to order my plants.  But did I have reservations regarding my decision? Oh, yes, it was that little voice saying, "Sandra, are you sure about this?"  Anyway, my beautiful and healthy plants arrived and were planted around the olive jar.  And so began my lavender dreams.  Marvelous fragrance, wispy blooms gently swaying in the breeze, and watching the bees and butterflies dance.  Truly, I was in lavender heaven.
"Gardening is not a rational act." ~ Margaret Atwood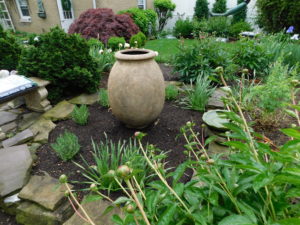 In this photo, you can see the plants at the size they were when planted in May 2018.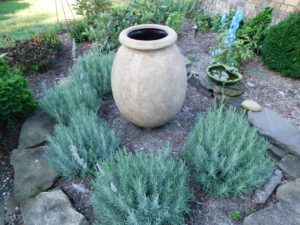 This photo was taken in October 2018.  The plants had spread just as they were supposed to do and were even beginning to bloom.  I had a clear vision for spring.  It would be absolute magnificence, sitting in the garden sipping lavender lemonade and enjoying the beauty.  To say I was thrilled with the progress would be a complete understatement.

"The garden is a love song, a duet between a human being and Mother Nature." ~ Jeff Cox
Now, I am sure you are wondering, "What happened to the lavender?"  Three below zero is what happened.  And the plants obviously were not hardy to zone 5, as stated.  We allowed the brittle twigs of the lavender to remain in the ground until the end of May, in hopes to see green.  However, all we continued to see were the brittle and dead plants.  I was sick and heartbroken.  Mike was also, he loved the lavender as it grew.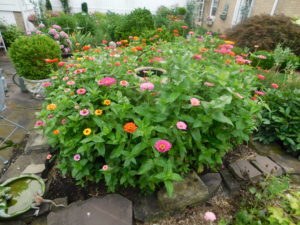 So, what was a gardener to do?  Clearly, we didn't want to look at an unadorned olive jar and no blooms for the summer.  I didn't want to plant any type of perennial as I had not given up on the lavender. But, I wanted something happy to help with my sadness of having lost the lavender.  Zinnias were just the ticket, they came to my rescue.  Their blooms are so cheerful and they have engulfed the olive jar, perhaps they knew they were needed.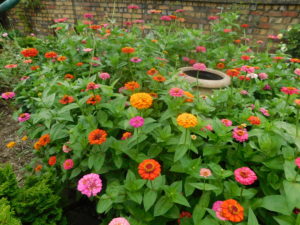 We are truly enjoying this lovely stand of blooms.  However, we are not the only ones they make happy.  The bees are simply beside themselves.  They do not know which bloom to visit first.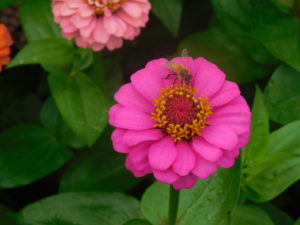 "The more one gardens, the more one learns; And the more one learns, the more one realizes how little one knows." ~ Vita Sackville-West
In closing, I hope you have enjoyed hearing how I turned 'brittle sticks into blooms.' The most significate lesson I have learned from this experience is, thoroughly and I do mean thoroughly, research the plant of choice.  I am in the process of correcting the 'error of my ways' as there are two other lavender cultivars I am considering.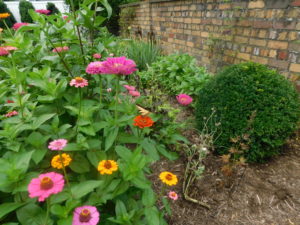 Look closely, you will see an Eastern Tiger Swallowtail on the orange zinnia.
Meanwhile, the bees and butterflies are happy and so are we.  Hope to update you on my progress in the fall or next spring.
"Words, are flowers. Poetry, is a garden." ~ unknown

Wishing you a beautiful day, full of blooms and bees and butterflies.
Amour,
Sandra
Images: tumblr, M.S. Lambiotte, S. Lambiotte