"None can have a healthy love for flowers unless he loves the wild ones." ~ Forbes Watson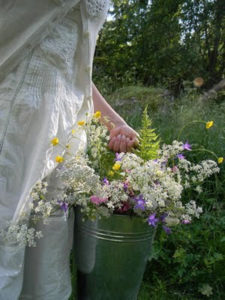 Do you love wildflowers?  I have always enjoyed seeing them along the roadside, but recently I find myself giving them more attention.  Funny how that works, isn't it?
The many years we traveled over the mountain roads and into the state of Virginia, I always loved to see beautiful blue chicory along the roadside.  I would think of my grandmother and how, during the Depression years, they would grind the chicory roots and add them to their coffee.  Doing so would make a pound of coffee go further, coffee was scarce and expensive during the Depression.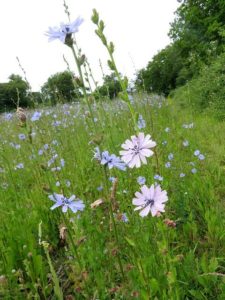 Wildflowers seem to pop up in the most unique and often unlikely spots.  To me, it is as if God is saying, "I would enjoy seeing something lovely there." 
One such wildflower I especially think of in this manner is Fireweed.  Fireweed is a native plant growing in zones 2 through 9.  It earned its name because this plant is often the first to appear in areas where there have been dreadful forest or wildfires.  And, in Great Britain, it has also earned the name Bombweed due to its rapid appearance on land which was bombed during WWII.  It rose from the ashes of London's bomb sites, appearing in sidewalk cracks and in alleyways and became a symbol of the city's resilience.  Given the name Bombweed and or London's Pride, it is now Greater London's county flower.  God knew the people needed a ray of beauty and most of all ~ hope.

"As I wander'd the forest, the green leaves among, I heard a Wildflower singing a song." ~ William Blake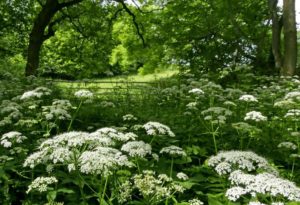 QUEEN ANNE'S LACE,  BY MARY LESLIE NEWTON
And hung it in a grassy place
To whiten, if it may.
Queen Anne, Queen Anne, has left it there,
And slept the dewy night;
Then waked, to find the sunshine fair,
And all the meadows white.
Queen Anne, Queen Anne, is dead and gone
(She died a summer's day),
But left her lace to whiten on
Each weed-entangled way!

"Wildflowers are the stuff of my heart." – Lady Bird Johnson
The cultivation and protection of native plants, and scattering their beauty along the Texas highways was the passion of Lady Bird Johnson.  She brought wildflowers to the front and center, with many states adopting the Texas highway wildflower program.  We learned from her to pay attention to unexpected beauty in unexpected places.  And we were ever so proud of her and her teachings when she founded National Wildflower Research Center along with Helen Hayes in 1982.  The center was later renamed the Lady Bird Johnson Wildflower Center in 1997.  It is the signature piece of Mrs. Johnson's environmental legacy.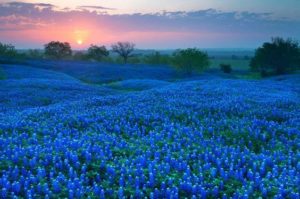 Sunset on a field of Texas Bluebonnets
Wildflowers can remind us of special childhood summer days.  I remember being with girlfriends on a summer day, picking a few buttercups and holding them under each other's chins and laughing until our sides ached.  Saying, "tickle,  tickle under chin ~ if you love Billy (or whoever) you will grin."  Life was so simple then.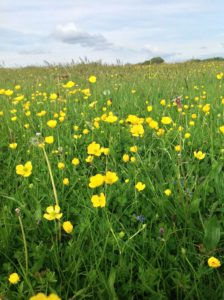 Summer Memories
"When a child brings a bouquet of dandelions, do you know how much they are worth?  All the stars in Heaven and all the jewels on earth.  When a heart is feeling lonely, or a soul is in despair, a child's bouquet of dandelions can bless and fill the air." ~ Unknown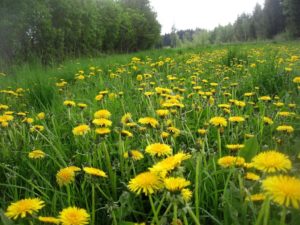 While many may run screaming at the sight of just one dandelion in a beautiful lawn (my husband included), dandelions are the first food source for the bees in the Spring.  And, if the greens are gathered when young and tender, they make a wonderful salad.  But mostly, to see a field full of their cheery yellow blooms in the spring after a long winter ~ oh, it is a joyful sight.

"The Bluebell is the sweetest flower that waves in summer air.  Its blossoms have the mightiest power to soothe my spirit's care." ~ Emily Brontë
Bluebells are my favorite wildflower and we have a lovely patch of native West Virginia bluebells growing in our garden.  They truly signal spring in the Mountain State. 
"Each flower is a soul opening out to nature." ~ Gerald DiNerval
Every state in our beautiful land has their own gorgeous native plants.  But truly West Virginia is a wildflower paradise, and the magnificent Blackwater Falls area of the state is home to the annual Wildflower Pilgrimage every May.  This special event is sponsored by the West Virginia Division of Natural Resources and West Virginia Garden Club, Inc.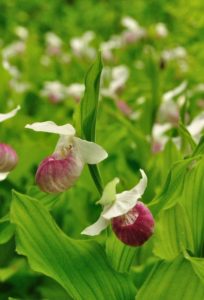 The most prized, of all West Virginia wildflowers is the Pink Lady's Slipper, an orchid which grows wild in cool, bog-like forests throughout the state. This wild orchid is named because of its enormous pink flower which somewhat resembles a moccasin or a slipper. They are considered one of the rare treats found in mid-spring.  Nature enthusiasts from far and wide travel to West Virginia for the chance to spot one.  Blooming in early May-June, they are often found along trails in the Monongahela Forest or lesser traveled trails in our many other State Parks. They can be found beneath the lush canopies of Rhododendron, near bogs and streams, and basking in the dim light beneath trees.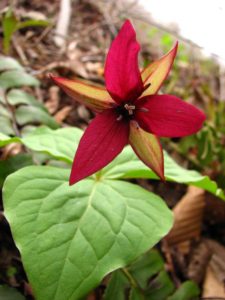 Red Tipped Trillium, often spotted in the New River Gorge area of West Virginia.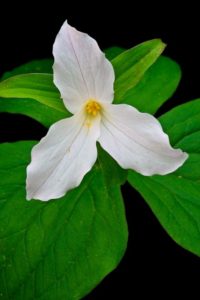 Large-flowered White Trillium found in shady, damp areas all throughout the mountains of West Virginia.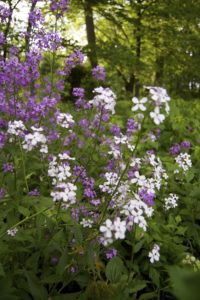 Beautiful Wild Phlox in varying shades of purple and also white, show themselves along the roadsides throughout the entire Mountain State in early summer.

While I have only slightly touched on the multitude of lovely wildflowers, I hope you have enjoyed a few from the Mountain State, along with others.  And the next time you see an area of pretty wildflowers, perhaps you, too, may think ~ "God's handiwork, He strategically placed them for our enjoyment."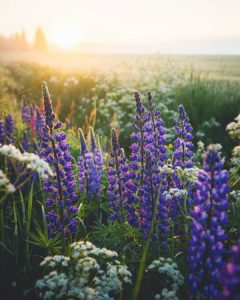 "When nature writes poems" ~ Unknown
Wishing you a most beautiful day, and wherever you roam may you see wildflowers along your way!
Au Revoir,
Sandra
Note:
The title of this post ~ "Where Flowers Bloom ~ So Does Hope," is a quote from Lady Bird Johnson.  The following is the quote in its entirety: "Where flowers bloom, so does hope – and hope is the precious, indispensable ingredient without which the war on poverty can never be won."
Images~ Pinterest, Tumblr
Unless otherwise stated, I do not claim ownership of these photos. These photos are the work of tremendously talented people and I simply compiled them for your enjoyment.