"…Because every picture tells a story…" – Unknown
I love toile.  Toile patterns are marvelous storytellers, and they have been embellishing homes the world over for centuries.  They are treasured for their beautiful floral, gentle wildlife and idyllic bucolic images.  Toile (pronounced – twal) in French means, canvas or cloth.  Toile de Jouy means cloth of Jouy.  Jouy is the town outside of Paris where the fabric was first manufactured.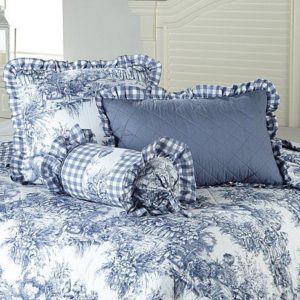 Toile is available in a wide variety of patterns and in a multitude of scales and colors.  Toile lends itself beautifully to many areas of home decor such as: Window treatments, duvet covers, pillows, upholstery, and wall coverings.   Toile can absolutely lend unmatched charm to a room.  However, I would suggest proceeding slowly when considering it for a wall covering.  It can lose its appeal when it is overused.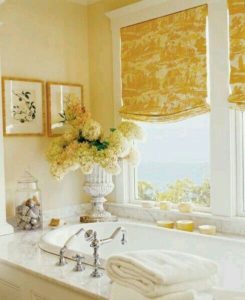 Toile also mixes happily with other fabric selections, such as stripes (especially ticking stripes), checks and some soft florals.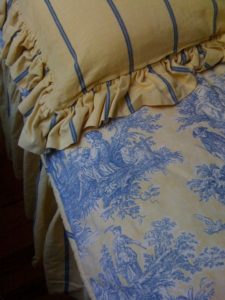 So, why do I love Toile?  Ah, it is the charm, the romance and the stories.  Each pattern tells a story.  Stories such as those of barn yard characters, children at play,  and my favorite – courting couples.  Don't you just love the way the gentleman is completely star struck while admiring his lady?  So romantic.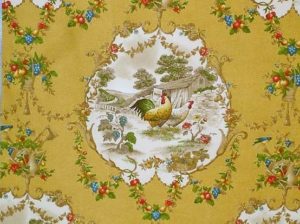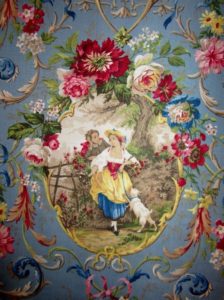 Additionally, there is Chinoiserie Toile.  In Chinoiserie Toile we see Oriental stories. It is considered to be a classic decorating staple among leaders in the field of interior design.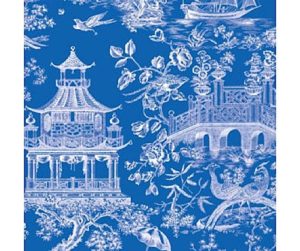 So, perhaps you are wondering:  Does she have toile in her home? Oh yes! Everywhere from the kitchen to the bedrooms and in between.   Below you will see our kitchen window treatments.  You will notice I chose a ticking stripe, as a coordinating fabric for the Toile.  I decided to make a pleated  edge to serve as trim.  Trim is the jewelry for window treatments, pillows or just about anything.  It is the finishing touch.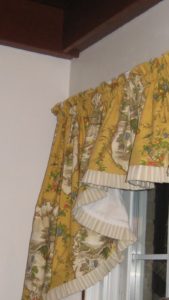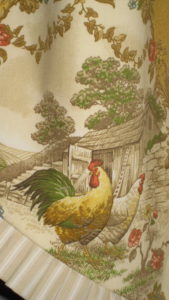 I love to design draperies (another post), it makes my creative side happy. Working with Toile is such fun, because you can see the stories come to life and in turn, enjoy them in your home on a daily basis.  Also, from a design standpoint, nothing changes a room quicker than fabric. Because of the dramatic statement Toile makes,  it transforms a room instantly.
French design is very romantic.  The French appear to enjoy surrounding themselves with romance and a bit of whimsy.  And, this romance and whimsy is the very essence of Toile.  Don't we all want this?  Romance and whimsy add to our "Joie de Vivre."  Perhaps, do you have a spot for some toile?
Hope this finds you enjoying a beautiful week.  Love to you and yours !
Au Revoir,
Sandra
Photos:  Pinterest and M.Lambiotte