"He who plants a garden plants happiness." ~ Chinese Proverb
Good morning, dear friends.  I am so happy you stopped by.  Today, I would like to share some of what I know to be true about gardeners.  And, some of what others have to say about them as well.  You will definitely need your coffee or tea for this one, but I feel if you are a gardener, you will enjoy and even laugh a little.  If you are not a gardener well . . . perhaps you will find inspiration to join us.  I promise you, a warm welcome.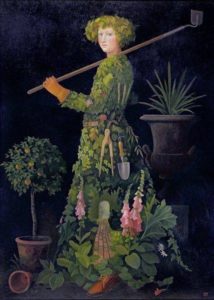 Don't you love her dress?  I just know my dear friend, Janet, will be so anxious to do her in needlepoint.


"Anyone can be a gardener. It's simply a matter of choice.  On the day you find yourself  fretting about the first frost ~ or ruminating about rhododendron color, the day you say to yourself, 'I'm a gardener' ~ you are one." ~ Dianne Benson, Dirt
Gardeners are a happy lot. They come in all sorts of shapes, sizes, ages, and you will find  them absolutely everywhere in the world.  They all obsess over different plants and garden styles, but they share a love of the earth, beauty, nature, and are kind to their fellow man.  They make the world a better place by the beauty they create.  They are generous, creative, talented and patient.  If patience was not part of their nature when they began gardening, the garden taught them to be so.  Or,  perhaps it was when their black Labrador puppy picked up a treasured Camellia, about to go into the ground, and shook it until there was not a speck of soil left on the roots ~ patience was learned. 
According to Tovah Martin ~ "Gardening is about gardeners.  It's about the camaraderie of friends in the trenches.  As I see it, gardening is a conspiracy, and seeds are our secret handshake."  Such a lovely 'handshake' from my friend in France, when she sent me seeds of my now treasured French rose poppy.  She sent me more than poppy seeds, she sent a piece of her garden.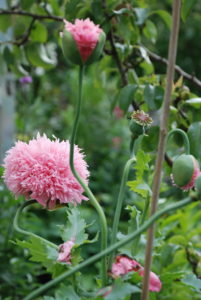 In my garden I spend my days; In my library I spend my nights. ~ Alexander Smith
Gardeners are avid readers and devour books.  They haunt bookstores, especially used bookstores, always in search of some fabulous garden information.  Gardeners know vintage garden books are true treasures.  Because, many were written by 'real' gardeners, the ones with dirt under their fingernails and calloused hands.

"Show me your garden and I shall tell you what you are." ~ 
Alfred Austin
While I would not refer to gardeners as hoarders, many are collectors.  You see, many or most of us have one or a few plants, which upon sight sends our hearts completely out of rhythm.  It is that simple.  And, as many of you know for

me

, that plant is a peony.  At one point I believe I may have been well on my way to becoming a hoarder of peonies (leaving over 200 in our VA garden).  However, a smaller garden solved that issue.

 

I now have a manageable collection of about 64.  Below are a few favorites.
   Paeonia, Chiffon Clouds ~ The form is single.  
 Paeonia, Gardenia ~ The form is full double.
 Paeonia, Abalone Pearl ~ The form is semi-double.
Paeonia, Red Charm ~ The form is bomb.

"There are many tired gardeners, but I've seldom met old gardeners.  I know many elderly gardeners but the majority are young at heart.  Gardening simply does not allow one to be mentally old, because too many hopes and dreams are yet to be realized.  The one absolute of gardeners is faith." ~ Allan Armitage
The inside of gardeners homes can be quite interesting.  On any given day in the spring, one is likely to find the kitchen sink full of blooms, waiting for the vase.  Or vases filled waiting to be scattered about the house.  Gardeners love blooms everywhere.  And their generous spirit requires them to take these lovely blooms to their workplace, friends, neighbors, and to anyone they think may enjoy them.  Some have even been known to set them on doorsteps of people they don't know.  Simply stated, "Gardeners enjoy enriching the lives of others and sharing their passion."  And, they don't believe in any such nonsense as a "Black Thumb." 
In the winter, at the gardener's comfy chair,  one may find garden journals, crammed with notes made on the back of anything, which the gardener did not have time, during the garden season, to enter into his/her journal.  Important information that must  go into their journal.
As it is difficult for gardeners to be without blooms, during the winter months it is quite common to find in their homes, various and assorted bulbs about to bloom or blooming ~ a winter tonic of sorts.

"In all places, then, and in all seasons, flowers expand their light and soul-like wings, teaching us, by most persuasive reasons, how akin they are to human things." ~ Henry Wadsworth Longfellow
Many, if not most, gardeners tend to be creative folks.  Therefore, many dabble in floral design.  They may study at the hands of local designers, take classes, or join garden clubs in order to polish their skills.  Some of their designs may find themselves on the show bench, like the following one of mine.   A traditional design I created several years ago for a Flower Show School held in our area.  All the plant material was from our garden.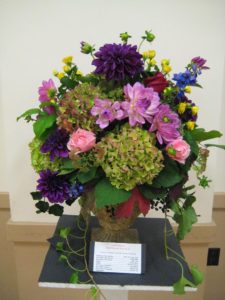 This beauty (not my creation) should have been in a flower show named, 'Spring Abundance or The Enchantment of Spring' ~ something exquisite.
Isn't this design proof of a gardeners creativity?  They will use the most unlikely vessel and the result is a fabulous creation.

"At bird peep, as the country folk have a charming way of calling the break of day, I am in my dear garden, planting and transplanting…"
~ Celia Thaxter
Yes, one will find gardeners in their gardens at the 'break of day.'  Working away, talking to plants, or possibly training something gorgeous to climb a trellis. 
Or securing climbing roses to an arbor.  Gardeners don't seem to be content with neat and tidy plants.  They are smitten with plants which have thorns, are stubborn, like to spread beyond their space and require training.  Oh, but these plants have such personality and beauty.
Gardeners also enjoy early mornings as this is a time to be with their friends.  They have been quite thoughtful of these friends, by planting certain plants solely for their enjoyment or boxes for their nesting.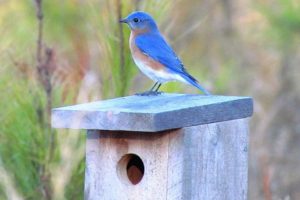 "A garden is a reflection of its owner, a thing of beauty that changes over time, a window to the creativity within." ~ Lee Miller
There are as many different gardens as there are gardeners.  Some will lean toward a formal garden.
While others enjoy a more cottage style garden.  Personally, I enjoy coming upon things in a garden.  I like it to surprise me and not reveal itself immediately.  This certainly occurs in our garden as there is something which makes me smile at every turn.  Plants from my dear mom and friends I love.  And plants that offer a quiet surprise, while others shout, "see me ~ see me."  As well as, objects and statuary with treasured memories.
Gardeners also seem to have a good sense of humor and are certainly not beyond a little intimidation when it comes to their plants.  They want their intentions clearly understood.

"A land of fragrance, quietness, and trees, and flowers." 
~
John Keats
In closing, I hope you have enjoyed your visit this morning.  There are many reasons gardeners garden. However, I believe every gardener will agree with the words of Mr. Keats (above).  Gardeners know the garden is a respite from a world that is often unkind and can make one weary.  Therefore, if by chance,  you have a friend who is a gardener and you can't reach him/her at 7:30 a.m. because he/she is in the garden, well. . . all I can say is ~ "Give up or Join In."  If you decide to join, you will be happy you did.  And, while winter is here, visit the garden section of a bookstore or your local library, become inspired.  And when spring arrives, be ready to have your hands in the dirt.
"All gardeners live in beautiful places because they make them so." ~ Unknown
THE END

Wishing you a wonderful week!
Au Revoir,
Sandra
Images:  via tumblr, Michael Lambiotte