"Home – The story of who we are and a collection of all the things we love." – Author Unknown
The past few weeks I have been sorting through and addressing the care of a few things in our home.  Treasures, as I refer to them – and there are many.  The first treasure  I will tell you about is the silver.  Mom's lovely tea set which screamed, "polish me," every time I walked through the dining room.  And, although the flatware was stored in the buffet, I could hear it screaming as well.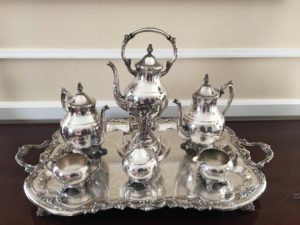 So, along comes my friend Anne.  Anne introduced me to her latest find – Carbona Silver Wipes.  Now, for all you silver lovers out there – put this product on your shopping list.  You too,  will thank Anne many times for this gift.  Carbona is available through Amazon if you are unable to locate it in your area.  This product turned the dreaded polishing process into something I no longer consider a chore. Mom and her silver are now happy.

Polishing the silver brought to my attention, once again, how much I enjoy our treasures.  We all have them, don't we?  Treasures which make us smile and so often serve as remembrances of family and friends.  They are special, only to us.  
To be sure,  truly I am not a hoarder, at least I don't think I am.  But, if you have been following me for any amount of time you know there are a many things I enjoy collecting.  Such as:  peonies and various other garden beauties, vintage quilts, handwoven textiles and linens, lovely needlework, books, tea cups and saucers, tea pots, stoneware bowls, butter molds, lovely china – just to name a few.  Lovely, vintage things speak to me.  I hear their stories.  I am totally seduced by their charm and I am honored to be their caretaker.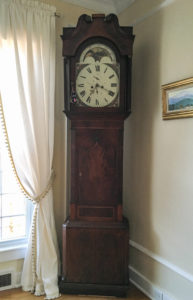 Many of our treasures are from family, others I have stumbled upon during my haunts of  favorite shops.  And, there are those which have been gifts from my husband or special friends.  One such special gift from my husband, was our early 1800's Tall Case Clock. This clock, covered with a tarpaulin, traveled over the mountains of West Virginia into Virginia, in the back of my husband's truck, during a snow storm.  My heart still jumps when I hear it strike, and I am reminded of his enormous effort to make Christmas of 1985, special for me.   Additionally, I look at many teacups and tea pots and remember friends who have so lovingly gifted me with something they knew I would adore.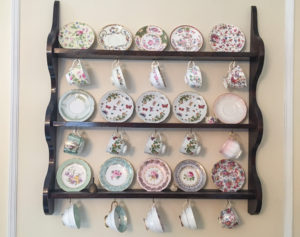 Taking another look around, I see other special treasures.  Ones that have been made just for me by my dearest friend, Janet.  Janet and I have been friends since about age 3.  Many years.  She is a needlepoint artist.  I have not only been blessed by her genuine friendship, but by her fabulous talent, which adds grace and charm to our home.  When I see the treasures she has made just for me, it is as though she is with me each moment of the day, even though she lives miles away in North Carolina. One of these lovely pieces of her art is Maison de Jardin (The Garden House), which  hangs proudly over our front door.  I believe homes should have names.  Giving a name to a home adds that inexpressible something or – je ne sais quoi.  A subject of another post.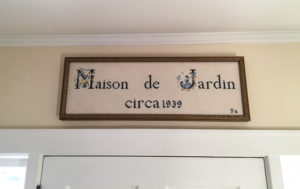 While many of the things we love are material, I like to think they love us too. These treasures add joy to our daily rounds, and they delight and satisfy us as we go about creating our beautiful homes.  They truly are "our story, a collection of the things we love."  So, love them up.  I promise – they will love you back.  When they sparkle and shine from your love, your "inspiration will bloom."
Au Revoir,
Sandra
PS:  Yes, I do collect peonies.  I left over 200 in our garden in VA and I remember them every spring.