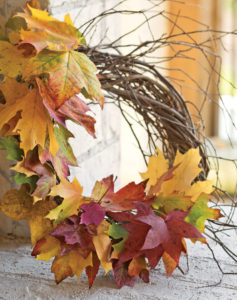 "November comes And November goes,
With the last red berries
And the first white snows.
With night coming early,
And dawn coming late,
And ice in the bucket
And frost by the gate.
The fires burn
And the kettle sings,
And earth sinks to rest
Until next Spring." ~ Clyde Watson

Good Sunday morning, everyone.  Our beautiful and brilliant October is leaving us but, we welcome frosty and lovely November.  I sometimes have a hard time knowing what to think of November ~ not autumn and not exactly winter.  Rather like a middle child that can often be a bit moody ~ happy in the morning and out of sorts by evening ~ or the other way around.  
However, November brings its' own beauty and joy.  Often the first snow arrives in November,  we bake and cook a wide range of tasty deliciousness, and most of all we gather around a lovely table and give thanks.  And then, usher in another dazzling holiday season.
"I would maintain that thanks are the highest form of thought and that gratitude is happiness doubled by wonder." ~ G. K. Chesterton

"As they entered November, the weather turned very cold. The mountains around the school became icy grey and the lake like chilled steel. Every morning the ground was covered in frost." ~ J. K. Rowling
"In November, the trees are standing all sticks and bones. Without their leaves, how lovely they are, spreading their arms like dancers. They know it is time to be still." ~ Cynthia Rylant
"In November, the earth is growing quiet. It is making its bed, a winter bed for flowers and small creatures. The bed is white and silent, and much life can hide beneath its blankets." ~ Cynthia Rylant

November, by William Cullen Bryant
Yet one smile more, departing, distant sun!
One mellow smile through the soft vapoury air,
Ere, o'er the frozen earth, the loud winds run,
Or snows are sifted o'er the meadows bare.
One smile on the brown hills and naked trees,
And the dark rocks whose summer wreaths are cast,
And the blue gentian-flower, that, in the breeze,
Nods lonely, of her beauteous race the last.
Yet a few sunny days, in which the bee
Shall murmur by the hedge that skirts the way,
The cricket chirp upon the russet-lea,
And man delight to linger in the ray.
Yet one rich smile, and we will try to bear
The piercing winter frost, and winds, and darkened air.

Dear friends, thank you so much for your visit.  Know I wish you and yours a beautiful and peaceful day.
And. . .
A magnificently gorgeous November, full of love and joy!
P. S. ~ Wonderful things are coming !  
"November is that interesting transition from cozy fall to brisk winter. The leaves on the trees have fallen off, the sky stays an abrupt shade of grey and Christmas decorations begin to appear. How strange it is that time passes so quickly." ~ unknown
Amour,
Sandra

Images: Tumblr and Pinterest