"That which we elect to surround ourselves with becomes the museum of our soul and the archive of our experiences." ~ Thomas Jefferson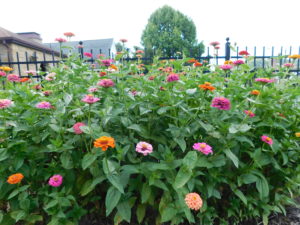 Zinnias in our garden ~ summer, 2018.
"A garden is a friend you can visit anytime." ~ unknown
"Books are the quietest and most constant of friends; they are the most accessible and wisest of counselors, and the most patient of teachers." ~ Charles W. Eliot
"Where words leave off, music begins." ~ Heinrich Heine


"The days come and go but they say nothing, and if we do not use the gifts they bring, they carry them silently away." ~ Ralph Waldo Emerson


Dear friends, perhaps the post this morning stems from my becoming a wee bit older, and the fact my husband is about to have a milestone birthday in June.  However, I do believe 'what and who' we surround ourselves with is so important.  For me, the garden, books and beautiful music are the best of friends and the greatest company.  Now and again, I think it is beneficial for each of us to remember the 'gifts the days bring' and to do everything possible to keep them from being 'carried silently away.'   So with that being said, know…
I wish you and yours a beautiful day.
And, may the week ahead bring you kind people,
moments of joy, and blue skies.
Au Revoir,
Sandra
Images: Michael S. Lambiotte and tumblr