From Michael: One year ago today, Sandra published this article. Please join us for another stroll through a world of beauty and hope. Sandra's spirit and hands are everywhere. Be very quiet, very quiet, and you can feel the beauty. 
Everything blooming in this post is even more vibrant today.  Her spirit lives on….with "Life at Maison de Jardin."
 "What Gorgeous Thing" ~ Mary Oliver
"I do not know what gorgeous thing
the bluebird keeps saying,
his voice easing out of his throat,
beak, body into the pink air
of the early morning. I like it
whatever it is. Sometimes
it seems the only thing in the world
that is without dark thoughts.
Sometimes it seems the only thing
in the world that is without
questions that can't and probably
never will be answered, the
only thing that is entirely content
with the pink, then clear white
morning and, gratefully, says so."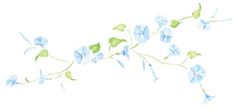 Good morning, dear friends.  I do hope this finds all of you well and enjoying your favorite summertime activities.  To me, summer seems to arrive and then in a blink,  it is gone. There is the garden and her variety of weeds.  To bad the State Fair does not have a classification to enter ones collection.  Mine would be a blue ribbon winner for certain.  However, I will share the pretty blooms ~ not the weeds.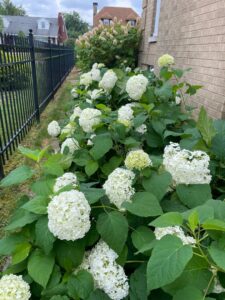 Annabelle Hydrangeas, planted around 2007.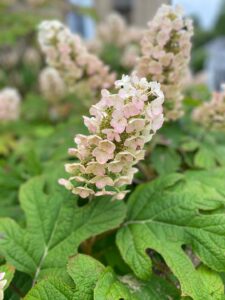 One of my favorite plants, Oak and leather Leaf Hydrangea.   She is just beginning her change in color of the bloom.  She will turn a deep pink and by fall her leaves will be a dark burgandy.  Beautiful in a floral arrangement.
"When weeds go to heaven, I suppose they will be flowers." ~ L.M. Montgomery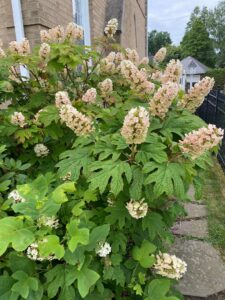 Speaking of weeds and the State Fair.  Does anyone see this lovely tree growing and thriving?  I know Mike didn't when he took the photo.  Now, if I was quite careful to dig with caution.  I could pot this beauty and in a very few years, someone who had the room would have a nice shade tree.  Tulip poplars grow rapidly, have big leaves, and make a wonderful shade tree.  However, they do not like storms and will fall quickly.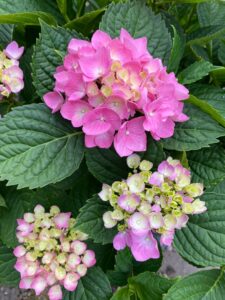 Hydrangea, Bue Danube.  She is in an urn and has thrived for several years.  Mike moves her to the garage in the winter.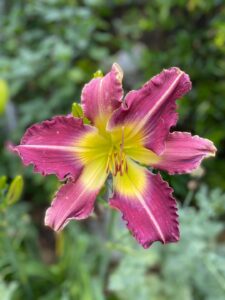 The daylilies have just begun their show.  This one is Purple Badger.  I did not care for the name of such a lovely plant.  Therefore, her new name is Purple Passion.  She is like a lady in a pretty purple rufflled dress.
"Not all love stories start with Roses. Some starts with petunias too." ~ Satabdi Panda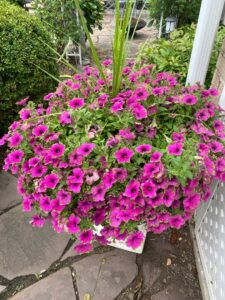 Be sure to look closely at these petunias.  I love them so much I order them every year so as not to take the chance of not finding them at a garden center.  Their name is Almost Picasso.  They have a chartreuse green edge.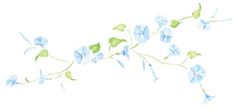 "Reading is an exercise in empathy; an exercise in walking in someone else's shoes for a while."  ~ Malorie Blackman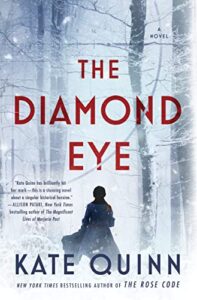 I've been doing a little reading on the days it has been ninety-plus degrees.  Reading is a pure joy to me and the book above was wonderful.  All I will tell you, "it is based on a true story and the young woman in the story becomes friends with Eleanor Roosevelt."
"I will look for evidence of what I do still, deep down, believe nature is singing a song, the trees are clapping their hands, and we are called to join them.  With God's help, we can pick up the pieces of an old and dying world, and we can make them new.  We can make a place where beauty and peace can take root, flourish, and grow." ~ Christie Purifoy
This was my introduction to the writing of Christie Purifoy.  Brenda Leyland who writes the beautiful blog, "It's a Beautiful Life" is the sweet soul who introduced us. https://beautiful.wordfromhome.com/    Purifoy is a lovely writer.  I found myself saying, "Yes" over and over.  And I thought surely this woman knows me.  If you love beauty and have visions of such in a different world.  This book is for you.
Good News ~  my copy of  "My French Country Home Magazine"  arrived today.  If you are a bit of a Francophile this magazine is for you.  It is a little pricey.  However, each and every issue is a treasure to behold.  It can be ordered online or purchased in the US at Barnes and Noble.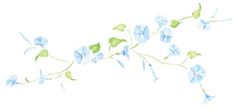 "The best and most beautiful things in this world cannot be seen or even heard, but must be felt with the heart." ~ Helen Keller
Dear friends, In closing, I will leave with you a photo of a most special day, July 1, 1972.  On that day,  Mike and I said "I do."  Yesterday we celebrated 50 years.  Hard to believe how quickly time has passed.  Truly, we have been blessed. 
Know, I wish you and yours a beautiful day and a Happy Fourth of July.  Love each other, stay safe and be well!
Amour,
Sandra
"Love is that condition in which the happiness of another person is essential to your own." ~Robert A. Heinlein
Images:  M. S. Lambiotte, Christie Purifoy ~ A spacious place., Facebook, Tumblr