"The earth laughs in flowers". ~ Ralph Waldo Emerson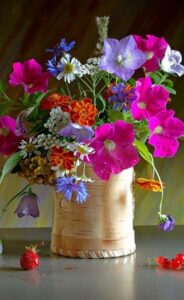 "To me, a birthday means celebrating the presence of an individual in our lives." ~ Meena Bajaj
Life Happenings
Good morning, dear friends.  I hope this finds you enjoying the first few days of summer.  You may wonder what happened to me last week.  It was a combination of things.  I had a couple of days where I think I was trying to come down with that ugly twenty-four-hour virus.   However,  ginger ale and chicken noodle soup took care of that, but not my energy.   It was also Mike's birthday on June 17.   To me, birthdays have always called for a celebration. Especially if they are the birthday of the ones we love who make our lives sweeter just by being who they are.
Mike seldom asks for anything special in the way of cooking or baking.  I am fortunate that he likes almost everything and is quite easy to please, other than breakfast food for dinner ~ not his favorite thing.  However, for his birthday, he does love a cheesecake with strawberry sauce.  And he is partial to the cheesecake I make (the recipe is from the old Southern Living Cookbook).  Then, I always try to prepare a nice dinner with a present or two.  All said the festivities seemed to tire me out way more than usual and I am certain ugly Mr. Virus was the culprit.  

"What I am saying is that lovely, whimsical, and soulful things happen in a garden, leaving a gardener giddy." ~ Janisse Ray 
Garden Happenings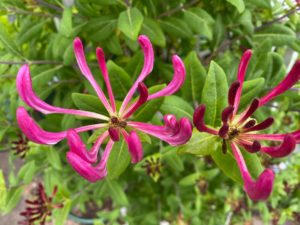 Peaches and Cream Honeysuckle
My garden happenings are going to be a ~ Remember this?  Do you remember about three years ago we removed Gertrude Jekyll roses from our arbor?  They were not thriving,  they would have a slight flush in the spring and then the back spot would arrive and that was the end of the story.  Needless to say, it was not an enjoyable sight.   After a bit of research and considering many factors I ordered two Peaches and Cream Honeysuckle vines.  They have flourished and are not invasive.  Their fragrance is divine and they will bloom again later in the summer.  The photo above is just as they are beginning to open.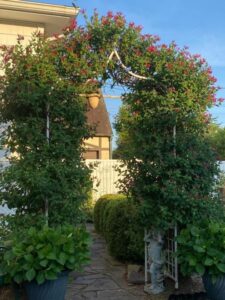 Next, the Lavender story.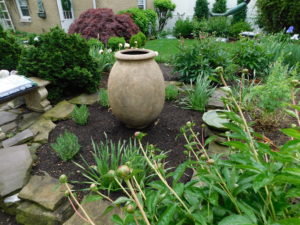 Spring Planting ~ 2019.
The lavender story began four years ago.  We lost a beautiful purple beech tree and I was in a quandary as to what to plant in its place.  A long story goes with this gorgeous tree but I won't delve into it today.   I'll just share the lavender story.  I spent many hours in mourning over my beautiful tree and looking at the place it once called home.  Then it came to me  ~ an Olive Jar with lavender planted around it.  After finding the Olive Jar (Ballard Designs), I went on the hunt for lavender.  Knowing that not all lavender is fond of our winters, I searched for one that would be happy and was promised the variety I selected would thrive and not suffer in our winters.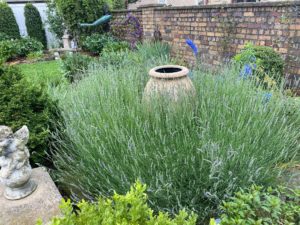 Late summer ~ 2019.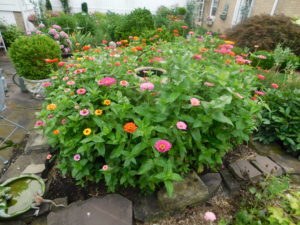 Late Summer ~ 2020.
Should you be wondering what the zinnias are doing here.  The promised variety of lavender was not pleased with our few nights of 12 degrees below zero.  You know the rest of the story.  Now, I will admit I have a wee bit of a stubborn streak and I did not plan to look at the place where my glorious tree and beautiful lavender had lived.  So to the rescue came zinnias for the summer while I searched and read about every variety of lavender I could find.  Then, my searching was rewarded by a lovely variety of lavender ~ Phenomenal ~ hardy zone 5~9.  Ordered from ~ American Meadows.com
"A garden is made of hope." ~ W.S. Merwin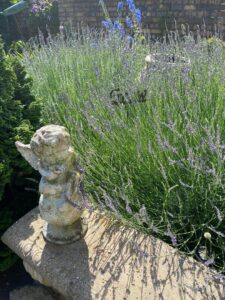 Lavender, spring 2022.
Merwin says, "A garden is made of hope."  I say, "Yes, and also with a bit of intimidation."  If you look closely you will see my garden stake that reads, GROW.  I move it about the garden where ever it is needed.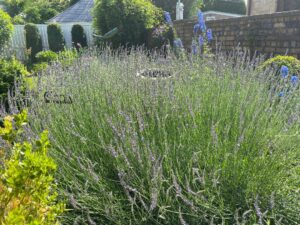 Lavender, spring 2022.  Planted in the spring of 2021.

"Flowers are the Romeos and the Juliets of nature!" ~Mehmet Murat ildan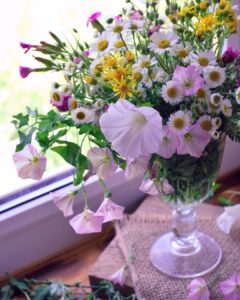 Dear friends, I hope you have enjoyed your visit.  Also, I hope you enjoyed my honeysuckle and lavender stories.  Both have perfumed the garden and our home with their magic touch.  I was quite surprised at the vase life of the honeysuckle.  It was a treat, to come down the stairs in the morning and be greeted by its heavenly fragrance. Needless to say, the honeysuckle and the lavender made me quite "giddy."
Know I wish you and yours a beautiful day and a summer of magical days.  Days spent doing the things you love ~ with those you love.
Have a lovely week and be well.
Amour,
Sandra
"Surely the flowers of a hundred springs are simply the souls of beautiful things!" ~ L.M. Montgomery

Images:  M.S. Lambiotte, Tumblr