"Things men have made with wakened hands, and put soft life into are awake through years with transferred touch, and go on glowing for long years. And for this reason, some old things are lovely warm still with the life of forgotten men who made them." ~ D. H. Lawrence

Good morning, dear friends.  As I write this (Saturday, November 13) we have cloudy skies, cold temperatures, and snow flurries. Where ever you are, I hope this finds you well and not under the severe weather moving across parts of the country.  
With the holidays fast approaching, I have begun to ponder many of our old things (or treasures) as I refer to them.  In my opinion,  treasures add extra warmth and a special glow to a home.  Especially, during the holidays.
Oh, I have so many fond memories of where I was and who I was with when special treasures landed in my hands.  For example, the day mom and I were in one of our favorite haunts and she spied a set of Haviland China (Apple Blossom) under an old table.  Such a wonderful memory of a fun day spent together.  Through the years, since the Haviland came home with me, I have given it much thought.  "Who loved it before me, where did they live, was the china used for holidays, what were some of the stories shared at the table, and how did it become unwanted and end up in a shop that held a conglomeration of hodgepodge?"   If only it could talk.

"One of the things that attracts me to vintage and antique things is they have stories, and even if I don't know the stories. . ." ~ Mary Kay Andrews
Did these beauties once hold lovely paintings or pictures of loved ones? 
 "September Afternoon" 1913 ~ Artist Charles Courtney Curran

"As a kid growing up in the 1950s I became acutely aware of the changes taking place in American culture and I must say I didn't much like it. I witnessed the debasement of architecture, and I could see a decline in the quality of things. . . Old things seemed to have more life, more substance, more humanity in them." ~ Robert Crumb
Someone once loved these pretty oil lamps.  Perhaps, they were all from one home or maybe the homeowner enjoyed collecting them?  Wouldn't you love to know their stories?
These Confit pots were most definitely loved and well used.  Confit is the French word that means to preserve. Usually, they were found in mustard yellow and this shade of green. They were used for storing cooked meats and then buried in the ground or stored in stone-lined cellars. This storage process preserved the cooked meat without refrigeration and could then be enjoyed throughout the winter months.
In America, we also used crockery to store meats, such as the crock below.  The meat was cooked and covered with a layer of lard and then stored in a smokehouse and used during the winter. The winters were much colder back then which helped to preserve the meat.
Additionally, these lovely vessels are wonderful for cut blooms.
Oh, how I would love to know the story behind these tureens.  Can you just imagine the marvelous concoctions they have held throughout the years and the beautiful tables they have graced?
Wouldn't it be amazing to talk with the talented soul who created these breathtaking stitches?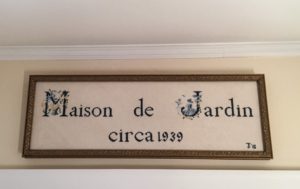 I can tell you all about this lovely piece which was stitched in needlepoint by my lifelong friend, Janet.  It hangs above our front door.  Every morning when I come downstairs, I see this treasure and say, "Good morning, Janet." Being the sentimental person I am,  there have been arrangements made (for after we are gone) for this piece and all the others she has lovingly created for us.  Before this went to the framers, I wrote a letter about who Janet was, who we were, the meaning of the piece, and my wishes for it should it have the misfortune to be found in a shop such as where I found our Haviland.  The letter was placed inside of the back covering of the needlepoint.  

I love history. Everything is inspired by history, so that's why I love vintage and antiques. ~ Kelly Wearstler
Dear friends, as you go about readying your home for the holidays, perhaps you will wonder about a few of your treasures.  Often, when we take a second look, we realize how lovely and "still warm with life"  our precious gems are.
Wishing you a beautiful day and week ahead.
And. . .
May your path be full of happy moments and kind souls.
Stay well!
"Beauty in things exists in the mind which contemplates them." ~ David Hume
Amour,
Sandra

Imges:  Tumblr and M. S. Lambiotte