"A gardening friend of mine has quite lost her mind ~ not that it distresses her much ~ and she no longer makes an effort to conceal her madness." ~ Henry Mitchell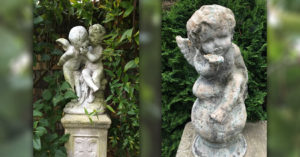 Photo in our garden.  By, Andy Walker, Walker Media
Good Sunday morning, beautiful souls.  I do hope this finds everyone well.  Lately, while enjoying time in our garden, I find myself reflecting on the many treasured gardening friends I have been fortunate to make over the years.  Gardeners form a deep bond of friendship through their shared love of the earth, creating beauty and growing lovely things.  These friendships bring about interesting tales of success and failure, as well as things gardeners do upon finding themselves on the garden path. Some of which, non-gardeners may well consider a "bit off plumb," as Mike would say.  However, I want to share a couple of these tales this morning and I hope they will begin your day with a smile.


"Gardeners, I think, dream bigger dreams than emperors." ~ Mary Cantwell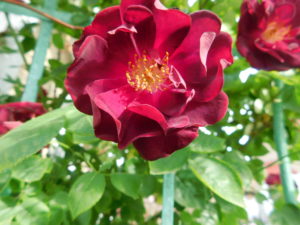 Antique rose blooming in our garden.
Linda, one of my dear gardening friends had been watching a home in her neighborhood she had long admired.  She had heard through the grapevine the house and property may soon be for sale.  The owner of the home was from Russia and her only child was her daughter who lived in Washington state.  Quite a distance from coastal Virginia. 
One evening Linda was out for her daily walk and there it was ~ the 'For Sale' sign.  Quickly, she ran home, got in her car, and drove back to the house.  In front of the house, she grabbed the sign, placed it in her trunk, and went home.  Then,  she immediately called the realtor, confessed her sin, and requested to see the home the next morning ~ early.  The home was charming but it was the garden Linda was after.  The garden sloped down to a lovely creek and was full of azaleas and many other beauties.  Namely sequoia trees.  Now, one does not normally see these magnificent trees in Virginia, but they were thriving in this beautiful garden.  The lady from Russia was a brilliant gardener.
Needless to say, Linda and her husband purchased the house on the spot.  It is wonderful when a beautiful and loved garden can be turned over to another gardener who will also love and care for the beauty and appreciate the work which has been done before it became theirs.

"Out of gardens grow fleeting flowers but lasting friendships." ~Beverly Rose Hopper  
Rosa, New Dawn
My next little tale is about my wonderful and unique gardening friend, Anne.  It is impossible for this world to hold another Anne like this one.  She has a sense of humor that is unmatched,  loves life, is a mom to two sweet little boys (now sweet young men), is unbelievably talented, and above all, is so very real.  Truly, she would never make an effort to "conceal her madness."  And, I hope she never does,  as it is such a part of her charm.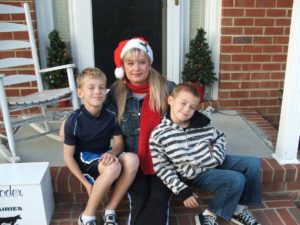 Anne, Max (on left) and Wes ( on right).
Before Anne and I retired we were 'partners in crime' in the Virginia Beach City Public Schools, Department of Human Resources.  To say the least, those were some stressful times.  We helped each other to remain sane and our gardens helped us too.  However, there was additional stress on Anne.  She was going through a 'difficult' divorce.  But through it all,  every day I was greeted with her huge smile and something that I always had to figure out later (I am one of those people who gets the joke long after it is told).
One summer evening around 10:00 p.m. I received a call from Anne, "Sandie are you still up?"  Anne was on her way over to our house.  She only lived a few miles from us.  When I saw her coming up the driveway, I turned on all the outside lights.  I wondered what she was up to.  When she arrived by our back porch, out jumped Anne and she slid the doors to her van wide open.  And, what did my eyes see?  Nothing but plants.  The van was exploding with plants and a huge variety of plants.  I said to her, "Anne, what in the world have you done?"  She answered, "He might get  the house, but he will never have my garden."  Anne had dug up her entire garden, leaving only the holes where plants once were and brought her garden to me for safekeeping.
All of Anne's plants were on sheets (she had thought ahead).  The two of us drug them around to the side of the house where my garden was and I spent the next few days hilling in her plants, watering them until she would be able to take them to her new home, and her 'soon to be' new garden.  One of these plants was her beautiful New Dawn Rose.  She had to cut this rose back considerably to dig and move it.  If you have ever grown a New Dawn in the south you know how massive it can get.  This rose is a magnificent specimen but she has tremendously large canes and even larger thorns.  Anne's arms and legs clearly showed she was determined to win the struggle of moving this beauty (more like a beast).  
I am happy to say, in spite of this difficult season,  Anne's life took a lovely turn with a good man, and she continues to garden.  Currently, she is involved in creating fairy gardens with two little girls who live next door.  She lives happily.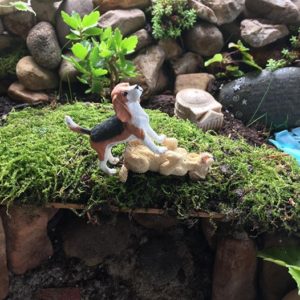 Photo of Fairy Garden, by Anne.
"I like gardening. It's a place where I find myself when I need to lose myself." ~  Alice Sebold 

Out in the garden, out in the windy, swinging dark, under the trees and over the flower-beds, over the grass and under the hedge border, someone is sweeping, sweeping, some old gardener.  Out in the windy, swinging dark, someone is secretly putting in order, someone is creeping, creeping. ~ Katherine Mansfield, Out in the Garden, 1922
Dear friends, I hope you have enjoyed your visit and my gardening tales.  
Know, I am wishing you and yours a beautiful day.
  And…
Should you find yourself on the garden path, may it bring you many smiles, only the best of memories,
and friends you will want to "hold with both your hands".
"Hold a true friend with both your hands." ~ Nigerian Proverb  
Amour,
Sandra
Note:  I have many more garden tales and will share them from time-to-time.
Images:  Fairy Garden, by Anne.  Other images:  Michael S. Lambiotte, Andy Walker, and Jackson and Perkins catalog.