Good morning, dear friends.  I do hope you and your families had a most beautiful Christmas, and hopefully this finds you enjoying a little restful and quiet time. 
The closing of the year always nudges me toward taking time to reflect.  Reflection as to what I can change, in order to live a simpler and sweeter life in the new year.  With our current year about to end, I thought perhaps you may find the following words of an unknown author, as insightful as I did. 


"If, as Herod, we fill our lives with things, and again with things; if we consider ourselves so unimportant that we must fill every moment of our lives with action, when will we have the time to make the long, slow journey across the desert as did the Magi?  Or sit and watch the stars as did the shepherds?  Or brood over the coming of the child as did Mary?  For each one of us, there is a desert to travel.  A star to discover.  And a being within ourselves to bring to life." ~ Author Unknown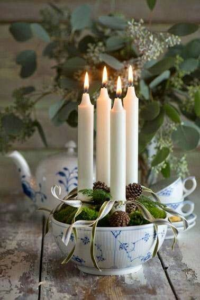 Enjoy this final Sunday in December.  May it be a lovely and peaceful day for you and those you love.
Au Revoir,
Sandra
Notes:  Image via tumblr
The quote was found in the book, Simple Abundance.  This wonderful treasure was written by Sarah Ban Breathnach.  A book I highly recommend.