"If nature has made you for a giver, your hands are born open, and so is your heart; and though there may be times when your hands are empty, your heart is always full, and you can give things out of that~warm things, kind things, sweet things…"~
Frances Hodgson Burnett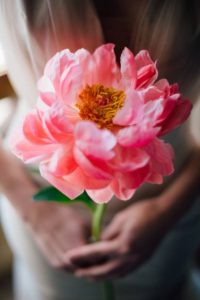 Good morning sweet souls.  My 'Sunday Thoughts' today are about the joys and blessings of anonymous giving.
     We all have learned many important lessons from our dear mothers, haven't we?  The other day, when I was preparing a pot of soup, I began thinking of my mom and how she enjoyed making soup.  We always had soup in the winter and lots of it.  And, if mom knew of a neighbor or friend who was not feeling well, you can be sure they were about to receive 'love in a jar' ~ her soup.
   

The soup,

however, was not delivered in an ordinary manner. 
Mom would ladle the soup into one of her quart canning jars, put a lid on it and attach a note.  On one side of the note, it told the type of soup and on the other side it read, "Feel better soon."  It was my job to write the note, as mom's handwriting was extremely recognizable.  Then,

 

she would send me on my way to deliver her lovely concoction, always with the instructions, "Knock, run and don't let them see you!" 
     Early on, in my "knock and run" missions, I asked mom why she didn't sign the card and why she didn't want anyone to see me.  Her answer, "It isn't important for them to know the source of their jar of love, it is simply important they receive it, feel loved and get better."  Receiving a 'thank you' was not important to mom.  My lesson ~ good deeds don't always require recognition.  
"Loving service anonymously given may be unknown to man ~ but the gift and the giver are known to God." ~
Thomas S. Manson

"I'm a little pencil in the hand of a writing God, who is sending a love letter to the world." ~ Mother Teresa
    Throughout the years, I went on many "knock and run" missions and delivered a wide assortment of goodies, and countless loads of blooms.  And, if the truth was known, I rather imagine many of the recipients knew the origin of their delivery.  It was fun to go on these missions and the goodness of my dear mom's heart came back to us many times over.  But, isn't that the way it always works?  God sends his "love letters to the world" by way of giving souls with huge hearts.  And, He rewards them abundantly.

Dear friends, many thanks for your visit.  Know, I am wishing you and yours a day of peace and love.  
And…
May your week ahead be filled with everything good and wonderful.  

"Scatter Joy" ~ Ralph Waldo Emerson
Amour,
Sandra
Note:  Images, tumblr and Pinterest