"The flower that blooms in adversity is the most rare and beautiful of all."  ~ Robert D. San Souci 
Good Sunday morning, beautiful souls.  I do hope this finds you well and that the past week was a good one.
Considered a weed by many, although I can't imagine such, poppies brighten our days with their blooms and also by where they decide to grow.  They enjoy scattering their seeds by the wind and are quite happy being allowed to grow in the spots 'they' choose.  To be as delicate as they seem, poppies are a tough plant and grow in rocky places and under adverse conditions.  I have no idea where the photo above was taken.  But it doesn't appear to be too cheerful.  However, the bright red poppy grows as a sign of hope and beauty in the cold stone.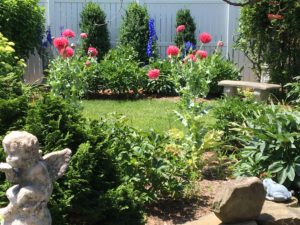 It has been said, "Poppies refuse to grow where they are not welcome."  I am always so excited to see them every spring and I believe they know it.  It is such fun to see where they decide to grow in our garden.  Our poppy seeds traveled many miles to their new home in West Virginia.  They are from a friend in France.
"Hope always blooms." ~ Amy Neftzger
In thinking of plants that grow and bloom in 'adversity,'  I have also given much thought to brave people who have bloomed during terrible times, in horrid conditions.  People whose lives were in the hands of evil and in spite of it all, they managed to inspire and care for others.    
Currently, in our world, our conditions are far from good.  Our lives have been turned upside down by the Coronavirus and we are terribly saddened by the unrest at home and in our world.  However, there remain many good people and good things happening.  And, for me, it is important to pause a moment and remember them.
"Bloom as if you want to make the whole world beautiful." ~ Debasish Mridha
Dear friends, among you, are fellow bloggers, virtual friends, and my precious friends of many years.  To me, you are all a gift and a part of the good in our world.  I want you to know what an inspiration you are by the comments you leave on my blog as well as your private messages.  I am certain you also inspire others.   Truly, I am grateful to all of you and I send a huge 'thank you' for your goodness.
Know that you, indeed, make the 'world beautiful.'  
 Have a perfectly glorious day and a lovely week ahead! 
Stay well. 

"Ring the bells that still can ring.
Forget your perfect offering.
There is a crack in everything –
It's how the light gets in." ~ Leonard Cohen, Anthem
Amour,
Sandra
Images:  via tumblr, Michael S. Lambiotte