"It was Indian summer, a bluebird sort of day as we call it in the north, warm and sunny, without a breath of wind; the water was sky-blue, the shores a bank of solid gold." ~ Sigurd F. Olson
Good Sunday morning, dear ones.  It is hard to believe this is the last Sunday of October.  I hope you have enjoyed many "bluebird sort of days."  I have tried to keep my mind on lovely things and the magnificent beauty which surrounds me.  Unfortunately, this next week will most likely be full of confusing political issues, and unsettling remarks.  Not to mention, more sad news about the dreadful virus.   I have heard so many people say, "November third can't come soon enough."  Honestly, I will admit, I feel that way too.  And, I know you join me in praying we will see a week without violence.

"The most solid comfort one can fall back upon is the thought that the business of one's life is to help in some small way to reduce the sum of ignorance, degradation, and misery on the face of this beautiful earth." ~
George Elliott
Did you know hydrangeas represent, 'thank you for understanding?'  They do.  I believe it is so important to try and be understanding. Sometimes I succeed and other times I don't.  I suppose that is because I am human.  It would truly be a dull world if we all thought alike or had the same opinions. However, now more than ever, it is especially important to take a step back and try and understand others, to truly listen, and to place ourselves in their shoes.  It is our "business to help reduce ignorance, degradation, and misery."  Our differences can make us a beautiful nation and an example to the world.  Because, "When patterns are broken, new worlds emerge."  And, isn't that a lovely thought?

"Nothing ever goes away until it has taught us what we need to know." ~ Pema Chodron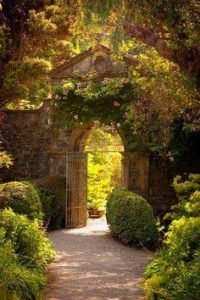 I pray we will walk through a new door, into the light.  And, from all we have learned, be better humans, working together to build a nation of respect and kindness.  To live with John Denver's thoughts in our minds, "I believe that we are here for each other, not against each other. Everything comes from an understanding that you are a gift in my life – whoever you are, whatever our differences."
Dear friends, thank you so much for your visit.  In closing, I would like to say, "With all my heart, I believe a change is in the air."  And, my faith tells me it is for the good.  The virus will eventually go away and it will have taught us many things.  
And…
"After all this is over what really will have mattered is how we treated each other." ~ unknown  
To that, I would like to add, and how we 'continue' to treat each other.
Wishing you a beautiful day and may the angels walk with you along your path.  Stay well!
Amour,
Sandra
Notes:  Quote information, "When patterns are broken, new worlds emerge." is by Tuli Kupferberg.
Images:  Pixibay and tumblr