"October breathed poetry ~ beautiful and glowing." ~ Terri Guillemets
Sweet October morning, my friends.  Welcome to 'Sunday Thoughts.'
As many of you are probably aware, I love books.  And as I am a gardener, naturally, I enjoy gardening books.  When I find one with solid gardening information along with a little poetry or beautiful words, well, the book is simply a must-have.  Such was the case with the book, "A Garden's Grace" by, Nancy Hutchens.  The wonderful little book, published in 1997, has become a special friend to me.  It is loaded with good gardening information, wisdom, and even a recipe or two.
In straightening up the bookshelves the other day, I found my friend among the cookbooks.  Now, how did that happen?  Anyway, I had to spend a few moments with her.  In other words, I was easily distracted.  But in doing so, I found a few words of wisdom I want to share.  As it often occurs when I read this treasured book, I feel Nancy Hutchens knows me.  Because somewhere, I usually read something Hutchens tells me I should be doing.  But this time, it was her grandmother, Mamaw Tribby.  I heard her loud and clear saying,  "Sandra, it is well into October, you need to finish putting the garden to bed.  And not at your convenience."  So for all of you who are gardeners, perhaps the following words from Hutchens and her grandmother will resonate with you as well.  But really the words are, in general, true about many things in life.

"Nature takes no account of even the most reasonable of human excuses." ~ Joseph Wood Krutch
"When I was a girl it was my job to rake leaves in the fall, just about the time school started, bringing with it activities much more interesting than leaf raking.  I postponed the chore time and again ~ until it was too late.  Big, dry flashes of snow started falling early in November one year and didn't stop until over a foot had accumulated.  This severe weather continued every weekend throughout the autumn.  All winter I looked out on a yard encrusted with caked and soggy leaves caused by procrastination."
"Mamaw Tribby said this experience should teach me one of the most important lessons a gardener can learn ~ nature waits for no one.  We think we can control her, but all we can do is follow her lead.  As we puttered in her flower beds, she'd say.  "People are in awe of nature when they first start gardening and follow all the rules.  The trouble starts when they get cocky and think they can do things at their own convenience."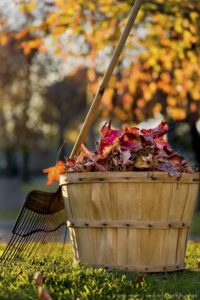 "Another mild, orange~gold October day." ~
Sylvia Plath
So, my friends, as much as I want to take my wonderful book and coffee in the garden on this gorgeous October day.  I must get my sweet garden put to bed and tucked in for her long sleep.  Because, "As the garden becomes a dearer and dearer friend, I've learned that true respect for life is without boundaries.   The garden deserves as much of my heart in winter, when its energy has descended to its roots, as in the summer, when roses and lilies are blooming."
I hope you have enjoyed your visit today.  Know I am wishing you and yours a beautiful day. 
And…
May your week ahead be golden and full of joy.
Amour,
Sandra
Note:  The ending quote is by, Nancy Hutchens.
Images: via tumblr and pinterest