"Let nothing come between you and the light." ~ Henry David Thoreau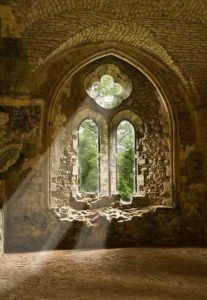 Good Sunday morning, dear friends.  It is wonderful to see you. I do hope wherever you may be, you are seeing something you deem lovely.  Perhaps, light streaming through a window in your home, the way it is streaming through the windows of the beautiful Netley Abbey (photo above ~ information about the Abbey is at the end of this post).  To me, the photo represents the beauty and peace ~ both important to our human well being.  


This week I came across the following thoughts from Katrine Stewart.  I wonder, have you ever heard the term "soul project?" I had not.  After reading her thoughts, I thought you may enjoy them also.
"Soul projects bring a smile to your face, light to your eyes, new energy to your heart, joy to all around you. Soul projects are like healing ointment on the sore places of your life.  Beethoven went for walks in the countryside. Golda Meir polished her silver teapot. Josephine, Napoleon's wife, tended to her roses. Claude Monet gardened. Katharine Hepburn wrote her journal in bed with breakfast. Winston Churchill liked to paint. Einstein took long baths. Mendelssohn listened to the music of Bach. Mother Theresa listened to the silence of her soul."
My take on  Ms. Stewart's thoughts:  It is important for each of us to have something we enjoy doing.  I enjoy gardening, reading, cooking, writing this blog, and my list goes on.  But, I had never thought about these things which make my heart sing as "soul projects." However, they are, and we all need one or more.  Because, in my opinion,  they calm us, clear our minds, and help us to recognize the beauty of compassion for ourselves, those we hold dear, and our fellow man.  Thereby, enabling us to see "the light."

In closing on this November 11 morning, I ask you to take a moment to remember all our veterans and those currently serving in our military.
 The poppy is the symbol of remembrance.
  May we always remain forever grateful to them and their families for their sacrifices.

Wishing you and yours a most beautiful day.
And, until we meet again ~ 
"May you have heaven in your heart, starlight in your soul, and angels all around you." ~ Unknown
Au Revoir,
Sandra
Note:  Netley Abbey is a late medieval monastery in the village of Netley near Southampton in Hampshire, England. The abbey was founded in 1239 as a home for monks of the austere Cistercian order. Despite royal patronage, Netley was never rich, produced no influential scholars nor churchmen, and its nearly 300-year history was quiet. The monks were best known by others for the generous hospitality they offered to travelers on land and sea.
Images: viatumblr,pinterest