"There's nothing in life quite like autumn. Misty mornings and rainy afternoons. The crisp cool feeling that hangs in the air. A sense of warmth that comes from within. It's nothing less than magical, really." ~ Unknown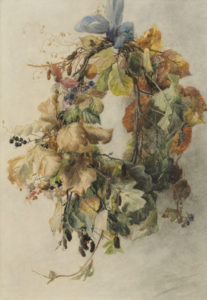 Good Morning, my friends.  It has been rather difficult for me to get dressed for autumn this year, as our weather has been so warm.  So, as it appears I may be in need of a little inspiration, I thought perhaps you might be too.  Therefore, I have arranged for us to take a tour this morning.  There are many tours this time of year, but as our time together is limited, we will just visit one.  So, let's see what we find as we stroll through the golden days of October.
"O hushed October morning mild, Thy leaves have ripened to the fall;  Tomorrow's wind, if it be wild, Should waste them all." ~ Robert Frost, "October"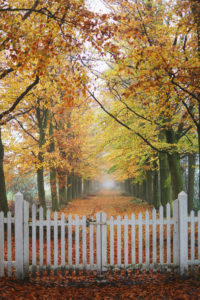 I wonder who and what waits for us at the end of this lovely lane, complete with golden leaves and morning fog.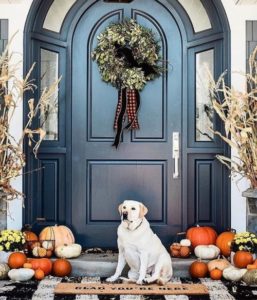 What a lovely home and they are clearly in no need of autumn inspiration.  Pretty blue door, lots of pumpkins and mums, and a gorgeous yellow Labrador waiting to greet us.  He looks like a refined gentleman. I imagine him to have a 'proper name,' maybe Henry or Charles.  And would you look at our greeting ~ they are glad we are here.  The doormat says so.  Aren't you anxious to see inside?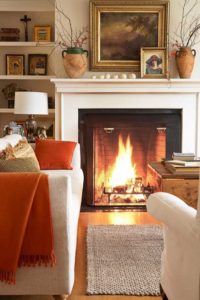 There is nothing like a fire on a chilly morning.  Such a lovely and inviting room.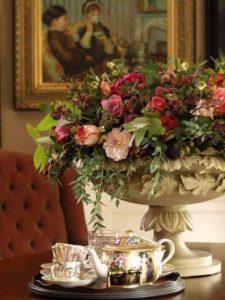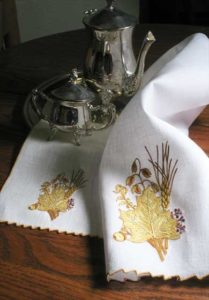 Can it possibly get any better… madeleines to go with our tea.
How wonderful

it is we have 

we have been invited to peak around.  And when we finish inside, the ladies from the garden club are making wreaths outside in the garden.   I am anxious to see them, aren't you?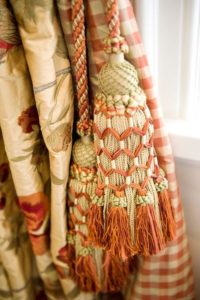 Oh my, the beautiful windows are even dressed for autumn.  I imagine this home surely has a wardrobe.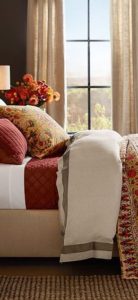 Next, we see a pretty bedroom also dressed for autumn
.
Just outside the bedroom, a lovely nook with a glorious bouquet of autumn leaves looking out of the window.  Simple, but stunning.


"Autumn ~ a season of change signaled by colorful foliage, crisp air, and bountiful harvests." ~ unknown
Not wanting to miss what the ladies of the garden club are doing, maybe we should head on out to the garden.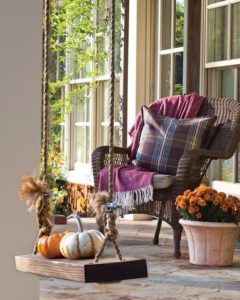 Isn't the back porch pretty dressed in plum and rust?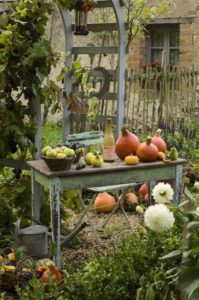 Here we are in the garden, and…
"The sunshine kissed the summer blooms and sent them all to slumber.  Sweet dreams to you, my treasures, for I'll see you all next summer." ~ Flora Turrill
My goodness, these wreaths are lovely.  It is difficult to choose a favorite.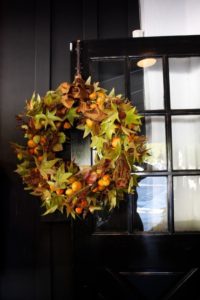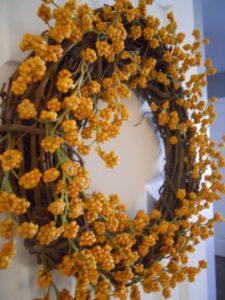 I think I may be drawn to this one.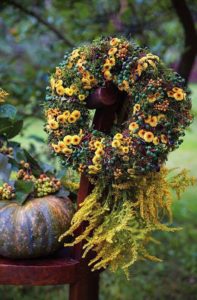 No, this one ~ I can't decide.  Which one do you prefer?
A garden club luncheon is about to happen.  This is probably our signal to soon say 'au revoir.'
Isn't the table dressed lovely?  I can just imagine the delicious goodness which will be served.


I always enjoy the ride back home through this dear covered bridge.  To me, such bridges serve as a reminder of a simpler era.  Can you hear the clip-clop of the horses' hoofs?  I can.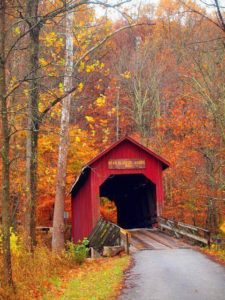 And…
"It was, as I have said, a fine autumnal day; the sky was clear and serene, and nature wore that rich and golden livery which we always associate with the idea of abundance. The forests had put on their sober brown and yellow, while some trees of the tenderer kind had been nipped by the frosts into brilliant dyes of orange, purple and scarlet." ~ Washington Irving,
Sweet friends, I hope you enjoyed our tour and I am so happy you came along with me.  If time permits, perhaps we could go on another tour before the end of October.  There are so many this time of year, but I will be sure to find us a great one.
Wishing you blue skies and 'Golden October Days.'
Au Revoir,
Sandra
Note:  Images ~ (Via Tumblr) Unless otherwise stated, I do not claim ownership of these photos. These photos are the work of tremendously talented people and I simply compiled them for your enjoyment.